2017 National Farm Machinery Show Report: Part 2
We dig into the latest farm equipment we spied at the show
By Geof Fowler, Mar 03, 2017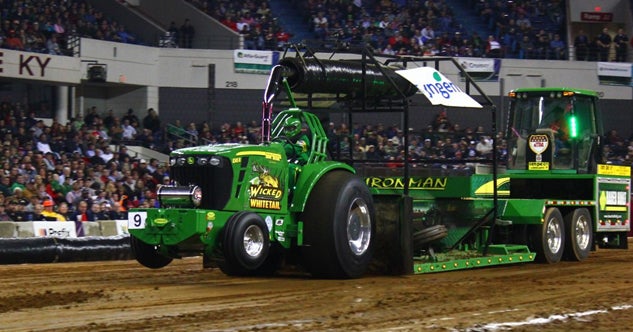 A week after the National Farm Machinery Show, show promoters announced record attendance for this year. Exact numbers are never given, but in excess of 300,000 attendees, exhibitors, and agribusiness professionals packed the Louisville Expo Center to make it the sixth largest trade show in the U.S. For the tractor pulls which wowed with a grand prize of $200K, more than 65,000 tickets were sold. Fifteen free seminars were offered covering a broad spectrum of interest that ranged from marketing strategies to aerial imagery and how to convert that to farm data. For Tractor.com readers, this week's piece on what's new picks up where last week's left off.
John Deere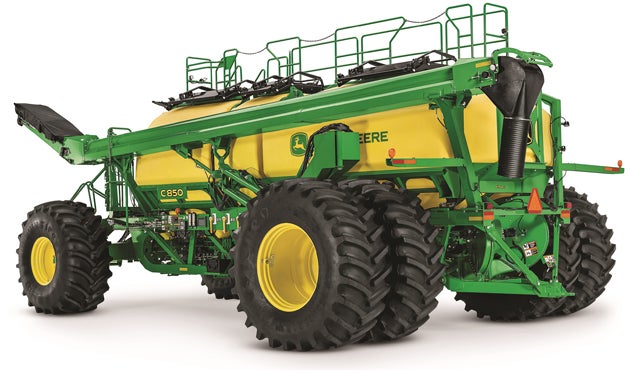 One thing for certain is that the 180-yearold Moline, Ill. headquartered manufacturer has a knack for releasing new news with seemingly timed-to-perfection aplomb. Fresh off first quarter 2017 earnings of $194 million and dividend of $0.60/share and inclusion in Fortune Magazine's list of 50 Most Admired Companies were a number of new product releases. The C850 Air Cart with 850-bushel capacity is the largest air cart ever produced by John Deere and aimed at small grain producers wanting to drill more acres per day. The new Connect Mobile App will help growers monitor, adjust and learn from their planter or sprayer while it moves through the field. And the new carbon fiber boom we first got a taste of in Akeny, Iowa last September will be offered in 120' and 132' widths with orders being taken starting in June 2017.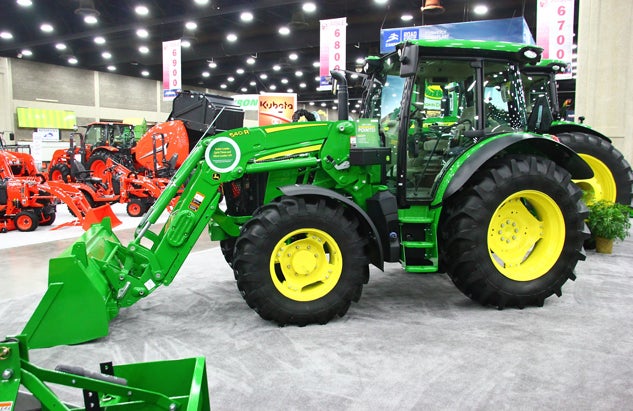 From a tractor standpoint, it was the new 5R Series that drew a lot of attention. On display at NFMS was a shiny green 5115R mated to a 540 loader. This new four-model series brings technologies found in larger tractors to a nimble, 12.1' turn radius platform. With engine horsepower ranging from 90 to 125, two fully electronic AutoClutch transmissions to choose from; options including a panorama roof, air ride seat that swivels 5- and 15-degrees, front three-point hitch (3PH), 1.18 to 25 mph forward speed range, electro-hydraulic joystick with cable-less control and thumb switch reverser, pressure and flow compensating (PFC) hydraulics, a single-point hydraulic connection loader (540), cab suspension, and MSRP beginning at $83,592, we won't be surprised if these tractors are an instant hit. We also look forward to getting behind the wheel of a 5R and bringing our readers a more in-depth review.
New Holland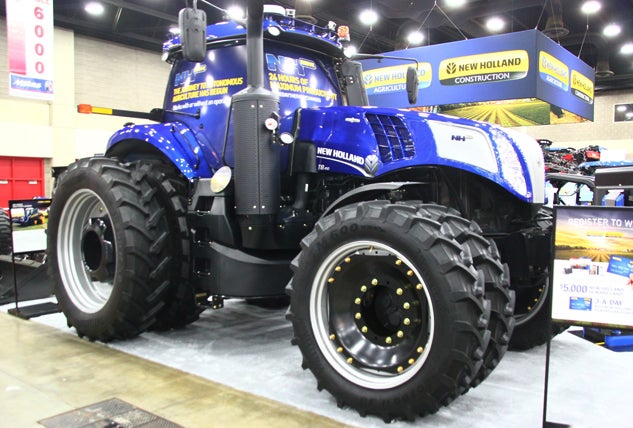 With the buzz swirling around autonomous tractors, and especially the T8 model first unveiled at the Farm Progress Show last fall and again on display at NFMS, one might have thought New Holland might lean back on their laurels and bring little new to NFMS. Not so. We talked to Todd DeBock, Under 60 HP Tractor Marketing Manager, who enthusiastically spoke of the seven new Workmaster and Boomer family additions. For the Workmaster, a lineup known for dependability and value, the new 35 and 40 tractors get power by a single three-cylinder engine model that is used for tractors from 35 to 55 horsepower. These engines are turbocharged, with direct injection using common rail technology and are EPA Final Tier 4 (FT4 or T4B) compliant. Using a single engine benefits the supply chain, from the manufacturer, distributor, dealer, all the way to the customer.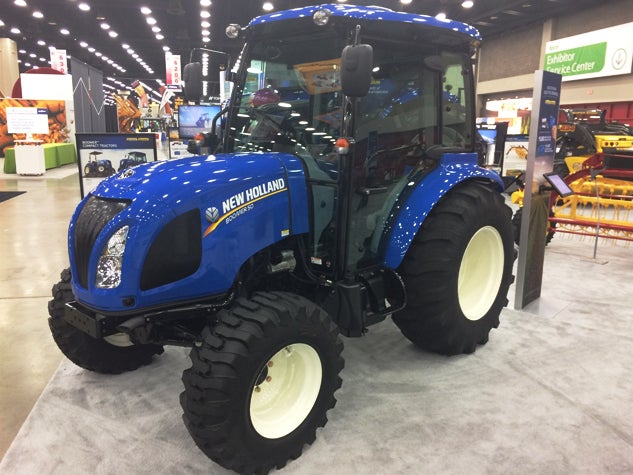 On the Boomer side, there are five new models, including the addition of a 55-horsepower tractor available in cab and open station dress. The addition of the Boomer 55, which is the same size package as the Boomer 50, continues the segment's demand theme of more horsepower in compact packages. Joining the warranty wars, New Holland now offers a two-year bumper-to-bumper warranty with six-year powertrain coverage. We've spent time with the previous generation Boomer 54D CVT and look forward to getting behind the wheel of a Boomer 55 in the near future and seeing how the models compare. DeBock told Tractor.com that Boomer 55s are already being shipped with the other new models to follow in the next 30-days or so.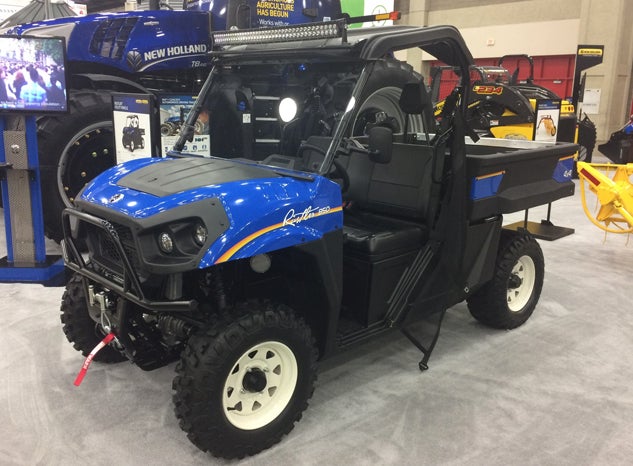 Raven Honsaker works for the Textron Specialized Vehicle Division in Augusta, Ga. as Director of Product Strategy for Commercial Business and where Cushman commercial and utility vehicles and Jacobsen turf maintenance products are manufactured. Grabbing a lot of attention and sure to be of interest to our sister site, ATV.com, as well as Tractor.com readers, the unveiling of the New Holland Rustler 850 joint venture at NFMS dazzled with its 62 horsepower, work-ready platform designed to handle a 1000-pound skid (sideways), and sleek, modern styling. The work-fun vehicle comes with niceties such as a four-wheel double A-arm suspension, CVT transmission, power assisted rack & pinion steering, and a roto-molded poly bed.
Mahindra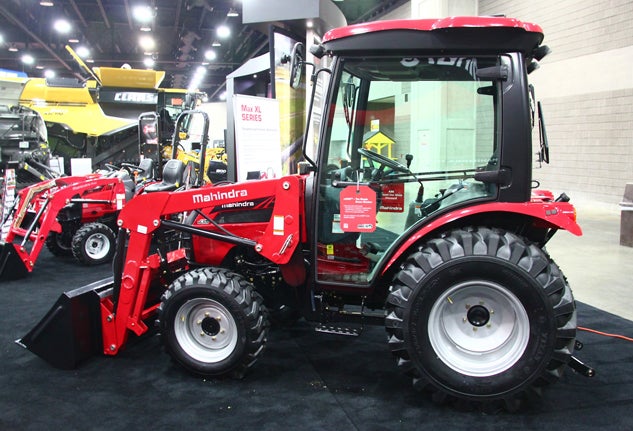 Mahindra almost brought its entire lineup to Louisville, including the new 2545 which replaces the outgoing 2540. Still with a shuttle transmission, the higher-powered 2545 sports an almost identical MSRP and now has a factory cab option. More horsepower for nearly the same buck always gets our blood flowing, and we can't wait to get behind the wheel of a 2545, but we'll have to admit to being a bit disappointed we didn't get to see the rumored new 6000 tractors (65-75 horsepower) or 8000 (85-95 horsepower) tractors. We did learn the dealer/media meeting will take place this October in Indianapolis, and so have high hope we'll get to see those new models then. Same goes for the also-rumored 110 and 125 high-horsepower models.
Rhino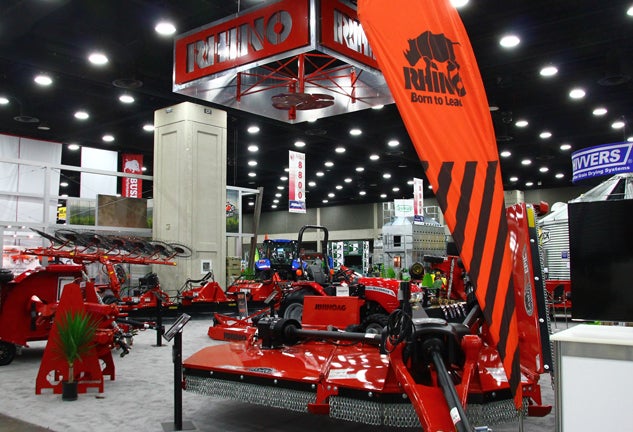 Rhino is a name synonymous with high quality, heavy-duty implements. With beginnings that date back to 1930 where first construction equipment was maintained, then manufactured and built, to the introduction of agriculture equipment in 1945. Throughout those years, several owners and names were introduced until purchase by the Alamo Group in 1986 who today makes a full line of equipment that includes rotary and flail mowers, rear blades, post-hole diggers, tillers, and box blades. Of interest at NFMS was the TS12 Stealth Flex-Wing mower that has a low tongue weight, short turn radius, and is designed for smaller tractors (35-50 PTO HP). Ideal for customers who need flex-wing versatility but don't have the room for a wider unit, the TS12 has a 12' cut width, 1-1/2" diameter cut capacity.
Land Pride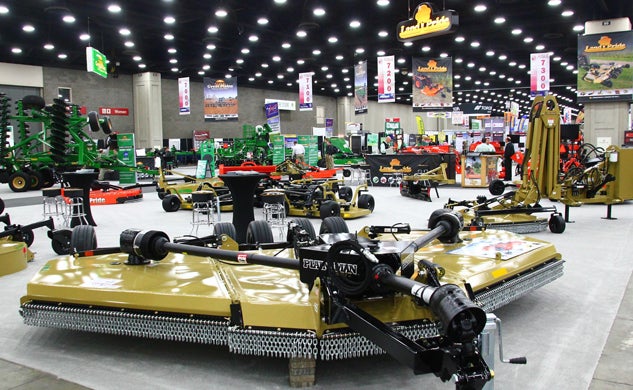 Land Pride, another marque that needs no introduction, is now a Kubota Company. Timed to the NFMS and concurrent World Ag Expo, the big news was the introduction of the FM25 Flail Mower. A part of the four-model lineup with cutting widths from 48" to 84", the series is designed to be used in a multitude of settings including vineyards, orchards and recreational areas. With an 80-horsepower gearbox rating, 0"to 6" cut height, options for duckfoot, HD "Y", and hammer cutter knives, and offset capabilities, the FM series is sure to be a popular product line addition.
Krone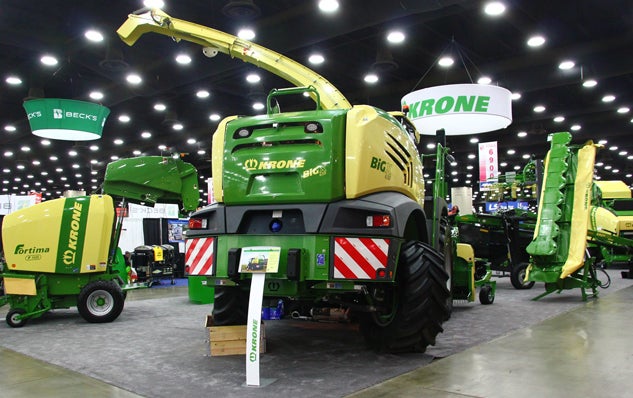 Krone equipment always impresses. Large round and square balers, rotary rakes, rotary tedders, disc mowers Big M self-propelled mowers, and forage harvesters round out the Krone lineup. At NFMS, Krone brought a nice representation, including their Big X 630 precision-chop compact forager. Powered by a six-cylinder MTU diesel making 626 horsepower, the 9'-10" wide 630 can come with 20, 28 or 36 knife cutterheads, has corn conditioner options from 105 to 166 teeth, and can be equipped with 4WD. With a 60/40 (front/rear) weight distribution, the 31,085-pound forager in transport mode has a range of 0-25 mph (0-15 mph in field mode). Maneuverability is aided by an independent wheel suspension on the rear axle.
Claas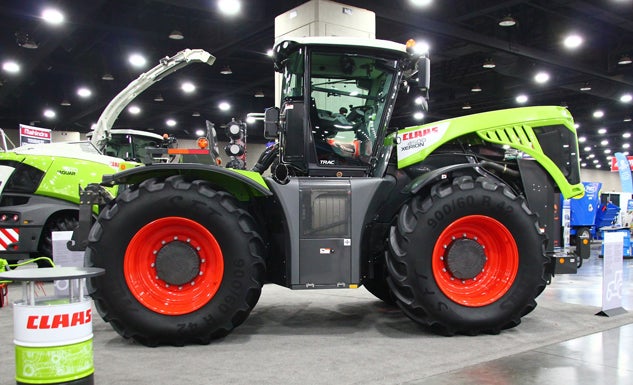 Claas was founded in 1913 by August Class where the company manufactured a top performing straw binder. Harvesters followed in 1936, and today the company employs some 11,000 workers with plants in Germany, France, Hungary, Russia, India, China, and the U.S. The Xerion series is a powerful lineup with three models ranging from 422 to 517 horsepower. At NFMS, an Xerion 4500 powered by a six-cylinder 12.8L engine (476 horsepower @ 1900 rpm) was on display wearing 900/60 R 42 tires front and rear. Perfect for heavy tillage, the Xerion 4500 is another well-engineered and sorted offering from the Harsewinkle, Germany manufacturer.
Wrap Up
Next week we'll concludep our NFMS coverage with more exciting new product offerings from companies likes Kubota, Kioti, Woods, Brush Hog and Yanmar.
Buyers Guides
Our Partners