How To Shop For A Tractor: Part I
Choosing the right dealer is the first step
By Geof Fowler, Mar 22, 2013
So you've just purchased that first homestead or you've said goodbye to the city bustle and now have a property to take care of. You see the box store ads for Craftsman, Cub Cadet, John Deere and others but wonder if those machines are up to the task. While we're not here to knock box stores or their brands, the purpose of this article is to introduce you to the advantages of owning a subcompact utility tractor (SCUT) or compact utility tractor (CUT) and what to look for when deciding which one to buy.
Part one in this series will focus on selecting a dealer and some areas that separate these tractors from box store machines. Part two will dig into tasks you may want to tackle, what implements are available to make the most of a tractor's capabilities as well as offer some, hopefully, sage buying advice.
First, what are the differences between a SCUT and a CUT? Both will almost always come with diesel power, have hydraulic capabilities, and are built tough enough for ground-engaging work. A SCUT just does those tasks in a slightly smaller package and often has pared down capacities.
Tasks that these machines make easy include: Mowing, Snow Removal, Driveway/Trail Maintenance, Digging, Transporting, Leveling, Raking, Aerating, Leaf Pickup, Fertilizing, Landscape Work.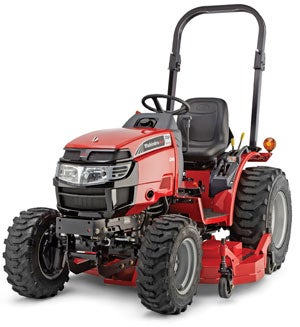 Have your interest? If so, we know exactly how you feel. But with all the manufacturers out there and all the choices you need to make, where do you start? We posed that question to Cleo Franklin of Mahindra USA.
"Many compact and utility tractor customers are first-time buyers and depend heavily on manufacturer websites, tractor industry blogs, and referrals from friends in their purchase decision process," says Franklin. "However, I always recommend potential customers to look beyond the tractor and consider the dealership in their buying decision because a purchase is more relational than transactional and having a dealer you can depend on after the sale with service and support is a critical decision driver as well as a Mahindra brand strength."
We agree and know first hand how a dealer can be the most important tool in selecting the best tractor for a specific property and its intended usage. Dealers will have a range of models on display, brochures for you to bone up on details and specifications, and knowledge of the performance capabilities of each tractor they sell. A good dealer will ask questions about your property. Is it flat and level? If it isn't, they may be thinking 4WD along with a ROPS and seatbelt would be prudent. Do you have a long driveway to maintain? Is it gravel, dirt or paved? Are you in a cold climate that has to deal with snow? All are important to know in the selection of the proper machine. The dealer needs to know how much acreage you're planning to maintain and how much time you're prepared to spend doing just that.
And picking the right dealer is far more than picking the color (brand). You should carefully assess the dealership. Does it appear neat and organized? Are the displays and informational brochures up to date? Is there a good selection of models to sit on, kick the tires of, and get a feel for what ergonomic features you like or dislike? What does the service department look like? Does it give the feeling that it would be the kind of place you would like having to go to bat for you on a warranty, or worse yet, out-of-warranty claim? What is the dealer's reputation? Ask for references.
Diesel Power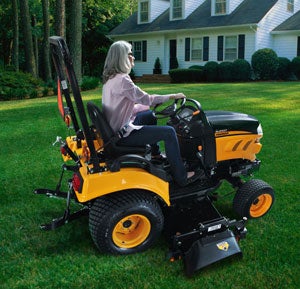 Almost every SCUT/CUT tractor comes with a diesel powerplant. If you've never experienced the power, longevity and fuel efficiency of a dino oil engine, all you need to know is that highway trucks, large ships and farm tractors all use diesel power for those very reasons. A diesel engine will be easy to maintain with extended service intervals and without things like sparkplugs and points. Power reserves are far deeper on a diesel engine vs. a gasoline engine of comparable horsepower. One of our favorite challenges is to have someone try engaging the PTO powering a mid-mount mower on a 20-horsepower diesel powered tractor and then try the same thing on a 20-horsepower gasoline powered machine. Guess which one stalls? Diesel engines also last longer, with over-the-highway trucks routinely exceeding a million miles and tractors having 10,000 and more hours on them without requiring an overhaul. Diesel fuel efficiency also is far better per horsepower per hour over gasoline powered counterparts.
Hydrostatic Transmission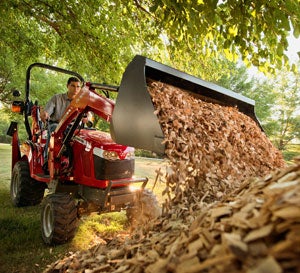 Most tractors today come with hydrostatic transmissions, but not all hydrostatic transmissions are the same. Box store models come with unserviceable transmissions that are designed to last a certain amount of time under a likely set of light duty conditions. The problem is that owners often exceed those duty conditions and find themselves facing expensive repairs or just sending the machine to the graveyard and having to purchase a new tractor. Look for machines that have serviceable transmissions. This means pressurized filtration and fluids that can be topped off and changed at specified intervals. Pay attention to the number of gear ranges the hydrostatic transmission has. A starting point should be two, but three can be desirous. Having the choice of ranges expands the usefulness of the tractor by allowing tasks such as mowing to be accomplished at faster speeds while at the same time offering the low down grunt for digging into a hillside bank or gravel pile.
Power Steering
Power steering is a common feature on SCUT/CUT machines. You most likely have power steering in your car, and for good reason: cranking that wheel while parallel parking without the help of power steering is an experience most would like to avoid. In the same light, maneuvering a tractor without power steering while carrying a bucketload of material and you'd feel the same exact way. Separate pumps for power steering and hydraulic functions assure one need won't take from the other.
Three-Point Hitch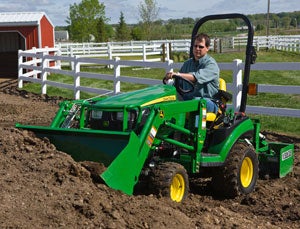 A three-point hitch (3PH) is one of the performance enhancing devices that separates real machines from casual contenders. Though some HD lawn and garden machines can be equipped with a 3PH, generally they will be Cat 0 (smaller) and use specially sized implements that carry an expensive premium. Starting with SCUT tractors, 3PHs generally come in Cat I sizes and with more useable capability. Some SCUTs will have limited lift height capabilities and don't have position control over the motion (where the operator can return the hitch to a selectable position each and every time vs. guessing). For those requiring more 3PH capability and versatility, you might be looking at a CUT which will have a full Cat I hitch. Cat I implements/attachments are readily available for purchase, rental or to borrow if you're fortunate to have access to a neighbor or friend's equipment stable. Attachments that use 3PH capabilities include box blades which are extremely useful for driveway maintenance and grading, rakes and blades for a variety of tasks, and even receiver hitches to tow a trailer or cart. Tillers and spreaders are also available for 3PH use.
Hydraulic Power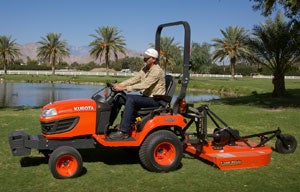 Wikipedia defines hydraulics as the transmission of power by the use of pressurized fluids. Too technical? Then just know hydraulic power is what allows you to lift, position, dig and turn without breaking a sweat. Raise/lower that 3PH with a tiller or rotary cutter, rotate the chute on a snowblower, operate a front end loader (FEL) to pick up a bucketful of gravel or mulch, or dig that trench with a backhoe attachment. All are possible and easily accomplished through the magic of hydraulic power.
In next week's installment we'll focus on specific tasks and implements to help get them done, property considerations to be mindful of, tractor resale value, areas of tractor ergonomics that may be important to you and some recommendations before you sign that check or contract.
Related Reading
Shopping at Farm Shows
ATVs and UTVs Are Useful Tools for Farmers and Landowners
2013 National Farm Machinery Show Report
35th Annual Antique Engine & Tractor Show Report
Buyers Guides
Our Partners