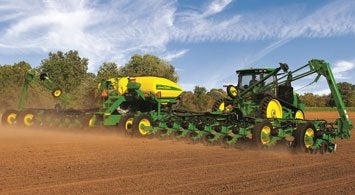 At an early morning viewing at the National Farm Machinery Show (NFMS) in Louisville, Ky., on Feb. 12, 2014 John Deere raised the curtain over its latest productivity improvement for the planting of seed.
Seed planting can be somewhat of a black art. Up until now, technology allowed ground speeds of up to 5.5 mph, but often ground conditions along with the optimum planting window cried for faster application. Plant spacing is critical. A Coefficient of Variation (CoV) higher than 0.33 leads to poor yield potential. Conversely, while lower CoV leads to maximum yield potential, traditional planting systems often dictate lower ground speeds to achieve those yields.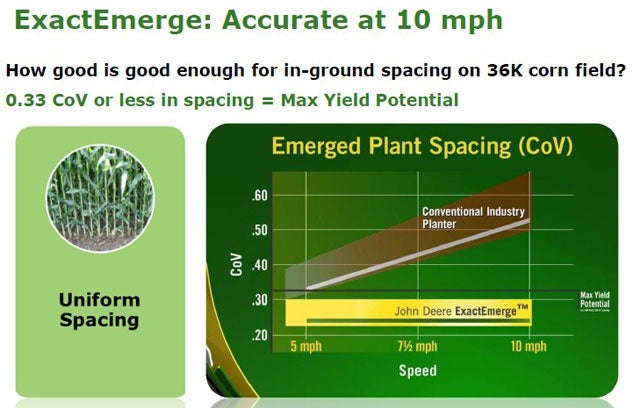 Along with uniform spacing, correct population, and uniform emergence all occurring within that critical planting window are what determines success. John Deere MaxEmerge planting systems have long been available and could achieve the goal of accurately spaced uniform emergence – the foundation that leads to growing farm profits. However, speeds are limited to 5.5 mph max, which with a less than favorable weather forecast and narrow window to get that seed down can force farmers to risk pushing the CoV.
Read our review of the 2013 National Farm Machinery Show Report
Enter the ExactEmerge solution. ExactEmerge system breaks through the ground speed limitation of traditional systems, allowing travel speeds as much as 10 mph while still achieving CoVs at or below 0.33.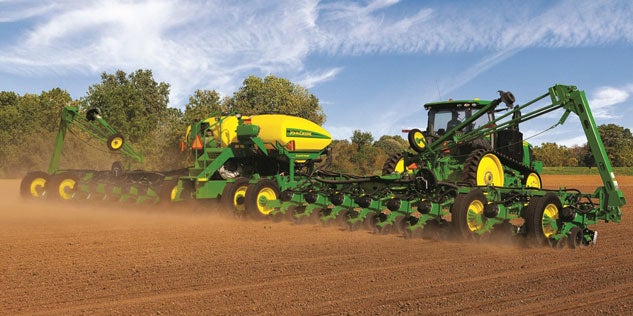 To achieve this game-changing increase in ground speed required the redesign of six critical components.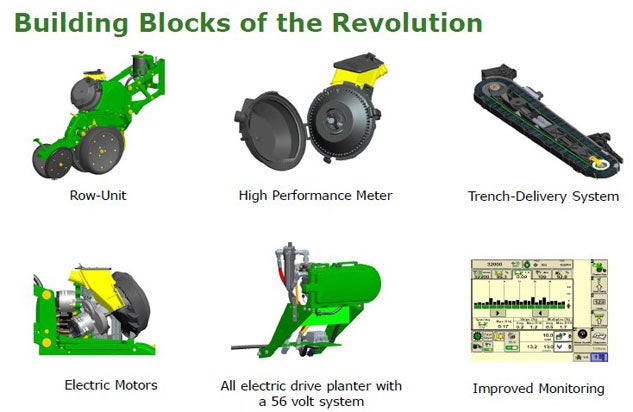 First, the Row-Unit had to be up to the rigors of the added stress. John Deere strengthened the shank and gave the wheel arm three times the wear life. Next, the meter placing the seed in the brush belt needed to be able to accurately place the seed in the middle of the belt. The high-performance vacuum meters used in the ExactEmerge system are rigid, bowl-shaped units and along with a no-adjustment brush-style doubles eliminator ensure a crisp handoff to the delivery system. The meters are able to singulate all seed shapes and sizes at higher speeds with no mechanical adjustment, even over terrain with slopes up to 15 degrees. And there is no longer need to performance test meters each year.
Read our review of the Hesston by Massey Ferguson 2956A Round Baler Review
Next, the trench delivery system was redesigned. Doing away with the traditional seed tube, a brush belt independent of meter is now used. This allows the delivery system to exactly match ground speed independent of the seed population selected. The brush system rotation is inverse to ground travel, so that the seed is gently placed into the trench without introducing position-disturbing bouncing and rolling about. Because the seed is retained in the brush until the last possible moment, backing up after stopping to restart the seeding application is eliminated.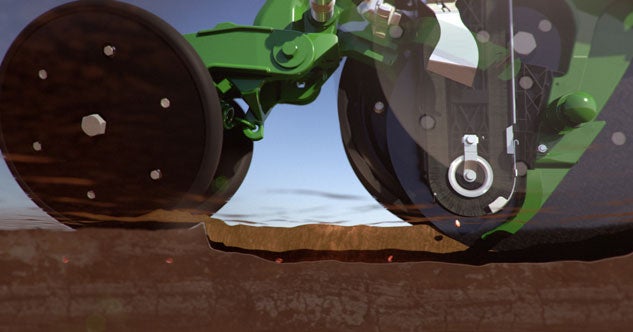 Two 56V electric motors are employed per row unit. Brushless motors are more efficient and have a longer maintenance-free life than brush motors, and are so used. Reduced amperage per row unit is also achieved. Active pneumatic downforce (a new acronym destined to confuse users of Adobe's portable document format) ensures each row unit maintains required ground contact even at higher speed. And to set, document and adjust field performance, improved system monitoring arrives in the form of SeedStar. SeedStar provides real-time, row-by-row performance data wirelessly to an iPad inside the tractor cab, office and John Deere GreenStar 3 2630 displays. Visualizing performance through high-definition mapping and not just numerical readouts gives the producer confidence that the planter is running at maximum precision and accuracy.
Read our review of the John Deere R4038 Self-Propelled Sprayer
With the John Deere 2014 early order program (EOP) making ExactEmerge systems available to farmers for planting season 2015, several questions are raised. First, has the ExactEmerge system been sufficiently field tested under the variety of conditions farms experience? On hand at the NFMS was Cummings, Kansas' Greg Smith who operates a 3000-acre farm. Smith described his terrain as 90% no-till and rough. During the selection process identifying conditions to best field test the ExactEmerge system, John Deere representatives arrived in Cummings to check out the lay of the land. When one commented that the terrain wasn't all that bad, Smith responded that they had just covered "good" terrain. Greg spoke of high-speed planting success with corn, hybrids and soybeans. At one point during testing, and skeptical that even application in a particularly rough section at 10 mph was achievable, Greg followed behind in a Gator, stopping every so often to check out the seed pattern. What he found was a perfectly straight application pattern with no large gaps, even at speeds that meant covering 15' of ground each second.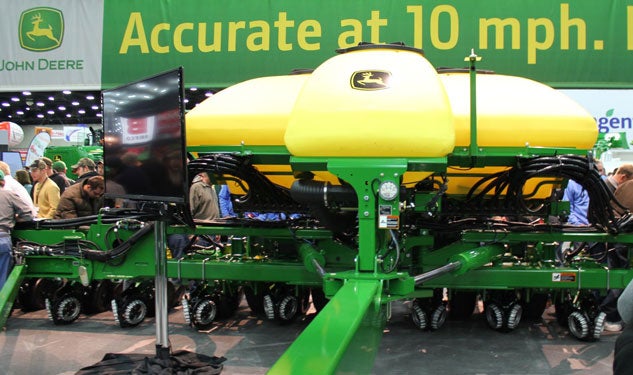 Another question asked was how much more horsepower does the ExactEmerge require to operate at those increased planting speeds. Kelby Krueger, product specialist, John Deere Seeding Group, told NFMS attendees that moving from 5 to 7.5 mph requires 40% more engine horsepower, and that moving from 5 to 10 mph ups those needs to 80% more engine horsepower. Krueger pointed out that most producers while planting utilize far less than available tractor HP and the increased demand should be well within existing equipment capabilities. One attendee pointed out that there appeared to be a lot of moving parts in the ExactEmerge system and wondered what added maintenance would be required. Krueger acknowledged that the system did have more wear points but that the wear liners had been designed so that their maintenance intervals mirrored that of traditional components – if producers were used to getting 3-5 years use before heavy maintenance, then they should expect the same. Soil conditions will be the primary driver with sandy conditions not surprisingly having the most impact.
So, how much more does this all cost? Good question and one John Deere remained coy about. Attendees were told that compared with the cost of the MaxEmerge 5 system, the increased cost of the ExactEmerge 1775NT will be well worth it. Time will only tell how the exact numbers work, but with the enthusiasm expressed at the ExactEmerge unveiling, John Deere should expect robust demand for its new high-speed, game-changing planter platform.