Hesston by Massey Ferguson 2956A Round Baler Review
A redesigned baler from the inventors of totally automated round baling
By Geof Fowler, Photography by Hesston by Massey Ferguson, Jan 17, 2014
Talk haying and the conversation will invariably center around Hesston, a company founded in 1947 and pioneer of the first commercially available self-propelled windrower in 1955. Other industry firsts include the large square baler in 1978, the 4600 small square baler featuring a centerline design in 1979 and the model 560 totally automatic round baler in 1988. In 2006 Hesston joined forces with Massey Ferguson and the innovations haven't stopped.
In August of 2013, Hesston by Massey Fergusson introduced the 2900 series round balers as replacements for the venerable 2800 series. The 2900 series consists of 4 models: the 2946, 2946A, 2956, and 2956A. The smaller 2946 and 2946A deliver 4' x 6' (46.5" wide x 72" diameter) round bales at dry weights of up to 1644 lbs and require 65 PTO HP minimum while the larger 2956 and 2956A deliver 5' x 6' (61.5" wide x 72" diameter) round bales at dry weights of up to 2200 lbs and require 70 PTO HP minimum. Gear boxes are reversible and run at either 540 or 1000 RPM. All 2900 Series variants are high capacity implements designed to feed faster while delivering uniform big bales regardless of the crop or conditions. This translates to better results even with tough crops like corn or soybean residue and wheat straw.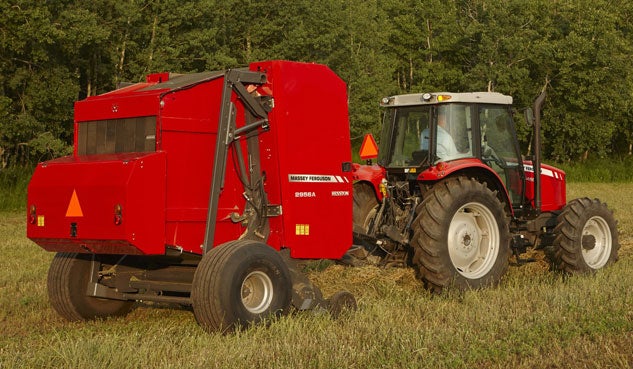 These are ready-to-go balers that have undergone a 35-minute tough factory setup so when they arrive at the farm or ranch the only adjustments needed are for that day's crop and field conditions. Improvements over the 2800 series include a redesigned feed rotor frame that provides more room above the augers, adjustable feed auger strippers, improved upper drive chain idler strap and stronger solid windguard mounts. Benefits from these series improvements are better chamber feeding, faster baling speeds and improved performance in residue crops – even in tough conditions such as damp or uneven windrows.
Read our review of the Hesston 1366 Disc Mower
Differences between the 2946/2956 and the 2946A/2956A relate to the bale tying system. The standard tying system is Auto-Tie which automatically ties the bale when the selected diameter is reached. In semi-automatic mode, the baler will perform the tying function when the operator pushes the cycle start switch. Select an A model and the tying system is Auto-Cycle which automatically starts the bale forming belts, wraps the bale, declutches the drive, opens the tailgate, and then restarts the baling process.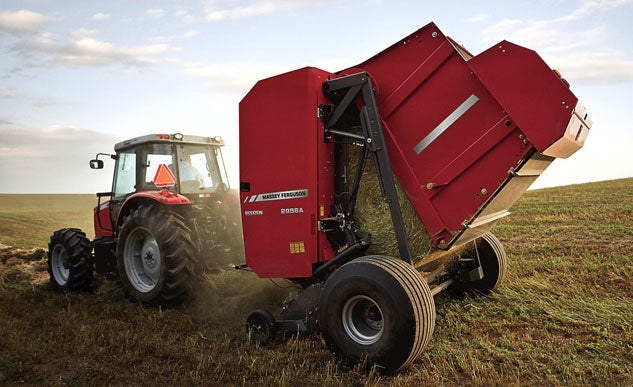 Real time bale monitoring is accomplished from an ISO compliant console monitor (C1000). The display includes a three-bar bale shape that changes color according to bale shape. The bar display indicates if an hourglass or barrel shape bale is being made as well as relative left and right bale height. The console monitor can also change the Auto-Tie function to match crop and wrap types.
So what makes a Hesston round baler among the best in the business? A number of innovations beginning with the open-throat design that allows the crop to move from the pickup directly into the bale chamber. This produces a consistently dense bale from center to shoulder outside layer. Dense bales are easier to handle and maintain shape in storage. Next, the Hesston baler drive system features fewer heavier chains for greater reliability and reduced maintenance. This setup is modeled after the system used in the 2100 Series square balers, which is the number one baler on the market. A hydraulic clutch stops the drives as the bale is ejected while keeping the bale-forming belts tensioned. The hydraulic clutch also protects against overfilling and minimizes belt problems. One-door access to all drive components aids in maintenance ease.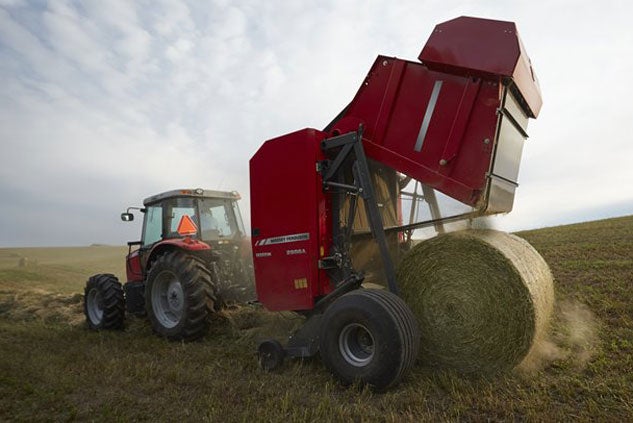 The twine box holds up to (12) 10,000-foot balls of twine or alternately (8) 20,000-foot balls – enough to keep the baler going all day. And the door location is out of the way, allowing easy access to drive chains. A mesh wrap system is a factory or field installed option which allows bales to be made faster with a wrap that will last longer in storage than traditional twine.
Read our review of the Krone BiGPack 1270 X-Cut MultiBale
Standard on A models is a hydraulic kicker (optional on non-A models which are equipped with spring kickers). The hydraulic kicker system gently pushes the bale out and away from the tailgate, which is a big benefit in hilly conditions where a spring kicker with its less gentle action can cause a bale to roll away or into another windrow. And the operator can shut off the ejector for precise placement, such as next to a fence line.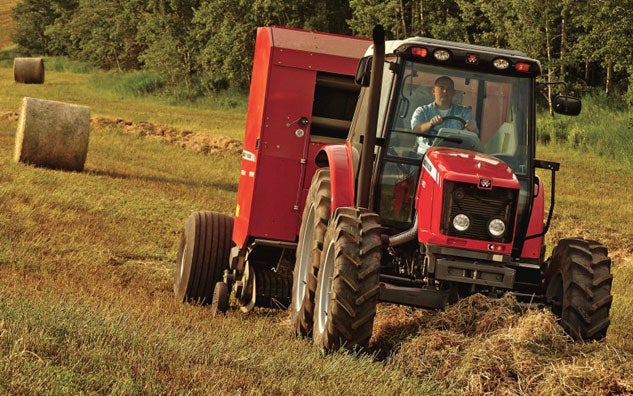 At the field level, gauge wheels keep the wide, low-profile pickup close to the ground while following field contours to gather every possible leaf of crop. Wide windrows are not a problem and the system itself is highly visible to the operator. Suspension is through an independent torsion axle (independent floatation axle optional) with standard large floatation tires.
All 2900 Series models can be equipped with a factory or dealer installed silage-ready kit to aid in those wet crop conditions. The kit adds a scraper knife to keep crop from wrapping around starting roll and additional rollers in the tailgate to help reduce wet crop buildup.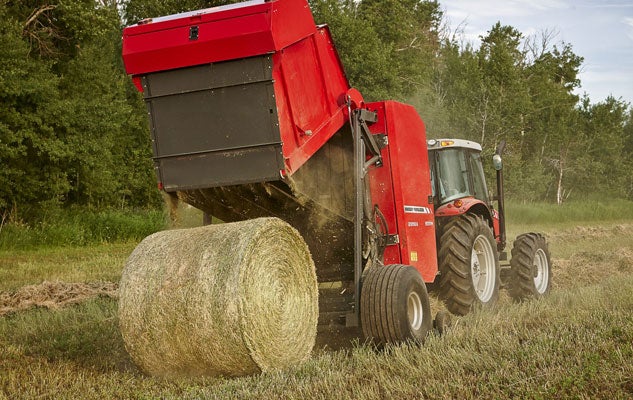 The 2956A measures 116.5" wide (including gauge wheels) and is 163.5" long and 121" tall. Weight is 6500 lbs with a tongue weight of 1760 lbs. Standard tires are size 14L x 16.1 with a 21.5L x 16.1 option.
Read our review of the 2014 Massey Ferguson 6615
In addition to the abovementioned hydraulic kicker, mesh wrap system and silage kit options, the 2956A can also be outfitted with a bale ramp, fire extinguisher, twine threader, solid windguard, short crop and soft-core kits. Suitable for large dairy and livestock farmers and commercial hay producers with annual baling needs ranging from 3,000 to 15,000, the 2956A offers the highest quality, highest nutrient, highest value hay around. With creative financing available and rates as low as 0 percent APR, and buy, lease or rent options, the Hesston 2956A is worth checking out.
Buyers Guides
Our Partners