John Deere R4038 Self-Propelled Sprayer
Deere's new flagship sprayer impresses
By Geof Fowler, Photography by John Deere, Oct 11, 2013
At the John Deere New Product Intro held in Columbus, Ohio, media, investors and a large dealer contingent had an opportunity to familiarize themselves some new machinery, including two all-new Self Propelled Sprayers.

For 2014, the R4030 and R4038 replace the R4730 and 4830 sprayers and have been completely redesigned to be easier to use, operate at higher speeds and deliver a more precise metering of product on level and uneven terrain. The R4030 is an 800-gallon sprayer powered by a 280-horsepower 6.8L PowerTech Plus engine mated to a four-wheel hydrostatic drive that is designed to operate at speeds of up to 20 mph in the field and 30 mph during transport. The R4038 is a 1000-gallon sprayer powered by a 310-horsepower 9.0L PowerTech Plus engine, also with four-wheel hydrostatic drive and with the ability to operate at speeds of up to 25 mph in the field and 35 mph during transport. Both powerplants achieve EPA Final Tier 4 (FT4) emissions requirements through a number of technologies including cooled exhaust gas recirculation (EGR), diesel oxidation catalyst (DOC) and a diesel particulate filter (DPF).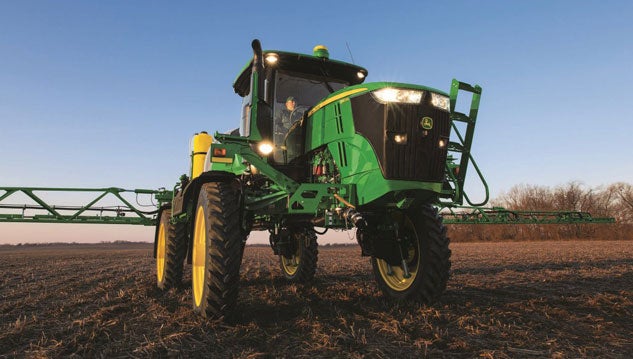 The EPA suggests engines with outputs above 129 KW will require service of the DPF ash filter at intervals of 4,500 hours, but John Deere believes the intervals will be two to three times that, up to 15,000 hours. An onboard diesel exhaust fluid (DEF) tank displacing 7.8 gallons supplies the urea-based fluid with consumption based on engine load and speed. Expect DEF consumption to be 1-3% of total fuel used. John Deere DEF is recommended, which is made up of 32.5% high purity urea and 67.5% deionized water and yields a freeze point of around 12 degrees F (-11 degrees C). For cold weather starting, the R4038 utilizes a block heater and start aid that injects a small amount of ether into the combustion chamber.
Hesston 1366 Disc Mower Review
The R4038 drivetrain is hydrostatic, with two 20 gpm pumps drawing from a 26-gallon reservoir. Flow from each pump is diverted to two wheel motors (one pump driving the left front and right rear wheels and the other driving the right front and left rear wheels). Each driven wheel further gets a dual strut air-ride suspension with auto air spring leveling and 8.0" of travel (4.0" up and 4.0" down). At the Columbus event, we watched an R4038 drive over a railroad tie obstacle course with impressive composure. Under frame clearance is 60" and with the standard wheel shields and optional under belly shields installed, the R4038 versatility can be extended to tall crop applications. Track width is hydraulically adjustable between 120 and 160") and integrated into the CommandARM (more on this later) for in-the-cab adjustment.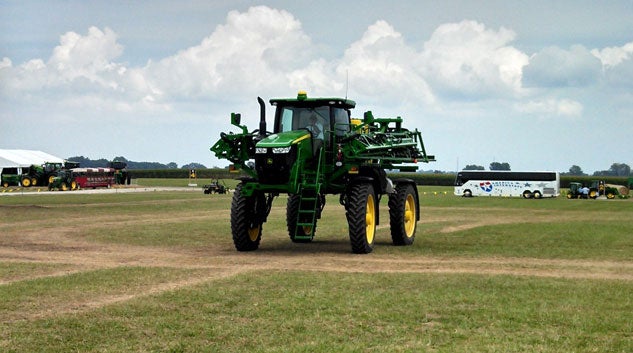 Climb up the steps, ladder really, and open the door. The CommandView II cab is as spacious as the cab on the 7290R we reviewed in September. Our test tractor came with the optional Premium Package which includes leather upholstery and is as plush as a luxury automobile. The operator seat has adjustable lumbar support and a backrest that can recline up to 30 degrees. Even the instructor seat is clad in leather. The steering wheel tilts and telescopes with the instrument pod which houses the turn signal, dimmer switch, flash-to-pass and horn, maintaining a constant relationship. A front wiper/washer, pull-down sunshade, tinted rear window, and 12V outlet are all standard, as well as a sub-woofer to power those favorite tunes located behind the seat. And there's plenty of room for a cooler for those days when downtime for lunch just isn't possible. General operating status (rpm, mph, fluid levels, oil pressure) are available at a glance at the digital corner post.
Since the R4038 is a single-purpose machine, precise control over spraying functions is paramount for maximum productivity and cost effectiveness. To that end, the John Deere CommandARM with Hydro Handle and GreenStar 3 2630 interface put everything needed at the operator's fingertips. Controls for rate selection, solution pump, agitation, left/right fence avoidance, tread in/out (wheel spacing that can be changed without leaving cab), park brake, ladder up/down, slip, high/low idle settings, and rpm are all found on the CommandARM while the Hydro Handle controls boom raise/lower, boom fold/unfold, foam marking, speed range, spray on/off and GreenStar AutoTrac resume.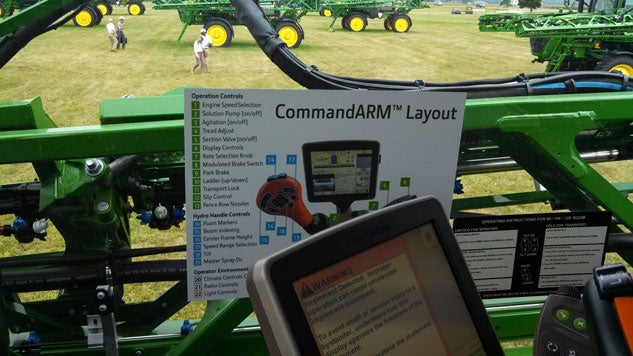 Electronics are all JDLink capable, supporting JD Wireless data transfer (enabling wireless transmission of data between the GreenStar display, MyJohnDeere.com and the producers farm management info system), ServiceADVISOR remote (allowing the dealer to read diagnostic codes while the machine is operating in the field) and Remote Display Access (allowing owners and managers to remotely view the GreenStar display). Our test tractor was also outfitted with the optional JD Mobile Weather package, which uses real time data for wind speed, Delta T (evaluation of spraying conditions, evaporation rate and droplet lifetime), temperature and humidity to help determine spraying conditions while still allowing the operator to make in-cab product application decisions. Whether in auto or manual mode, the system notifies the operator when conditions are outside preset parameters.
Krone BiGPack 1270 X-Cut MultiBale Review
Fire up the PowerTech Plus powerplant and the CommandView II cab is eerily quiet. Toggle the ladder button on the CommandARM and the ladder hydraulically raises (ladder will automatically lower when key is turned to off position or if the operator leaves the seat for five or more seconds while Hydro Handle is set to Park). Depress the central toe switch while pressing the boom unfold button and 15 seconds later the boom is fully extended. Boom width choices include 90' (seven sections), 100' (nine sections) and 120' (11 sections). Thirteen foot wide tip sections are breakaway and will reset automatically if a post, fence or other obstacle is encountered, though full boom break away (up to 35 degrees) requires a manual back up to reset. Boom height (nozzle tip to ground) can be adjusted from 1' 8" to 8' and the bushings used are of a greaseless design. Stainless Steel plumbing is standard but there is a poly option.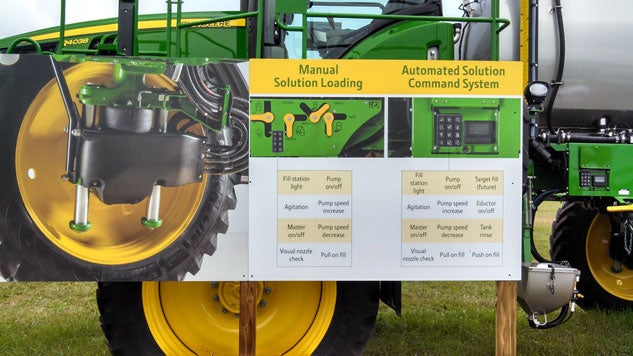 The pump system on the R4038 includes dry shutdown protection, which prevents the pump from cavitation damage. The system warns of low pressure (seven psi) when encountered for more than three seconds and completely shuts down the system after 10 seconds. Allowance for two different chemicals outside the main mixing tank (135 gallons) is accommodated, so the ability to handle situations such as a glyphosate resistant area is possible without unnecessary exposure to others.
Outside the cab, John Deere engineers have worked at getting the sprayer spraying quicker. A front fill option (factory installed) supports both push-on and pull-off filling. On the left side, a 12-button SolutionCommand keypad controls filling and simplifies cleaning through an automated rinsing process. There is also a 170-gallon rinse tank that can run flush cycles up to three times. A Greenstar controlled boom air purge option that cleans out the system and pushes the chemical to the solution tank is available. For washing hands, goggles, 80-mech strainers and tips, an onboard four-gallon clean tank is provided. SolutionCommand also alerts the operator when nozzles are plugged or when damage has occurred. There is also a 1.5-gallon injection foamer system with mixing chambers at both ends of the booms. Marking foam can be applied manually or in auto mode, allowing the operator to concentrate on driving.

Two other technologies worthy of mention were included on our test tractor: AutoTrac assisted steering, which gives the operator hands off wheel capability as well as 1" accuracy and SectionControl, which automatically reduces skips and costly overlaps. Both are sure to improve productivity and lower costs. And for operators requiring a three-season applicator, the R4038 can be converted to a spinner-style dry applicator with the addition of a NL200GH New Leader Drybox which can propel material up to 105' and maintain a constant spread in crosswinds up to 20 mph.
2011 Bush Hog 296 Rotary Cutter Review
John Deere literature compresses the application cycle to: Ready – Spray – Done. With all the technology, driver aids and data processing capability, it's understandable that these are highly productive machines.
So who would own a R4038, a sprayer with a base price near $350K (final pricing had not been provided to us at time of publication)? A large farmowner or a spraying concern no doubt, but with the competitive pressures on smaller farms as well, it may be that we will start seeing more of these sprayers in not so large fields.
Buyers Guides
Our Partners