2014 Cub Cadet RZT S 42 Zero-Turn Review
Easy to operate and budget friendly
By Geof Fowler, Jul 18, 2014
We first saw a Cub Cadet RZT S Zero-turn at the National Farm Machine Show (NFMS) in Louisville in February. The big attraction at the Cub Cadet display was the large incline ramp that could be seen from quite a distance. On it was a familiar yellow and white steering wheel-equipped machine spinning in a variety of left-right-up-down patterns while employee aboard spoke nonchalantly about their exciting new RZT S Zero-turn lineup. We couldn't wait to get our hands on one.
At Brentwood Power Equipment Center in Brentwood, NH, the Cub Cadet line is a new addition. And what an addition it has become. Since the BPEC open house in April, more than 70 RZT S Zero-turns have found new homes. And talking to owner Dave Flagg, they aren't sure if they will ever again sell a residential zero-turn that doesn't come with a steering wheel. We asked him why. Flagg's answer was two parts: a brief repartee on the ease of use and the keys to a brand new RZT S 42 Zero-turn.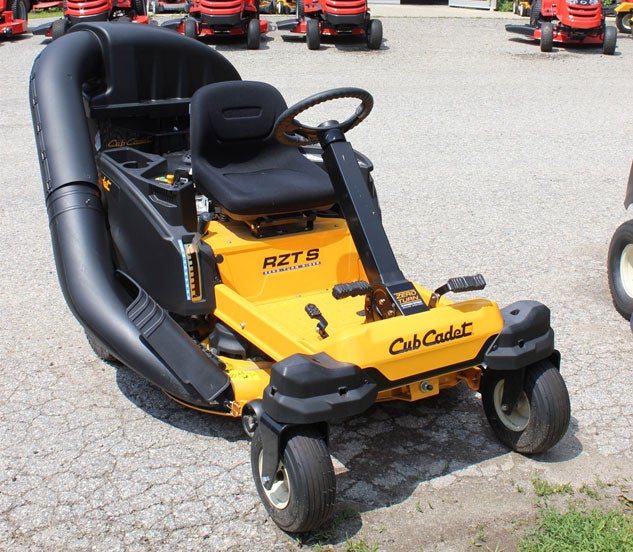 Cub Cadet's residential RZT S Series consists of four models. There is the RZT S 42, which is powered by a 22 HP Koehler professional-grade 7000 Series V-Twin with cast-iron cylinder sleeves and a two-blade stamped mower deck. Next step up is the RZT S 46, which is powered by the same series engine but gets another horsepower and a 46" deck, also with two blades. The RZT S 50 gets the same engine as the RZT S 46, but comes with a three-blade stamped deck. Finally, the RZT S 54 gets a professional-grade Kawasaki FR Series V-Twin and a 54" fabricated three-blade deck. All models have full-pressure lubrication with replaceable spin-on oil filters.
COMPARISON: Read our review of the 2013 Kubota ZG100 Kommander
All RZT models transmit power to the drive wheels through dual Hydro-Gear EZT 2200 transmissions. Forward-reverse control is through a twin side-by-side pedal arrangement that offers well-modulated control. Steering control is through a steering wheel that replaces the lap bars found on traditional z-traks. Those that remember the ill-fated John Deere SST (spin-steer) tractors would immediately grasp the idea, but unlike the SST, which only had control over the front wheels and making it in many circumstances dangerous on slopes, Cub Cadet RZT models offer true four-wheel steering control.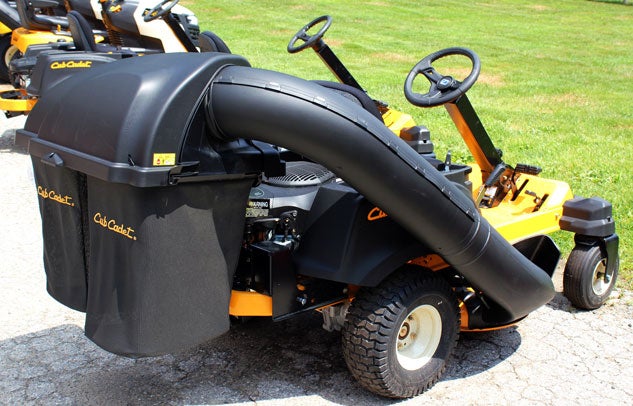 RZT S models start with heavy-duty one-piece 12-gauge full-length frames, a heavy-duty fabricated steel front axle that is greaseable, and steel caster wheel pivot bearings. For operator comfort, the high-back seat is adjustable, having eleven positions with 6" of fore/aft travel. The steering column also adjusts to two positions. A brake pedal is located on the left floorboard and is used in conjunction with a dual-function pedal at the base of the steering column. This pedal can be used to set or release the parking brake and set the cruise control speed which is standard on RZT S models.
Conveniently located just right of the seat is the instrument pod, which includes the key start switch, throttle/choke lever, hour meter, and push/pull power take off (PTO) knob. A triangular button is found next to the key switch and PTO, which Cub Cadet calls its RevTEK reverse mowing technology option. RevTEK is a response to the AMSI standard prohibiting reverse mowing on tractors shipped after Sept. 2004, except in certain situations. RZT S operators wishing to allow mowing in reverse must depress the triangular button to do so, but the system remains active until manually cancelled. Cut height selection is by an easy one-lever system located just below the instrument pod, which contains eight deck height adjustments ranging from 1.5" to 4".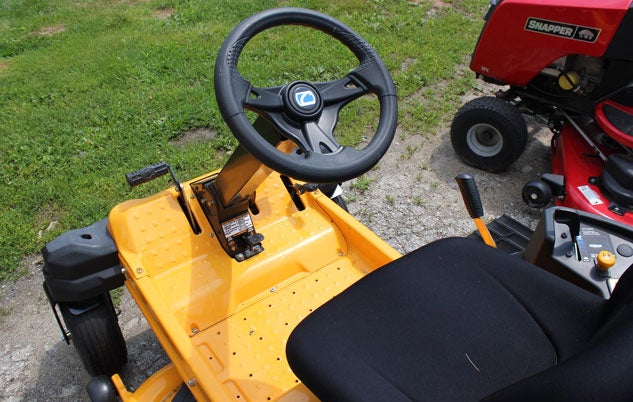 So how does it all work? Well, in a word. All the operator needs to do is pick the travel speed by depressing the front or rear hydro pedal to the desired position and just steer as with any other tractor. Turning radius, as might be expected in a zero-turn, is zero. But whereas a traditional z-trak requires skill to accomplish a 180-degree (J turn) turn without damaging turf, and where most operators go to some form of a time-adding three-point turn, the RTZ S does 180s without turf damage – something even the inexperienced can expect the first time out.
COMPARISON: Read our review of the 2014 Simplicity Prestige Garden Tractor
Reversing the RTZ S requires a little more foot effort than we like. The reverse pedal, perhaps to discourage mowing in reverse, runs through a pedal-lever that sticks straight out from the floorboard and requires lifting one's foot to reach the pedal. If the RZT S were in our purchase plans, a trip to a local fabricator to reconfigure the pedal would be in order. And it wouldn't take much work to make the pedal arrangement as good as anything from Simplicity or John Deere. That said, the OEM configuration does work and shouldn't in any way be considered a show-stopper. Top forward speed is 7 mph and reverse is 3 mph.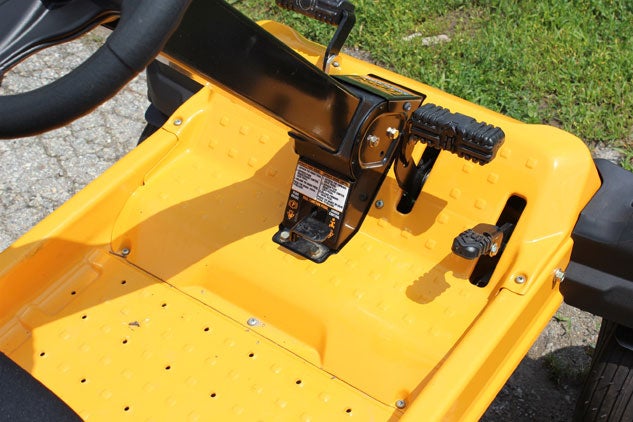 All RZT S riders measure 80" long and 36" tall. The RZT S 42 is 50" wide and weighs 546 lbs, RZT S 46 is 53" wide and weighs 565 lbs, RZT S 50 is 57" wide and weighs 620 lbs, and RZT S 54 is 61" wide and weighs 635 lbs.
COMPARISON: Read our review of the 2014 John Deere X758 4WD Signature Tractor
All models come with floating 12-gauge high lift decks with the exception of the RTZ S 54, which comes with an 11-gauge high lift fabricated deck. All decks have gauge wheels that are adjustable and greaseable for long service life. As with the trend these days, the decks all have wash systems where the operator can attach a garden hose to clean the underside after mowing. Still, we question the sensibility of adding water to metallic components.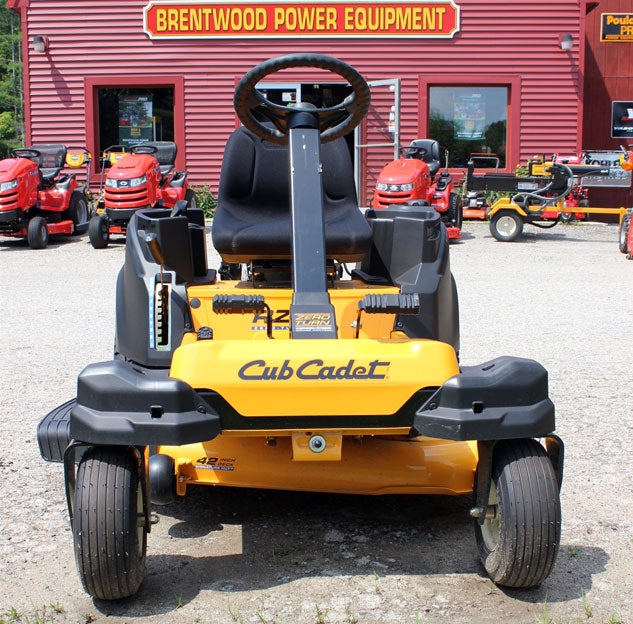 Models with 42" and 46" decks ride on 18" x 8.5" – 8" rear turf tires while the 50" and 54" models get 18" x 9.5" – 8" turf tires. Front tires across the model range are all 13" x 5.0" – 6" rib types. Cub Cadet warranties RZT S riders with three-year/120-hr. limited coverage. The RZT S 42 we tested comes with a MSRP of $2,999, with the model lineup topping out at $3,699 for the Kawasaki-powered RTZ S 54.
For anyone feeling the allure of the time-saving ability of a z-trak but can't get used to the use of lap bars, check out the Cub Cadet RTZ S lineup. And if you're in the vicinity of Brentwood, NH, stop in at BPEC and ask for Dave or his son Nate.

Buyers Guides
Our Partners