2016 New Holland T4.115 Cab Review
Big power and refined maneuverability
By Geof Fowler, Photography by New Holland, Jan 21, 2016
The all-new New Holland T4 Series utility tractors follow on the tried-and-true success of the T5000 series predecessors. There are four models sharing the same frame size, the T4.85, T4.95, T4.105 and T4.115, and a single special model, the T4.75 PowerStar, a step down on power and size. The new numbering system depicts the series followed by the gross horsepower rating rounded up or down. Models from the T4 series can be had in open station or cab configuration with 2WD, standard-duty 4WD, or with a HD MFWD front axle.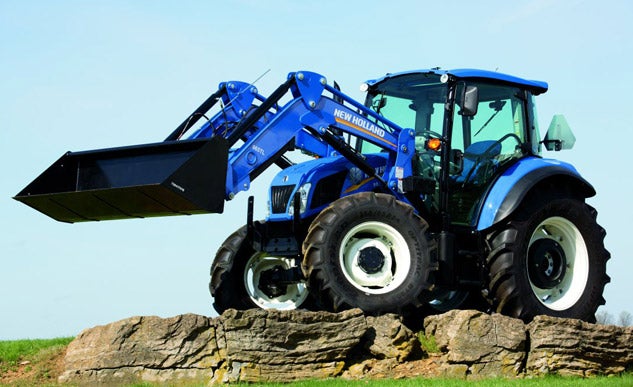 Powering the series are turbocharged 4-cylinder 3.4L (207ci) F5D engines developed and manufactured by FPT, a Case New Holland company that designs and builds engines ranging from 20 to 825 horsepower for use in on-road, off-road, marine and power generation applications. EPA Final Tier 4 emissions compliance comes through the marriage of several technologies, including cooled exhaust gas recirculation (CEGR), high pressure common rail (HPCR) injection, and a diesel particulate filter (DPF). Diesel exhaust fluid (DEF) additions are required. Max power is available as low as 1900 RPM and extending through to the 2300 RPM working band. In the case of the T4.115, the gross horsepower rating is 114 with a power take-off (PTO) rating of 98.
COMPARISON: Read our review of the 2016 John Deere 6120E
Several transmissions choices are available with the base unit being a 12 X 12 power shuttle that is perfect for loader work, a 20 X 20 power shuttle with creeper gears allowing speeds as slow as 0.15 mph, and two Dual Command transmissions, a 24 X 24 and a 40 X 40 with creeper gears. For directional changes an electro-hydraulic turn signal-like stalk is located just below the left hand steering wheel rim, requiring just a push or pull to change direction. After a directional change is suggested, the lever returns to center, ready for the next command. To activate neutral, there is a button located on the end of the stalk.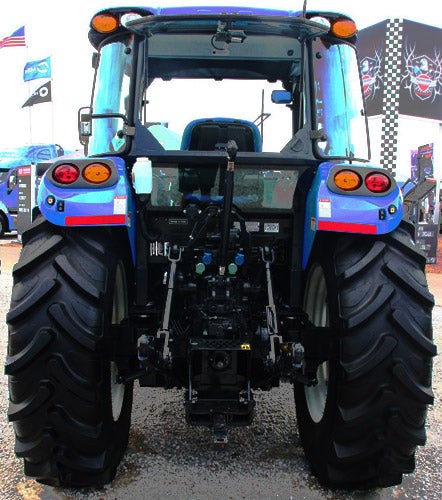 Engaging or disengaging creeper gears for tractors so equipped is through a lever located on the right side CommandArc console. Dual Command transmissions up the possibilities with the addition of Hi-Lo speeds that are controlled by a lever, also located on the CommandArc console. This lever controls the four gears in an H pattern and the Hi-Lo function using thumb buttons marked with a rabbit and turtle. A PowerClutch button on the front of the lever allows shifting between the three-speed ranges without requiring the use of the clutch pedal. Order either Dual Command transmission and the tractor automatically comes with an Electronic Draft Control (EDC) mouse pad, tilt/telescope steering wheel, fender mounted three-point hitch (3PH) switches, and transport speed upped from 20 mph to 25 mph.
COMPARISON: Read our review of the 2016 New Holland TS6.120 Open Station
Hydraulics run through a twin pump open-center system flowing 16.9 gpm for implement demands and 9.7 gpm for power steering (26.6 gpm total). This gives the standard 3PH a lift capacity of 5620 lbs with an option to up the capacity to 4351 lbs, both measured at 24". Two rear remotes can be factory installed with an option for a third by the dealer. The lower link arm ends are telescopic for ease of implement attachment and the outboard stabilizers are pin adjustable. A 540/540E rear PTO is standard with a 1000 RPM option.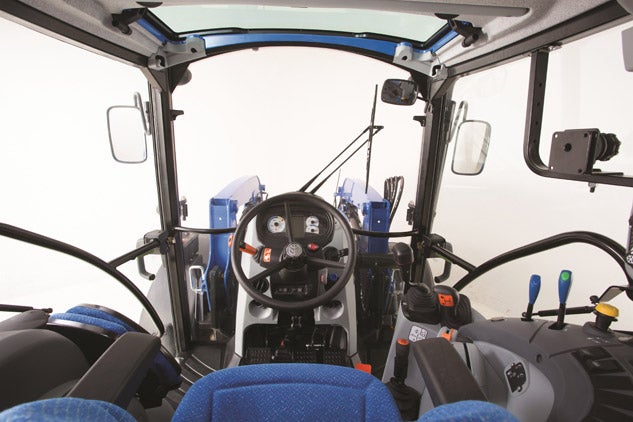 The VisionView cab is a product of virtual reality. In our July 2015 coverage of New Holland's 120th Anniversary Media Event, we touched on how this technology was being implemented into the design process. The VisionView cab is a good example of the degree to which ergonomics is driving design with the end result an uncramped cockpit with all major functions no more than an arm's reach away and many fingertip reachable. The levers for throttle (there is also a foot pedal) gear, range, creeper and power reverser all have orange color themes; hitch and remotes are blue; and the PTO is yellow.
If so-equipped, the folding fabric instructor's seat is full size, while the operator's seat comes with a mechanical suspension as standard fare with an air ride option that also swivels 15 degrees for easier viewing when pulling a rear implement. As mentioned above, the steering wheel (part of the Dual Command transmission package) tilts and telescopes as an option, with the dash cluster moving in conjunction. The HVAC system is dual zone with 10 adjustable vents that can direct heat and cooling to the operator or to defrosting the windows with plenty of options in between. A high-visibility roof option is available, which is especially useful in loader applications and can open for ventilation with an integrated sunshade for those times when the sun is at full glare.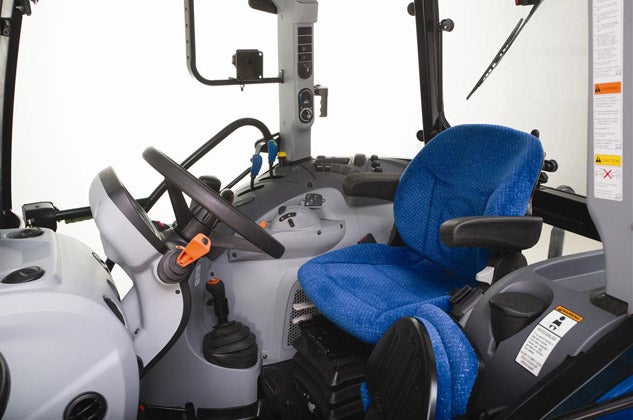 Two factory-installed loader choices are available, either in non self-leveling (NSL) or mechanical self-leveling (MSL) form. For tractors with tires smaller than 30" in diameter, the 655TL loader is the way to go. Offering the ability to lift 2478-3179 lbs to a max height of 125-126", a dump clearance of 93" and a dig depth of 8" (capacity and reach differences are attributable to the NSL or MSL differences). For tractors with taller tires, the 665TL is the way to go and operators can expect lift capacities of 2632-3428 lbs to a max height of 134-135". Dump clearance for the 665TL is 101-102" with a dig depth of 6-7". Breakout force ranges from 4455-5661 lbs. Buckets are sized at 72" or 84" with either a skid-steer or Euro-style faceplate. For applications such as a grapple, T4 tractors can be equipped with a third function diverter. If a T4 is purchased without a loader, there are three after-the-fact dealer-installed options available.
COMPARISON: Read our review of the 2015 Massey Ferguson 4608
Easy maintenance is built into T4 models, with the flip-up one-piece hood exposing necessary points at ground level. For example, the cooling package swings out for cleaning/service and the 30.3-gallon fuel tank is conveniently filled from ground level. Engine oil service interval is 500 hours. T4 tractors (except the T4.75) are 75.7" wide by 158" long and measure 102.1" to the top of the cab roof when wearing 18.4R34 rear tires.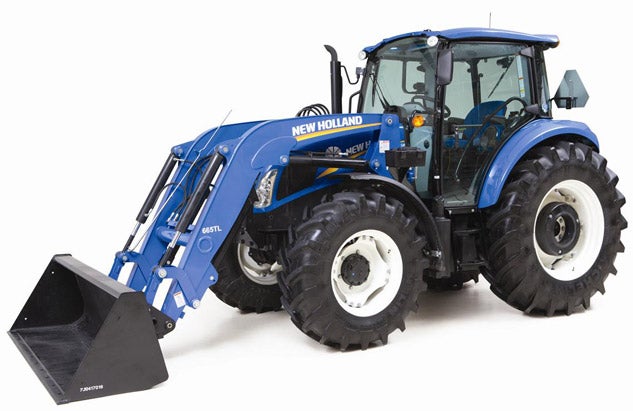 For an agribusiness or municipality in need of a 98-horsepower machine but with maneuverability of a smaller tractor, the New Holland T4.115 would be well-worth consideration.
Buyers Guides
Our Partners