2014 Gravely 460 Pro-Turn Review
Big power and minimal turf damage from this zero-turn mower
By Geof Fowler, Aug 15, 2014
Gravely DNA runs deep. Beginning with the two-wheel Model D Motorized Plow in 1916, the two-wheel Super Convertible in the 50s, four-wheel tractors in the 60s, and commercial mowers in the 80s, performance and durability have been the benchmark. Proudly bearing the slogan "An American Workhorse Since 1916", today Gravely is a division of Ariens Company, whose 1500-person workforce continues to develop and produce commercial-grade products.
And while we are a tractor site, the value of zero turn mowers can't be ignored. For plain all-out mowing efficiency and speed in a compact package, a zero turn has few peers. And even in circumstances where a tractor is available, it's not uncommon to have a zero turn mower for mowing duties, freeing up its four-wheeled distant cousin for those ground-engaging tasks it is better suited for.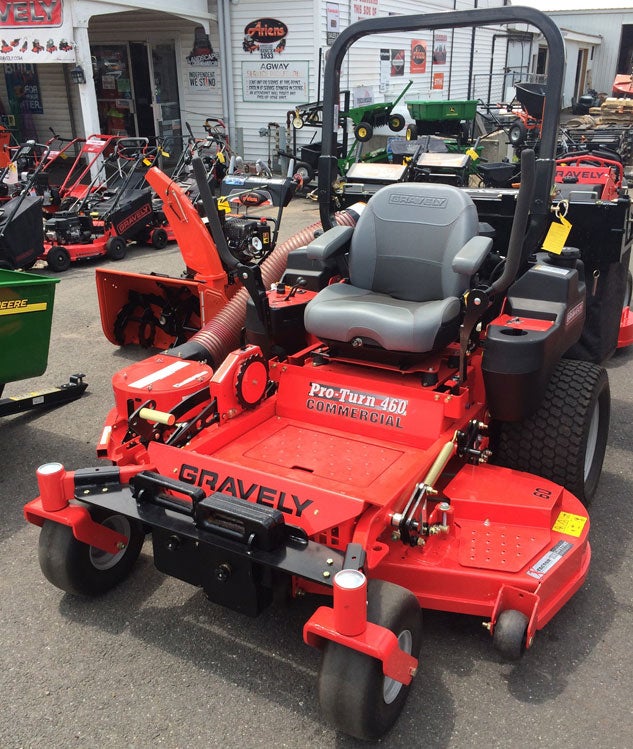 The Pro-Turn 400 XDZ Series is Gravely's top of the line offering. Within the series are three main variants, the 472, 460 and 452, with each referring to the mower deck size (72", 60" and 52"). Those three variants are further expanded by different manufacturer engines, including gas, liquid petroleum (LP) and diesel options. For gas-optioned 400 ZDX machines, Kohler and Kawasaki engines are offered, LP equipped XZDs come with Kawasaki powerplants, and diesel XDZs get Kubota power. Horsepower ratings range from 24.5 to 35.
COMPARISON: Read our review of the 2014 Cub Cadet RZT S 42 Zero-Turn
Our test rig was a Pro-Turn 460 made available by the good folks at Ellington Agway in Ellington, Conn. and equipped with an optional three-bag bagger system. Powered by a 35 hp Kawasaki FX1000V air-cooled V-Twin, we doubted the Pro-Turn 460 would be lacking in the power department – a suspicion our testing quickly confirmed. Unlike many modern zero turn machines, Gravely has chosen to go with a Hydro-Gear ZT-5400 integrated transmission. It's a setup that offers smooth operation, great modulation, and is less prone to leaks than systems with separate pump and wheel motors.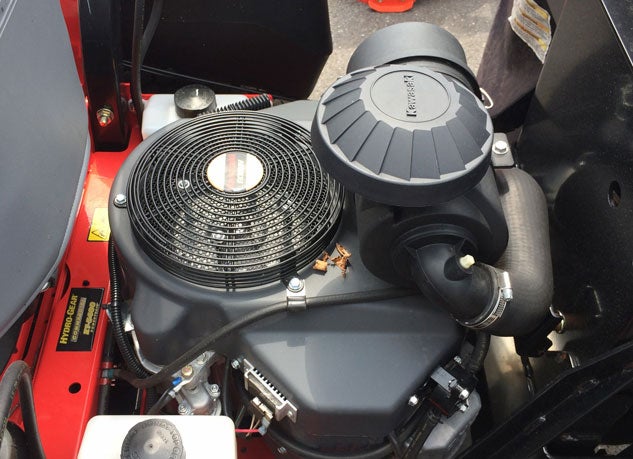 All Pro-Turn 400 Series machines begin with a sturdy 3" tall steel frame that is robotically welded. Gravely engineers have designed a vibration isolating system that allows the frame to absorb bumps and dampen rotational movements, isolates engine vibration through mounts, and isolates the seat from vertical impacts through rubber mounts. Vibration dampening doesn't end there – the foot platform and seat also deserve special mention. The foot platform is rubber isolated, but that doesn't tell the entire story. Climb onto a Pro-Turn 400 to understand.
The entire deck of the Pro-Turn 400 moves as if it were on a gyroscopic gimbal. We're not talking about a huge range of movement, but just enough to dampen shock and make long hours of use all that more easy on operator's feet. And the seat is the industry's first air ride offering with cushion adjustability just a touch of a button away. Further aiding defense against vibration are the standard rear 24 x 11.5-12 turf and front 15 x 6-6 semi-pneumatic tires.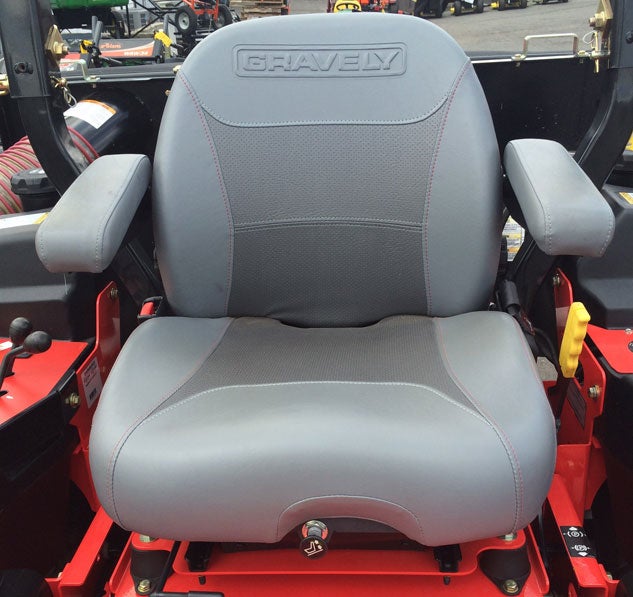 For deck adjustment, Gravely has an easy lift system that requires only minimal force to raise and lower the deck. An electric deck lift option is available for the ultimate in deck lift ease, but the system works so effortlessly it makes us wonder how many will actually be sold. Cut height adjusts in 19 quarter-inch increments from 1" to 5.5" with an easy to read dial letting the operator know what setting is being used at a glance.
COMPARISON: Read our review of the 2013 Simplicity Regent EX
The mower deck is a full seven-gauge welded deck with ¼" spindle reinforcement and a ½" wear bar wrapping potential scuff points. The gearbox is cast iron and the spindle shafts steel, with maintenance-free ball bearings. An Ogura GT3.5 electric clutch is used for blade engagement and is rated at 250 ft-lb. of torque. Blade tip speed (fpm) is 18,000 so you know the XDZ is a capable grass shredder. As mentioned above, our test zero turn was outfitted with a three-bag bagger that gets power off of the deck itself. Capacity of the bags are a little less than on a comparable SCAG bagger, but the Gravely system doesn't block rearward vision. Bags slide out for easy access and the cover raises and lowers using two gas struts. The bagger at Ellington Agway was competitively priced at $2,379.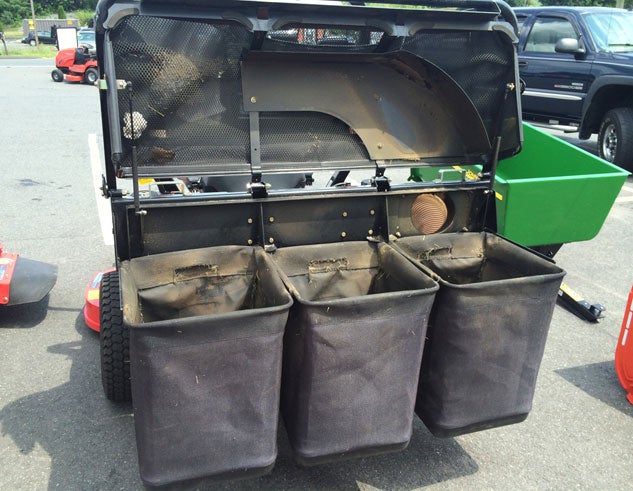 So how does it all work? Quite well. Ride quality is unlike any zero turn we've tested. Fire up the Kawasaki FX1000V and idle ranged from 80-92 dBA from the operator's seat. Starting the 60" deck was no problem for the 35 hp mill and we soon discovered that the 13 mph forward top speed (6 mph reverse) could be a reality given a smooth lawn for most. Accordingly, the Pro-Turn 460 comes with 13.4 gallons of onboard fuel distributed over two tanks, which allows commercial operators to spend less time filling up and more mowing.
COMPARISON: Read our review of the 2013 Kubota ZG100 Kommander
It was the transmission delivery of power on the Pro-Turn 460 that impressed us the most. Coming to the end of a mow run we did a full, quick 180º turn and were amazed at the lack of turf damage. Granted the area we did our testing on wasn't a pristine lawn, but the transmission system works that well. Trying a few J-turns, the type a landscaper might do to minimize turf damage, and the system used on the Pro-Turn 460 flat-out excels.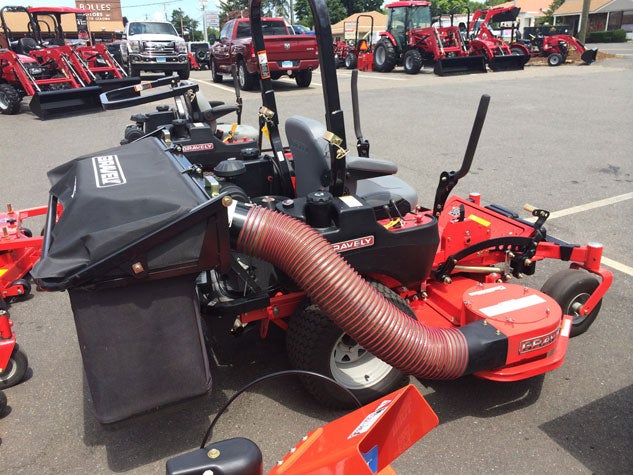 The Pro-Turn 460 weighs 1400 lbs (gas) and measures 80" long (without bagger) by 72.25" wide and is 70" tall with ROPS up and 47.75" tall with ROPS folded. Raising the rubber discharge chute reduces the width to 63".
Gravely gives the Pro-Turn series a three-year limited commercial warranty with a limited lifetime warranty on the deck shell and zero turn frame. Spindles are also warranted for three years. Ellington Agway had our Pro-Turn 460 tagged at $11,699. For a commercial operator, or a homeowner with lots of acreage, who can appreciate the extent of vibration dampening incorporated into the Pro-Turn series, the XDZ 460 is well worth checking out. And if you are in the vicinity of Ellington, Conn., check out Ellington Agway.
Buyers Guides
Our Partners