2015 Simplicity Conquest Review
Simplicity's mid-range model delivers
By Geof Fowler, Aug 05, 2015
At first glance, the Simplicity Conquest might seem to be a bit of an orphan. One model notch below, the Broadmoor can be had with the same 25 hp Briggs & Stratton power and 52" fabricated deck. Move up to the Prestige, a model those in tune with the premium lawn and garden tractor market are well aware of, and you get more horsepower, upgraded transaxle, and the option for 4WD. In between sits the Conquest, with two variants to further blur a prospective purchaser's decision making process.

Courtesy of the good folks at Brentwood Power Equipment in Brentwood, NH, we had a chance to test both Conquest models side-by-side and came away with a better understanding of where the Conquest fits.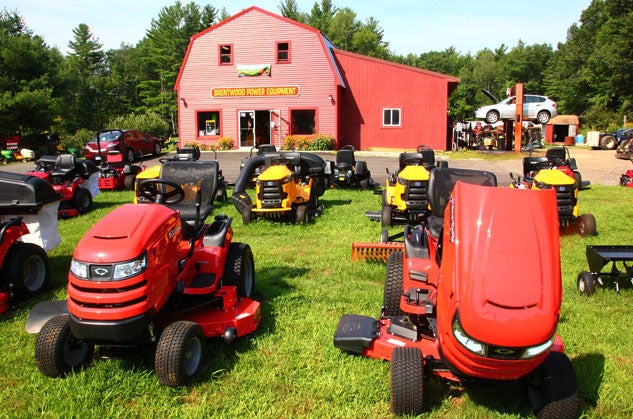 Conquest models begin with a durable 10-gauge welded steel frame to which a Briggs & Stratton 8000 Series Commercial Turf engine is mated. The V-Twin powerplant displaces 724cc and makes 25 gross horsepower at 3600 rpm. Electronic fuel management (EFM) means there is no choke to mess with and allows keyless push button starting (you do need to insert a red plastic key first for safety and security). It also means fast starts no matter if it is a cold, wintery morning or restarting after taking a break on a hot, humid day. The Cyclonic air filter is worthy of mention as well, giving added engine protection to the necessary fresh air charge. A spin-on automotive-style oil filter and replaceable in-line fuel filter round out the 8000 Series life-enhancing protections. And when it comes time to service the engine, owners are sure to appreciate the flexible oil drain hose.
COMPARISON: Read our review of the 2014 Simplicity Prestige Garden Tractor
Output from the V-Twin is sent to a Tuff Torq K66 High Speed transmission, which is a step up from the K62 used in Broadmoor models, but not as robust a unit as the K72 used in most Prestige models. But before allowing that to sway a decision, remember 4WD Prestige models come with K664 transmissions, which are a variant of the K66. Control over the 0-7.2 mph forward and 0-5.0 reverse speed range is through an ergonomically friendly side-by-side pedal arrangement. Further aiding traction is what Simplicity calls ACT, or automatic controlled traction. This is the same system used on other Simplicity models, supplying continuous power to both rear tires and maximizing traction while minimizing turf damage. And for those really tough conditions, differential lock is built into the K66 and comes standard.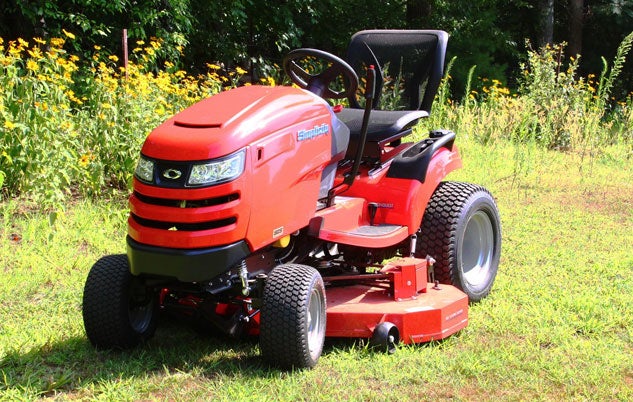 Up front, a heavy duty cast iron front axle handles challenging conditions as-well-as steering demands and results in a tight 18" turning radius. For Conquest models with the three-blade 50" deep profile deck (MSRP $5799), the axle pivots and oscillates side-to-side, but does not have front coil-over spring suspension (rear suspension is standard). Conquest models with the 52" fabricated deck (also three-blade) get front coil-over spring suspension as well as rear. In either case, deck lift is manual with spring assist; though mowing height adjustment is electronic and controlled by a dash-mounted rocker switch.
A newly redesigned dash accompanies the push button start up-scaling and will have techies riding high. First, the main pod is all digital, with pleasing blue-green hues displaying fuel level, engine rpm, best cut indication, cut height in inches, engine hours, maintenance reminders, power take off (PTO) and parking brake engagement, and time of day. Secondly, it simplifies the dashboard layout by putting all the operator needs to know in a single, central location. To the right of the pod is the electronic height adjustment, and to the left is the reverse mowing key switch.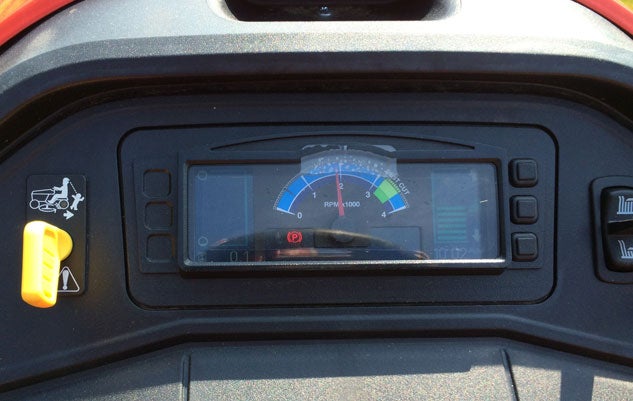 While we wholeheartedly embrace looking behind before reversing while mowing (or anytime for that matter), depressing a lawsuit mandated switch in no means assures safe operation. Simplicity gives its owners the ability to turn a little yellow key to allow across-the-board use, or to remove it and disable reverse mowing. Simple. Below the reverse key is the throttle, and below that is a tab switch for engaging the electric PTO. The lower right portion of the dash houses the red key, allowing the push button start, and below that are tab switches for the parking brake and LED headlamps. On the floorboard, which has a minimal transmission hump, are the side-by-side hydro pedals with the brake pedal just above, and to the left a heel actuated differential lock pedal. Cruise control is accessed by a right fender hand lever. Grab handles and a tool tray/cup holder/12V DC outlet round out the cockpit layout.
COMPARISON: Read our review of the 2015 John Deere S240 Sport
The two Conquest models differ slightly, with the higher priced variant getting the 52" fabricated deck, which comes with a limited lifetime warranty, the abovementioned four-wheel suspension, power steering, and tilt steering wheel for a MSRP of $6699. For $900 less, you get the same basic tractor, with the 50" deep profile deck, rear wheel suspension only, manual steering, and a fixed steering wheel.
The north forty at Brentwood Power Equipment is a horse pasture with some pretty good slopes and plenty of bumps and rocks (remember; this is the Granite State). Setting off in a Conquest 50", the tractor drove smoothly, with the rear suspension soaking up a good amount of the ground roughness. Shutting off the tractor for a few pics, noise levels measured 60 dBA at ambient. Firing up the V-Twin resulted in a 75-80 dBA reading at idle and 90 dBA at full throttle. Not bad for a gasoline-powered lawn and garden tractor.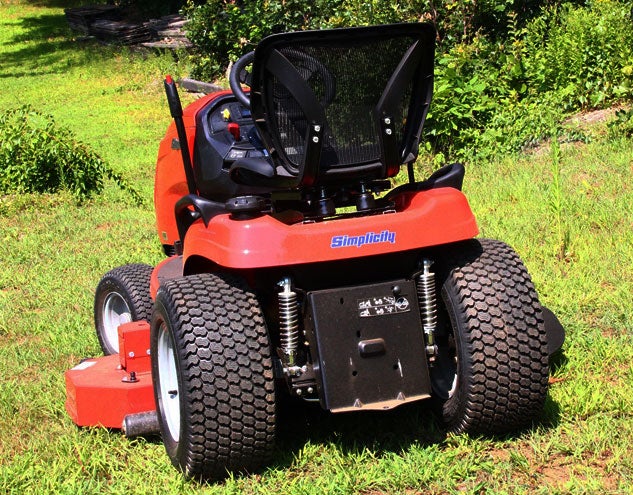 Starting off with the lesser priced Conquest variant turned out to be a good decision, as the differences were amplified on the rough field. The first thing that jumped out about the Conquest 52" was the power steering. The Conquest 50" steering that earlier felt only slightly weighted and not at all cumbersome now compared to fingertip light effort would have sold us on the $900 price difference right there. The four-wheel suspension, which Simplicity calls Suspension Comfort System (SCS), modulates the bumps and rocky terrain and was just icing on the cake. For really rough conditions, we don't know of a better solution than the Simplicity SCS. Later talking to BPE owners, Dave and Nate Flagg, we were told that the SCS system lessens the impact on the rider by as much as 25%. It's a number that is hard to prove, but we believe it. The shocks are also adjustable, so an owner can fine tune the dampening to their exact conditions.
COMPARISON: Read our review of the 2014 Gravely 460 Pro-Turn
Conquest models measure 75" long by 62" wide and are 47" high. Onboard fuel capacity is 3.6 gallons. Tire sizes are 16 x 6.5 front and 23 x 10.5 rear (turf only). Another nicety is the mesh seat, which offers great support and airflow, along with more than 10" of travel.
Usually in a Simplicity review, most of the article space is devoted to the mowing decks, and for a simple reason: Simplicity tractors are known for their cut quality. For the Conquest, both decks offered are full floating, with rollers at the rear covering the entire width. Accordingly, cut quality is excellent and striping with this set up is elevated to an art form. Raising the deck for transport or lowering to the preset mowing height setting is done through the left hand spring-assisted lever. Effort required is minimal. Height adjustment is electronic and can range infinitely from 1 – 4".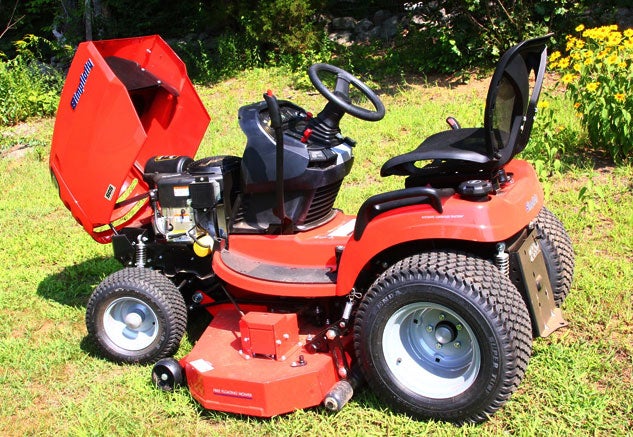 So where does the Conquest fit? A loaded Broadmoor with the 25 hp mill and 52" fabricated deck carries a MSRP of $5199. For $600 more, a Conquest 25/50" gets you an upgraded transaxle, electronic dash, and slightly greater travel speeds. Move up to the Conquest 25/52 and for $1500 more you're getting 4-wheel SCS, power steering, and a tilt wheel. Prestige models start at $7899, with the same features plus hydraulic implement lift, but a loaded Conquest 25/52 is $1200 less. For a homeowner it all comes down to features wanted against the pocketbook supported.
If you're in the market for that perfect cut tractor that will last a lifetime, check out the Simplicity Conquest. And if you're in the vicinity of Brentwood, NH, make sure to stop in and meet Dave and Nate.
Buyers Guides
Our Partners