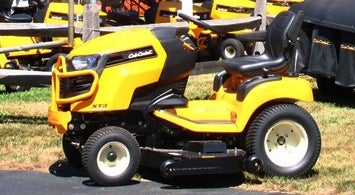 Cub Cadet tractors have long had reputations as heavy-duty machines. Established in 1960 by International Harvester as a premium line of small tractors, the first production tractor model to roll off the Louisville, Ky. factory was the International Cub Cadet Tractor, which became known as the "Original." Powered by a 7 hp Koehler engine and using a belt to drive a three-speed transmission, production of the Original continued through 1963. But it was the shaft-driven model 70 and 100 that followed that would cement the Cub Cadet reputation as heavy-duty machines. To this day, the old clutch-drive Cubs with cast iron rear ends and Kohler K-Series or Kohler V-Twins still dominate at many tractor pulls.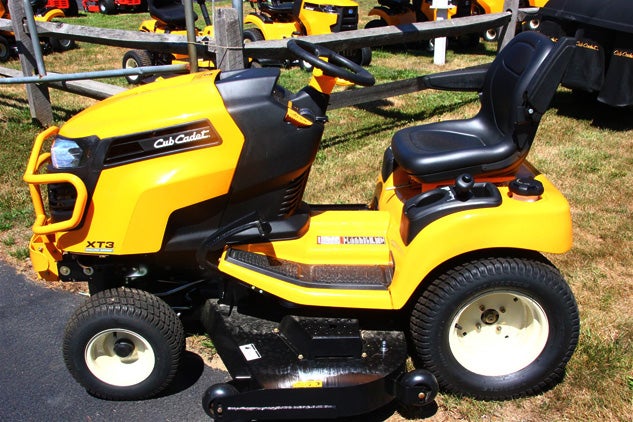 Today, Cub Cadet is wholly-owned by MTD Products and produces zero-turn and walk-behind mowers, handheld trimmers and blowers, utility vehicles, golf equipment (including the all-electric and operator-less RG3 greenside mower) and lawn & garden tractors. Tractor.com tested a 2000 Series machine in 2011, a 1000 Series machine in 2012 and a RGT Series zero-turn in 2014. When the Enduro Series replaced the 1000/2000 Series, we were interested to see what changes had been made. Courtesy of Brentwood Power Equipment in Brentwood, NH, who not only made a top-of-the-line XT3 GSX available, but walked us through the differences between the XT1, XT2 and XT3 models, we're able to bring our readers this review.
COMPARISON: Read our review of the 2016 Simplicity Courier 23/48
The all-new XT Enduro Series covers a number of models with horsepower ranging from 18 to 26, mower deck sizes from 42" to 60" with most available in stamped or fabricated construction. The XT1 Series is a box-store offering with unique to the series Kohler engines, Tuff Torq K46 and K58 transmissions (depending on model) and side-by-side hydro pedal control, 20" x 8" front/22" x 9.5" rear Turf Saver tires, soft touch cruise control, and a three-year unlimited hour warranty. XT2 and XT3 machines are dealer-only, and while the XT1 can come with a 54" fabricated deck (ST54") and Cub Connect Bluetooth App performance monitoring (ST54" and GT50"), the dealer machines are where the longer-life, high quality features begin.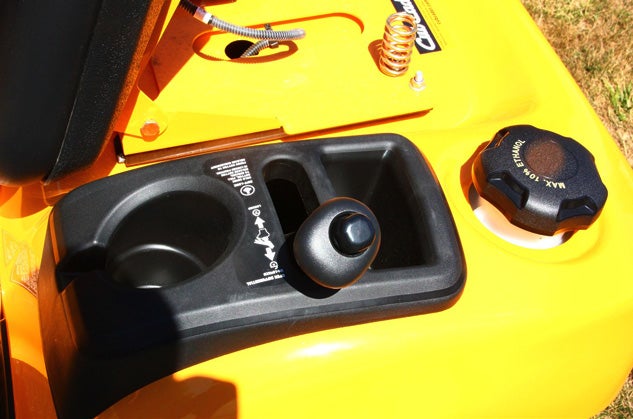 The XT2 lineup starts with the LX42", which on the surface compares to the $1,499 entry-level XT1 LT42". However, for $1799, the LX42" comes with EFI, push-button start, a more robust battery, single-tube bumper protection, Multi-Trac tires, and armrests. From there the XT2 lineup moves to Kohler 7000 series V-Twin engines that use Smart-Choke technology for fast starts in all conditions without the need for a separate choke lever. Tuff Torq K46 and K58 transmissions are also utilized. Top-of-the-XT2-line GX54" comes with a 54" fabricated deck and a Kohler 7000 with Smart-Choke that makes 26-hp. LX46" and LX54" models come with automatic locking rear differentials for all-weather traction.
COMPARISON: Read our review of the 2016 John Deere X590
The XT3 lineup starts with the GS model, which comes with a professional-grade carbureted 22.5 hp Kohler Command Twin, uses true shaft drive to transmit engine power to a cast iron BDU Hydro-Gear transmission, has a HD cast iron front axle with grease fittings, a robotically welded twin C-channel frame, 16" x 6.5" front and 23" x 10.5" rear Turf Master tires, HD steel front bumper, a deluxe high-back seat with 6" fore/aft travel and armrests, tilt steering wheel, and a four-year unlimited hour warranty. Steering, as on the XT1 and XT2 Series, is a manual sector and pinion system, and the deck lift is a spring-assisted lever system. Available mowers include 42", 50" and 54" stamped decks.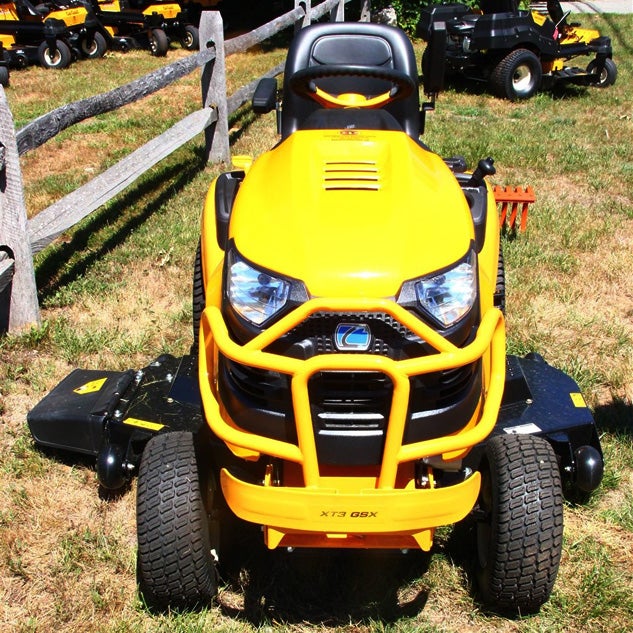 XT3 GSE models come with all the niceties of GS models with the addition of electronic power steering (EPS), electric deck lift with six cut positions from 1.5" to 4", and a choice of stamped (42", 50" and 54") or fabricated (48" and 54") decks. XT3 GSX tractors are the top-of-the-line Enduro machines and are what our testers spent the most time with.
COMPARISON: Read our review of the 2014 Gravely 460 Pro-Turn
XT3 GSX tractors come with all the goodies GSE models have but ratchet it up a few more notches. Power comes from a 25 hp Koehler Command Twin engine which directs exhaust through a huge exhaust pipe (more on this later). Differential lock is now fully in the hands of the operator. Using a left fender mounted lever, the operator just pushes a button and swings the lever towards their hip. Unlike traditional differential lock systems that are pedal controlled and sense when to disengage, on the GSX the operator gets to decide when and where engagement and disengagement takes place. Mower size choices are the same as on GSE models with the exception that a 60" fabricated deck is available. Nate Flagg of Brentwood Power Equipment told us that the 60" deck is a $1,200 option and that it requires modifications to the front axle.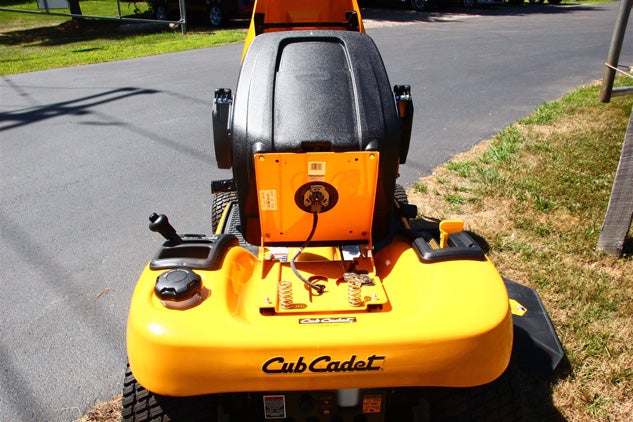 Firing up our test Cub Cadet XT3 GSX tractor, which was equipped with a 54" fabricated deck, and we measured an 84-92 dBA rumble. Yes, rumble! This compares to the 86-89 dBA reading on an XT2 LX42" with fuel injection and an 87-91 dBA reading on a XT2 LX42" carbureted model. Clearly the larger diameter pipe and resultant rumble are going to appeal to a number of potential purchasers. Heading off to the north forty, the GSX felt substantial and well planted. The north forty at Brentwood Power Equipment is by no means a smooth, manicured field. Earlier, we had spent some time on Simplicity Courier zero-turns with two and four wheel suspensions. The GSX had nowhere the dampening of those suspension systems, but the larger diameter tires did contribute to a ride that was in no way uncomfortable. We did very much like the differential lock system, which has a green light indicator on the dashboard when engaged, and the ability to decide when and how long the system was engaged.
Adding it all up, the XT3 GSX will undoubtedly be a popular model. For under $5K you get a substantial tractor with heavy-duty components (professional-grade engine, shaft drive, cast iron transmission, frame), lever controlled differential lock, electric power steering, and electric deck lift and height adjustment.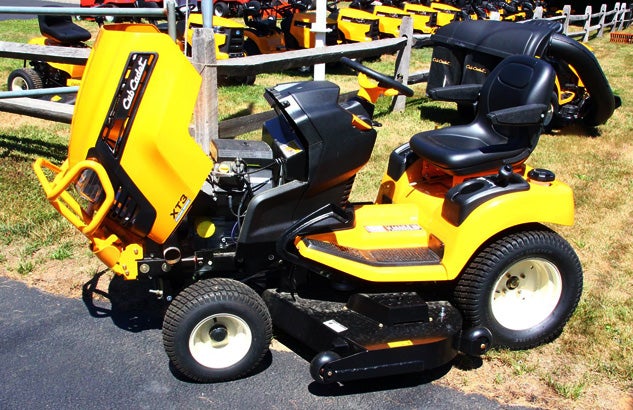 For a homeowner or landscaper in the market for a nimble (18" turn radius) machine with such niceties and heavy-duty features, the Cub Cadet XT3 GSX would be well worth looking into. And if you're in the vicinity of Brentwood, NH, be sure to stop in and meet the friendly and knowledgeable people you'll find at Brentwood Power Equipment.