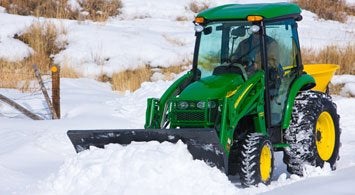 Back in February we got some seat time behind the wheel of a John Deere 3720 cab tractor and were impressed at the power, comfort and technical wizardry Deere had incorporated into the package. When we got word that an owner of a brand new 4720 (who wishes to remain anonymous) was offering us the chance to get his well-optioned cab tractor dirty (a little anyhow), we seized the opportunity.

Each 4720 begins with a John Deere manufactured 4024T four-cylinder powerplant, with the T nomenclature standing for Turbo. Rated to deliver 66 gross horsepower with 56 horsepower available at the power take off (PTO), these 148.9 ci (2.44L) mills are direct injected for quick starts, efficiency, and more power per gallon of fuel. And with 123.86 foot pounds of torque on tap, you know there is some serious power available to get whatever task you have in mind done, and done fast.
The 4024T has a speed range of 950 – 2600 rpm, with its rated horsepower coming at a fuel sipping and longevity encouraging 2400 rpm. While we call this a fuel-sipping powerplant, remember it is a 66 horsepower machine, so don't be surprised that a 4720 can consume 3.28 gallons of diesel per hour when under full load. To give you another perspective on the power, the starter on the 4720 is rated at 2.9 horsepower. The 4024T is EPA Interim Tier-4 compliant.
While the 43 horsepower 4120, 48-horsepower 4320 and the 60-horsepower 4520 can be equipped with PowrReverser 12F/12R transmissions, the only transmission available on a 4720 is a three-range eHydro unit made by Sauer-Danfoss. Utilizing the twin side-by-side pedal arrangement our testers prefer, the eHydro transmission offers well-modulated control over the entire infinitely variable forward and reverse speed range. eHydro provides high torque while reducing powertrain shock loads. The Sauer-Danfoss unit comes with a forged trunnion shaft and large support bearings designed to reduce vibration and noise. The housing is made from strong Ductile Iron and uses pressure filtration instead of suction tube filtration for longer life. A transmission cooler is standard.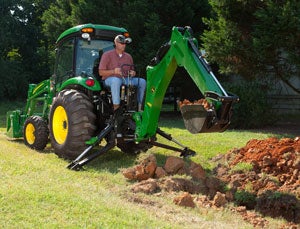 eHydro electronics allow the tractor to start with either pedal depressed, but the tractor won't move until the depressed pedal is returned to neutral. The operator can also stand up and the tractor will come to a halt without the engine shutting off, unless the PTO is engaged. Electric cruise control is also part of the eHydro package. The PTO can be engaged with the operator not in the seat, as long as the parking brake is engaged and the transmission is in neutral. This is especially useful when running an implement such as a wood chipper.
A fully independent 540 rpm rear PTO is standard, but if you wish to run a snowblower or a mid-mount mower, the 2100 rpm mid PTO is an option. Our test tractor was also outfitted with the factory-only installed Economy PTO which allows PTO speed to be reached at a fuel saving 1750 rpm, useful when full horsepower isn't required when using an implement such as a baler or cutter. Differential lock is standard.
Hydraulics are open center with 12.0 gpm flowing to the remotes and 5.1 gpm to power steering requirement (17.1 gpm total) all at 2500 psi. This gives the Cat-I three-point hitch (3PH) a lift capacity of 2500 lbs. at the industry standard of 24" behind link arms. At the link ends the capacity rises to 3130 lbs. Control over the rockshaft is by position, so the operator can return the 3PH to the exact selectable position each and every time. The hydraulics on the 4720 can support up to five remotes. Not surprising, the hydraulic system requires 9.6 gallons of fluid to get the job done.
The John Deere ComfortGuard cab gets as close to luxury automotive quality that we can imagine. The cab is totally isolated from the outside environment and uses a pressurized filtration system with a single roof intake that keeps dust and allergens from entering the cab. You might have seen the John Deere smoke test commercial where a well-known competitor cab tractor doesn't fare as well. While the fine environment filtering works superbly, quiet is the word of the day. At PTO rpm, the 4720 achieves a 78 dBA sound level rating. A quiet, vibration isolated environment certainly makes for less operator fatigue after a long day in the field.
The climate control system used has 15,000 BTU of heating and cooling power which would be enough capacity to control the climate in a 600-square-foot room. A temperature differential of up to 30 degrees is achievable. Headroom, legroom, and elbowroom are all excellent and the raised header allows full visibility of loader operation from ground to full lift height. John Deere positions major controls conveniently on the right arm console. This makes the left door the only entry to the cab, though the right side does offer emergency egress.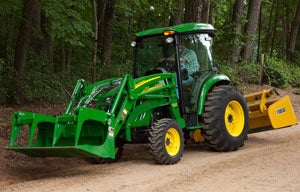 ComfortGuard cabs are rollover protection system (ROPS) certified and use a four-post arrangement that combined with the large amount of glass provides the operator a full 360 degrees of view. Our test tractor was outfitted with the optional deluxe cloth air ride seat. Push a button to inflate the seat for up to a 330 lb. operator and pull to deflate. The seat adjusts fore and aft and reclines so you can find that perfect comfortable position. Our test tractor was also outfitted with the optional Jensen SWJHD1620 AM/FM radio which plays CDs, has a weather band, is compatible with your iPod, and allows SIRIUS Satellite connection. In case you're wondering, this cab is quiet enough to where you might really want to consider this option. Two cup holders, a 12V power supply, cell phone, CD, and hitch pin storage round up the conveniences built in.
On the outside, the work and warning lights are all integrated to protect everything from an errant branch. A front wiper/washer is standard, and a rear kit is optional. The rear window also swings out a full 70 degrees for ventilation and good visibility of a 3PH implement. Other options include dual external rearview mirrors, beacon light, back-up alarm, front fenders, and a rear work light.
The 4720 comes with all of John Deere's available electronic gadgetry: LoadMatch which automatically reduces drive speed to compensate for load, maximizing torque and minimizing stalls; MotionMatch with nine settings that adjust the amount of de-acceleration when the hydro pedal is released; eThrottle which links engine speed to pedal position, saving fuel and effectively making the tractor quieter.
So how does it all work? In a word, well. The cab is ultra quiet, even at PTO speed, and there is plenty of power – even to the point where you might get some tasks done in high-range when your instinct might be to use mid-range. With the hydro pedals on the right and the split brakes on the left, the operator can actually use the brakes to improve turning radius. John Deere gives the 4720 a turning radius of 9.8' w/o brakes and 9.2' with.
Our test tractor was outfitted with the 400CX loader and optional skid steer carrier. Rated to lift 2194 lbs to a full lift height of 110.9", the 400CX is a quick attach/detach design with a built in parking stand. Dump clearance is 87", so it will clear almost any pickup truck or trailer you might use. With a breakout force rating of 3512 lbs. and fast cycle times (raise 3.7 seconds, lower 2.7 seconds, dump 1.6 seconds and curl 1.1 seconds), the 400CX is well matched to the 4720.
The 4720 cab version weighs 4345 lbs. and comes with 8.00-16 R1 (Ag) front and 13.6-28 rear tires which ride on a 71.5" wheelbase (R3 turf, R3 fine turf, and R4 Industrial tires are options). MSRP for the 4720 cab with air ride seat is $44,233. Add the Economy PTO for $536 and you have quite the machine to tackle those tasks in comfort, style, economy, and capability. If you are in the market for a tractor of this size and class, check out the 4720. We think you'll be impressed.
Related Reading
2012 John Deere 3720 HST Cab Tractor Review
2012 John Deere 3038E Review
2012 Mahindra 6110 Shuttle Cab Review
2012 Massey Ferguson HD Series 2660 Cab Tractor Review
2013 Kioti RX6010PC Cab Tractor Review