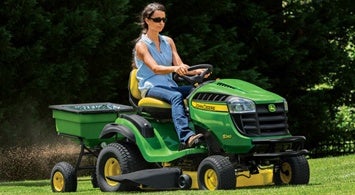 John Deere's 100 series was an answer to an entry-level volume market dominated by brands such as Craftsman, Cub Cadet, Husqvarna, MTD, and Poulan Pro. Some questioned the sacrifices made to get to the price point, but over the years, 100 series tractors have proved to be dependable workhorses.

Priced from $1499 (D105) to $2799 (D170), the series covered a wide range of homeowner needs. If the need was for more features, niceties, and heavier duty components, there was always the X300 series with MSRPs from $2999 (X300/42" deck) to $5299 (X360). In between series? Until now, John Deere purchasers had to accept the sacrifices of the 100 series or opt up for the pricier 300 series. The S240 Sport nicely fills that void.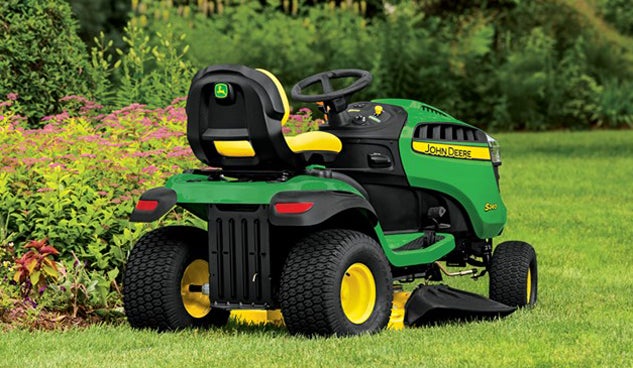 Starting with a full-length welded steel frame made from 12-gauge material featuring a beefy front cast iron axle that won't bend, the S240 Sport gets power from a V-Twin Kawasaki gasoline engine displacing 603 cc (36.8 ci). Rated to deliver 18.5 horsepower at 3600 RPM, the powerplant is CARB certified and silky smooth as you might expect. Pressurized lubrication with a spin-on filter keeps everything lubricated when you most need it. Ignition is electric and there is an in-line fuel filter to help keep contaminants out.
COMPARISON: Read our review of the 2011 John Deere D170
Putting the power to the ground is a K46DP Kanzaki Tuff Torq hydrostatic transmission which carries a 30% greater torque rating than the transmissions used in the 100 series. John Deere Hy-Gard transmission fluid is the recommended lubricant. Control over the infinitely adjustable speed range is through a twin pedal arrangement. Anyone who has spent time on a 100 series tractor will recognize the layout, which isn't side-by-side as on the X300 series, and in our opinion, not as nice. Nevertheless, the setup is intuitive and offers good modulation over the forward/reverse speed range. Cruise control is also standard.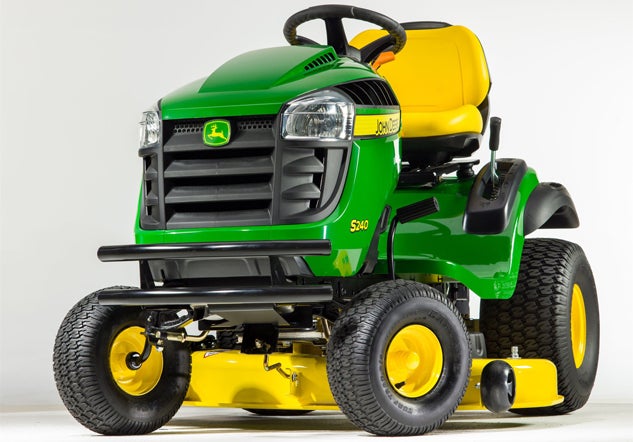 To aid in steering comfort, the system relies on sector and pinion gears with drag links and the front wheels turn on ball bearings. Wheel spindles are 0.75" in diameter and grease fittings are utilized in critical wear locations. Tie rod ends are adjustable to allow for optimum alignment. Tires are 15×6-6" front and 20×10-8" rear and have a rounded profile designed to reduce turning effort and minimize lawn scuffing. Turning radius comes in at a tight 18".
COMPARISON: Read our review of the 2014 Cub Cadet RZT S 42 Zero-Turn
For operator comfort, the S240 comes with the same high-back ventilated seat used on the X300. Ventilated means there is a gap between the seat bottom and the backrest. It doesn't sound like much, but on a hot day this is a feature sure to be appreciated. The one-piece hood is made from JD Loy, a polymer material that is UV resistant, won't dent or rust, and has the color molded in. Twin headlamps highlight the view forward and are situated above the standard bumper that is optional on 100 series machines. There is 2.4 gallons of fuel capacity with the filler tube conveniently located behind the seat, which tilts forward for easy access. A sight gauge makes ascertaining fuel level an easy glance away. There is a cup holder and a hinged cover storage tray.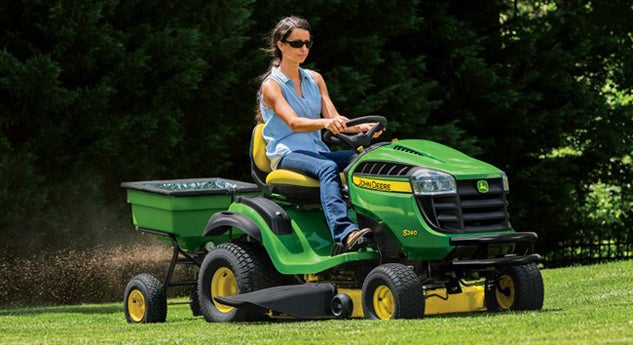 Control levers are laid out in a straightforward, uncluttered manner and are color coded for instant recognition. Orange covers the parking brake and throttle. Black is used for the choke lever (separate from the throttle and spring loaded so it can't be left on while tractor is being used), cruise control, and for the spring loaded deck height adjustment lever (1/4" adjustment). Green is for the fore/aft seat adjustment offering 5-1/2" of travel over 10 separate positions. Yellow is used for the push/pull power take off (PTO) button, and lastly, for the dreaded reverse implement option (RIO), which is a casualty of today's litigation but in our opinion doesn't in any way ensure the operator looks rearward before backing up.
COMPARISON: Read our review of the 2014 Gravely 460 Pro-Turn
The 42" Edge mowing deck is much improved over the 100 series, with heavier hanger attachment points, premium spindles, large anti-scalp wheels, updated idler bearings, and spindle sleeves. Stamped in one piece from 13-gauge steel, the deck features a rolled edge with bottom support below the discharge opening that adds rigidity. A dual-stage E-coat and powder paint provide extra protection from rust. Blades are of a new design with a StarLock pattern which cannot slip and helps maintain correct bolt torque. If equipped with the optional mulch cover, an operator can go from side discharge to mulch in seconds without using tools. Because of the strengthening bar below the discharge opening, no Power Flow bagger is available. Those not wishing to side discharge or mulch will need to opt for the Cut-and-Throw 6-1/2 bushel bagger.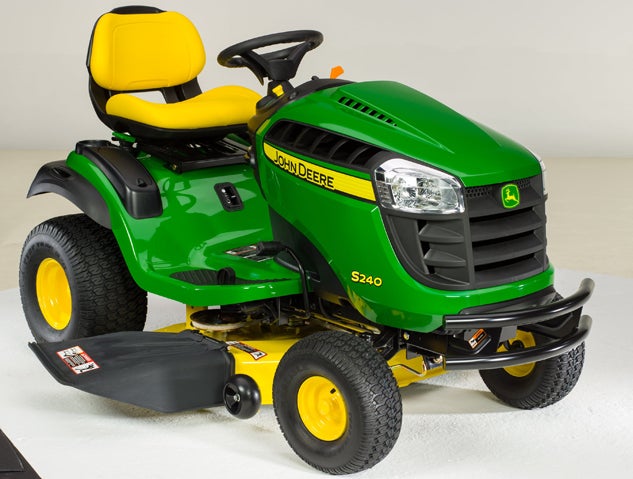 Other S240 niceties include front and rear cargo mounts, which will come in handy for accessories such as a bagger, grab handles molded into the fenders and seatback, rubber isolated mounts under the seat and on the footwells, redesigned hood which lowers noise and improves engine cooling, and digital hour meter/info panel.
Options include a 12V power outlet, 46" snowblade, front snowblower, seat net kit, abovementioned mulch kit and bagger, five-gallon rear storage pail container and mounting bracket, and weather enclosure. John Deere ups the warranty coverage for the S240 over the 100 series to three years/200 hours, whichever comes first. Carrying an MSRP sticker of $2499, the S240 Sport neatly fills the void between 100/300 machines. Current incentives include 0% 12 months or 4.9% 48 months.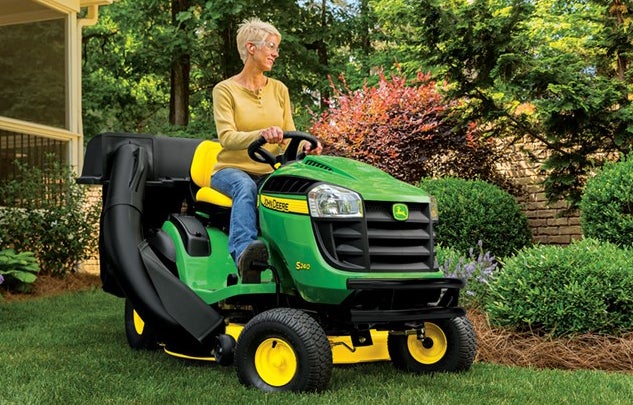 For potential purchasers caught in the middle, looking for more than the 100 series offers but shy of X300 series sticker shock, the S240 Sport is well worth getting acquainted with.