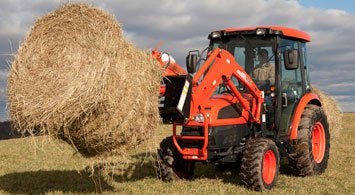 First, we need to admit this test is our first experience with a Kioti tractor. Of course we had heard of the marque and were aware of the solid following of satisfied customers Kioti enjoys. When we did a little fact checking, though, we were amazed that in 2011 Kioti had already celebrated 25 years in the North American market. You could say a test was overdue and after seeing a DK45SE HST Cab tractor at the 2012 World Ag Expo, we knew exactly where to start.

The DK series of tractors are designated Utility Tractors (UTs) and range in power from the 41 horsepower DK40 to the 90 horsepower DK90. The SE versions (40 to 50 horespower) take an already fully equipped tractor and those add niceties we would want if we were in the market for a machine of this class. In our DK45SE test tractor, power comes from a naturally aspirated 134 c.i. Daedong diesel with 45 gross horsepower engine that in the hydrostatic version is still able to send 36 horsepower to the power take off (PTO) at a miserly 2600 RPMs. Engine power is put to the ground via a three-range hydrostatic transmission that flows a hefty 16.8 gpm through separate pumps to the power steering and implement. Not surprising, this gives the DK45SE a three-point hitch (3PH) lift capacity of 2,493 lbs. at the industry standard 24" behind link arms.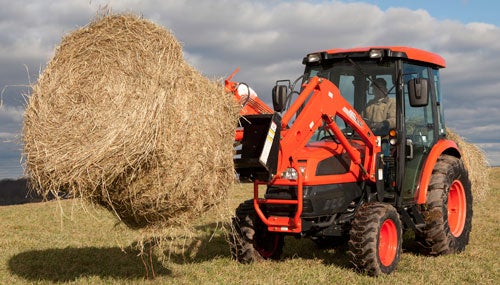 Longtime readers of Tractor.com will know we're partial to cab tractors—something about separating the operator from the elements when Mother Nature can't seem to cooperate—an area where the DK45SE certainly stands out. With automotive quality and attention paid to fit and function, such as the integration of the sloping hood and fenders, this would definitely be an option we would check off on the order slip. Kioti engineers have built in excellent visibility with as much glass as any tractor of this size and with the air conditioning/heater incorporated into the rear roof position the KL401 loader our test tractor was equipped with had full visibility to its 107.8" full lift height. Nice. That the same abovementioned loader is rated to lift 2,761 lbs. to the same full lift height adds an impressive to the nice (more on the KL401 loader later on). Standard equipment with the cab option includes the abovementioned climate control, a CD player with radio and speakers, sun visor, cup holder and a cellular phone holder.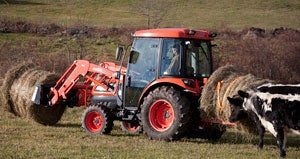 Operating the DK45SE was a pleasure. The twin side-by-side pedal arrangement was comfortable, well modulated (although all of our testers commented about a slight hesitation going from forward to reverse or vice versa that we'll have to chalk up to Kioti's method of protecting the driveline from overly aggressive drivers), and the controls well marked and ergonomically placed. The cab was also quite quiet, even at PTO speeds, and we found the loader hydraulics exceptionally responsive, even at idle.
Attaching a 3PH implement on the DK45SE was another area where Kioti engineers have done their homework. The link ends telescope and the outside stabilizers are easily adjustable. But the big news is the rear 3PH lift selective control valve (SCV) linkage incorporated into the tractor rear. With this setup the operator can twist, shift and raise the lift arms, making attaching that ornery implement all the more easy. Very nice. This is a feature the competition should be fast figuring a way of incorporating into their machines.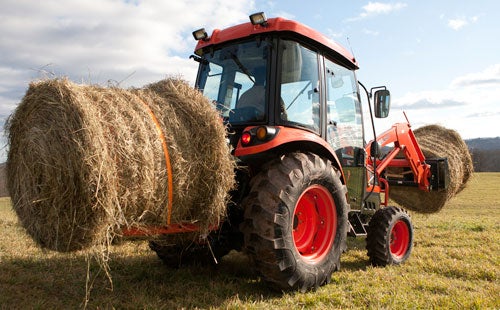 A backhoe (KB2485) with a 94.4" digging depth is offered along with rear and mid-mount mowers (the mid-mount PTO is an option), a tiller, and the abovementioned KL401 loader which is currently offered under a smoking manufacturer incentive. From now until June 2012, Kioti is equipping DK series tractors with the KL401 at no charge. That's right—FREE! Add that to some great dealer incentives, a two-year bumper-to-bumper unlimited hour warranty and extended four-year driveline coverage, and this might just be that 45 horsepower tractor for you. If you're in the market for a tractor of this size and class, to not check out the Kioti lineup would only be shortchanging yourself.
Related Reading
2012 World Ag Expo Report
2011 Kioti CK20S HST Overview
2012 Case IH Farmall 75C Cab Tractor Review
2011 New Holland Boomer 3045 Cab Tractor Review
2012 Mahindra 5010 HST Cab Review