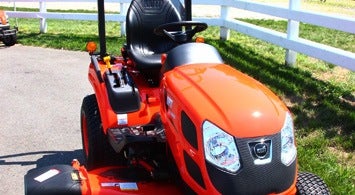 Kioti first entered the subcompact marketplace in 2012 with the CS2410, which we then reviewed and came away impressed. The marketplace has also been impressed and Kioti sales have increased to the point where this year two new subcompact models have been added: the 24.5hp CS2510 and the 21.1hp CS2210.

Thanks for providing this week's test tractor again goes to the good folks at Lock Stock & Barrel in Bethany, Conn. who after making the NX4510 tractors available last week asked if we could come back the following day and spend some time with a CS2210 being prepped for the showroom floor. We, of course, said yes.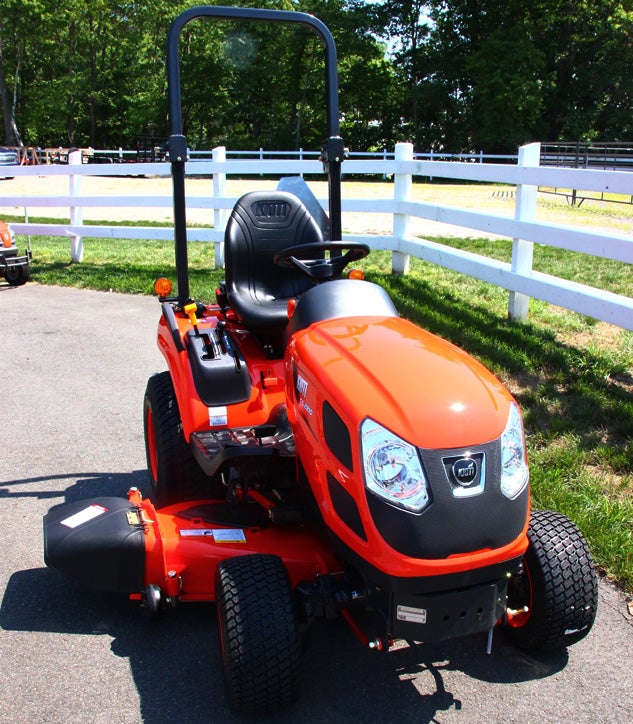 Power for the CS series is from Daedong three cylinder 69-cubic-inch SL773L engines with the CS2210 receiving a slightly different designation (SL773L-F21). Rated engine speed across the class is 3000 rpm. And while all CS tractors share the same basic base engine, the F21 variant used in the CS2210 is one of the quietest diesels we've spent time with. Last week we brought our readers a split review of Kioti NX4510 open station and cab machines. The cab variant managed a 70-75 dBA idle inside a nicely insulated and isolated environment. The CS2210 from the operator seat manages to be as quiet or even a little quieter. We're not sure what to attribute this to – does the CS2210 use a different muffler composition? – but the end result is a quietness of operation any owner is sure to appreciate over time. Power take-off (PTO) horsepower is rated at 18.7.
COMPARISON: Read our review of the 2012 Kioti CS2410 HST
Output from the F21 variant is sent via shaft to a two-range hydrostatic unit that is controlled by a side-by-side pedal arrangement. This setup offers fine modulation over the 0-10.31 mph forward and 0-6.96 mph reverse speed range both of which are quite quick for the subcompact class.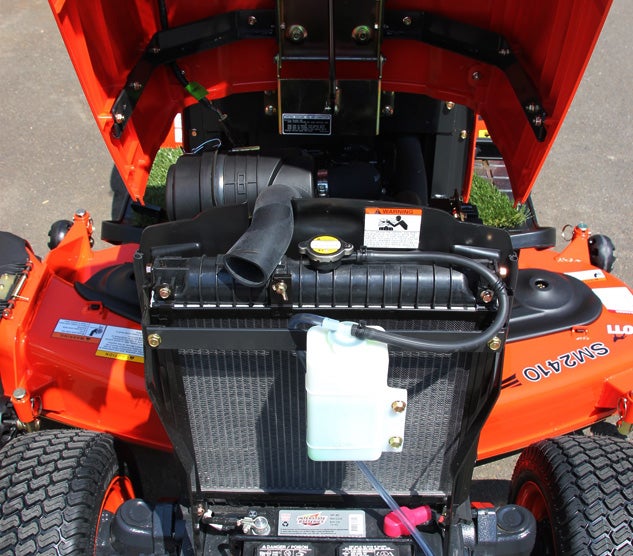 Hydraulic power is through a pump flowing 6.5 gpm and giving the Cat I three-pint hitch (3PH) a lift capacity of 700 lbs at the industry standard of 24" aft of hitch. A nice feature not always found in the subcompact class, and certainly not in most entry-level models, is position control which allows an implement to be returned consistently to an operator selectable point. A rear 540 rpm PTO along with 2200 rpm mid PTO are standard and are both independent, meaning they operate outside of travel speed. There is also a selector lever that allows mid, rear, or mid and rear PTO operation, the latter combination allowing for use with a snow blower and rear sand/salt spreader for example.
COMPARISON: Read our review of the 2016 Massey Ferguson 1739E
The CS2210 may be of the subcompact tractor class, but the operator platform is in no way cramped or uncomfortable. The seat is a mid/high back design with generous fore/aft travel with an automotive-style retractable seatbelt. There are grab handles on both sides and a cup holder/tool tray on the left fender (there is also a tool box behind the seat). The left fender has levers for the transmission range, PTO engagement, and mower deck cut height. The right fender has levers for the PTO selector and 3PH position control. The fuel fill cap is also on the right fender. Just below and in front of the driver seat is a lever for 2WD/4WD engagement and a knob for 3PH rate-of-drop control.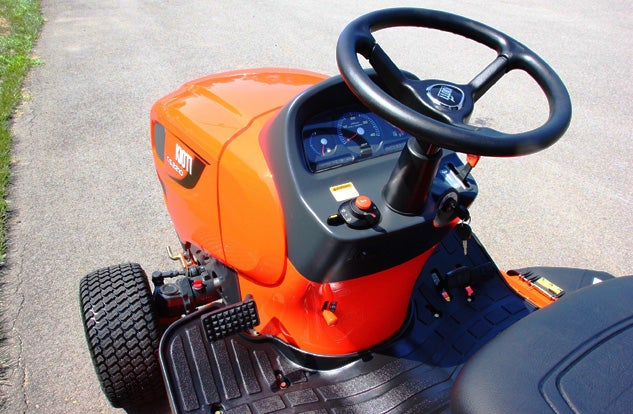 On the floorboard which is molded and mostly flat, there is a left foot brake pedal, left heel differential lock pedal, and the right foot side-by-side hydro pedals. The dash console is uncomplicated with a key switch right of the steering wheel along with the throttle control and a multiswitch for the turn signals, lights and horn to the left. The gauge panel is digital and lights up upon engine start showing the engine rpm, fuel level and engine hours and temperature. There are also a number of warning/notification lights near the bottom of the panel for functions such as battery charge, headlamps, flasher, 4WD and PTO engagement.
There is one mower deck available across the CS lineup. The SM2410 is a three-blade deep deck design with a cut width of 60". With our test tractor prepped and waxed for showroom display we were not able to mow, but in our 2012 CS2410 test commented that taking "the CS2410 into overgrown and somewhat wet grass, it chewed through with barely a ripple in the tachometer reading and leaving a surprisingly tiny amount of windrows."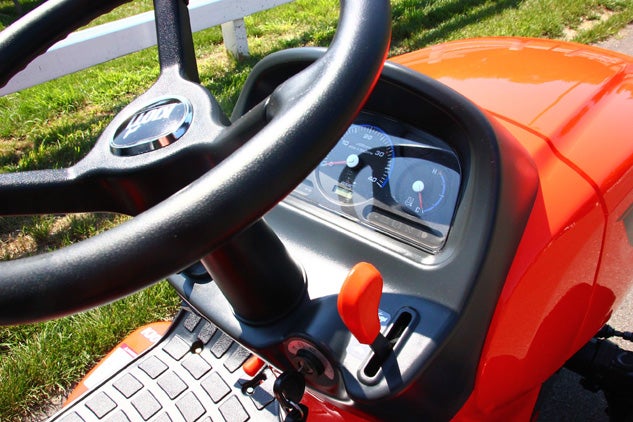 For purchasers requiring a loader and/or backhoe, Kioti offers the SL2410 loader and SB2410 backhoe, both of which are compatible with the SM2410 mower deck. The SL2410 loader is a quick attach/detach design with built-in park stand, 48" bucket width, and able to lift 675.3 lbs to a max height of 71.3" using 3.5 gpm of hydraulic flow. Dump clearance is 51", dig depth 5.1" and there is 1332 lbs of breakout force available. Rated cycle times at 3000 rpm are 3.8 seconds full raise, 2.1 seconds full lower, 2.3 seconds full dump, and 2.2 seconds full curl.
COMPARISON: Read our review of the 2016 Mahindra 2555 Shuttle Open Station
The SB2410 backhoe can dig to a depth of 84", has 113.9" of reach, and a 150-degree swing arc. Dig force rating is 2096 lbs, while at the dipperstick the rating is 1159 lbs (both at 1885 psi). Consumers can choose between available 8" (.6 CF), 12" (.92 CF) and 16" (1.22 CF) three-tooth buckets.
Other niceties are the 55W headlamps, hood that opens on a gas strut, folding ROPS, and 6.7 gallons of onboard fuel. Options include cruise control, hydro filter guard, front tow hook, sideview mirror, rear and front hydraulic valves, and joystick control (standard with loader purchase). There is even a dealer-installed cab option.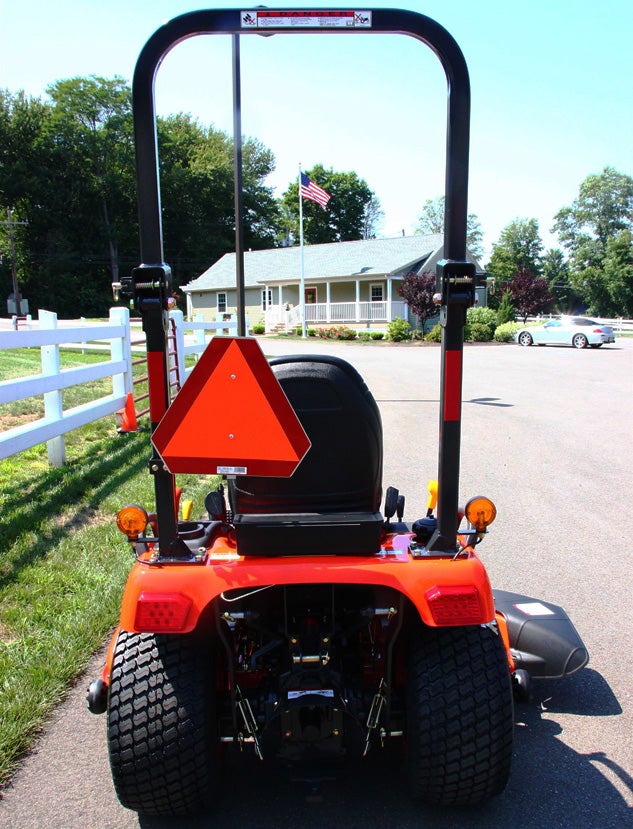 The CS2210 weighs 1485 lbs, is 99.3" long by 46.7" wide and measures 88" to the top of the ROPS. Wheelbase is 55.1" and ground clearance 6.4". Turf (R3), Ag (R1) and Industrial (R4) tires are available, all measuring 18 x 8.5-10 front and 26 x 12.00-12 rear.
The MSRP of our test tractor (tractor, wheels & tires and mowing deck) worked out to be $13,039. For a homeowner in the market for a quiet, nimble, mowing machine with larger class features (position control, separate deck and 3PH lift controls, and available loader and backhoe to name a few), the Kioti CS2210 would be well worth checking out. And, if you're in the vicinity of Bethany, Conn., a stop at Lock Stock & Barrel would be a good place to start.