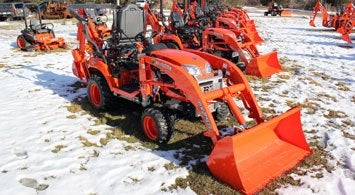 Rhode Island Harvesting Company has possibly the best sign a business could want. Drivers traveling on the I-95 corridor near the Connecticut – Rhode Island border, whether they have tractor interests or not, can't possibly miss the excavators, commercial mowers, RTVs and tractors on display in all their orange finery. And so it was on an unrelated business trip to Rhode Island that we passed RIHC and decided on the return trip to check out their inventory.

Dropping in unannounced isn't a fair gauge of dealership friendliness – especially as a non-customer – but Dan James, who along with his brother Steve, sister Nancy and parents Charlie and Ellen run RIHC, graciously made time available for this review.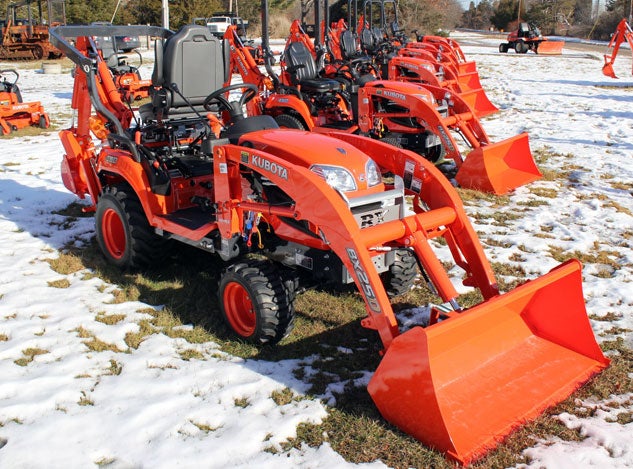 RIHC was founded in 1950 and has carried the Kubota line since 1984. It is a full line dealership carrying class-leading brands and capable of servicing everything from that chainsaw that won't start to EPA Tier IV diesels with all their added complexity. With a wide range of inventory, we decided the latest Kubota BX variant warranted a review.
COMPARISON: 2013 Kubota B2650 HST Cab Review
The Kubota BX25D – with the D, according to Dan, standing for Deluxe – is a natural progression of the BX line, beginning with the BX22, 23 and then 24. As each generation was introduced, the tractor-loader-backhoe (TLB) subcompact was reinvented and Kubota has definitely kept the competition on notice. The BX25D continues that tradition with the introduction of new class-leading features.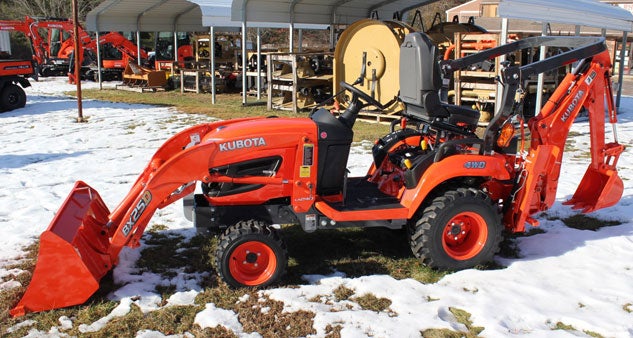 Each BX25D begins with Kubota's D902 three-cylinder diesel. Displacing 54.8 ci, the powerplants are rated to deliver 23 gross horsepower at 3200 rpm with 17.7 horsepower available at the power take off (PTO). Mated to a two-range hydrostatic transmission controlled by a modified treadle pedal, the system offers fine modulation over the 0-8.4 mph forward and 0-6.5 mph reverse speed range. We call the pedal setup modified, as instead of a full above deck treadle as found in the B2650 we tested in June, only the toe/forward and heel/reverse portions penetrate the flat platform deck. While this setup saves valuable deck real estate, is doesn't afford the ability to reverse by slipping your toe under the forward pedal and lifting up to reverse that some operators prefer. No big deal, as getting used to the toe – heel operating method is easy. Kubota also chose to place the BX25D parking brake on the left side (Dan James pointed out that long-time Kubota users will often reach for the right side brake pedal where they will find air). Rear 540 rpm and mid 2500 rpm PTOs are standard.
COMPARISON: 2013 John Deere 1025R FILB Review
Hydraulics are run through a shared pump outputting 6.2 gpm to implement and hydrostatic power steering needs. This gives the Cat I three-point hitch (3PH), which is optional in the case of the BX25D, a lift capacity of 680 lbs at the industry standard of 24" behind pin. More importantly, in TLB configuration, the hydraulic flow gives the LA240A loader a lift capacity of 745 lbs to a max lift height of 71.3" and the BT602 backhoe a dig force of 1171 lbs with a dig dept of 6'1". More loader and backhoe specifications follow below.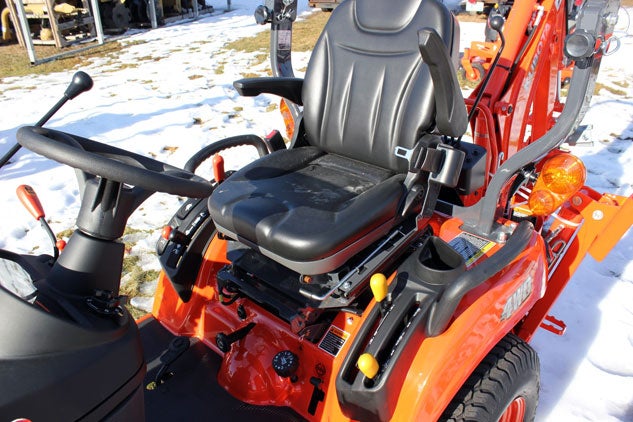 Class-leading features of the BX25D include the seat, which easily reverses with a lift/swivel motion for backhoe operation, but now includes a backrest that reclines to that perfect position for max operator comfort. Sweet. And BX25D loader joysticks are nicely integrated into the control console and not the loader upright. This is sure to be appreciated when front implements such as a snowblower, front angling blade or rotary broom are desired.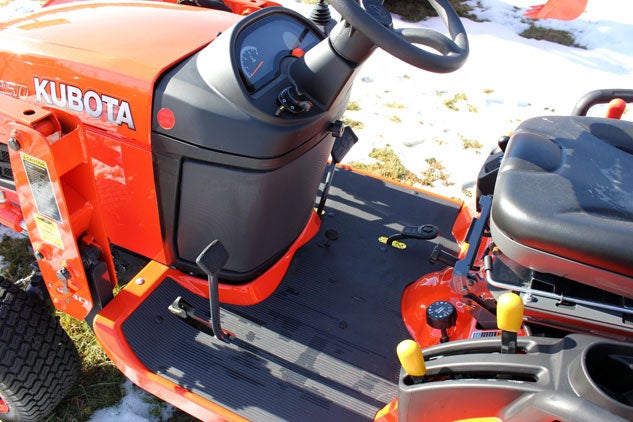 One option RIHC is big on is Kubota's new Quick Hitch loader system. Not only is the loader a quick-attach design with a built-in stand, but if so optioned, the bucket can be removed in a snap leaving the loader frame to handle a versatile pallet fork or snow blade without the added length and strain of aftermarket bucket-mounted systems.
COMPARISON: 2013 Massey Ferguson GC1705 HST Review
The curved boom LA240A loader comes with a 48" bucket that is well-matched to the tractor capabilities. Dump clearance is 52.4" which is pretty good for this class and size machine. Dig depth is 4.7" and breakout force is 992 lbs. Raise time is 3.5 seconds, lower 2.7 seconds, curl 2.4 seconds and dump 1.7 seconds which is snappy enough for big tractor users to remain awake and certainly class competitive.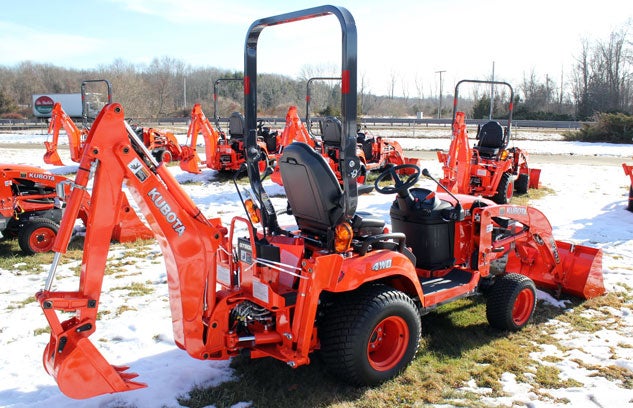 The curved boom BT602 backhoe comes with a 12" bucket (options are available) that is also well-matched to tractor capabilities. Bucket rotation is 180-degrees with a swing arc of 140 degrees. Dig force is 1936 lbs and all hoses are located inside the boom to protect against damage. Legroom is excellent with wide steps on both sides for the operator's feet. Another nice design feature is the 20-degree angle from the rear tire to the lowest backhoe point which allows the tractor to be loaded onto most trailers with the backhoe installed. A mechanical thumb is now a Kubota option and vastly expands backhoe capabilities and the lifting and moving of objects.
Other niceties built in are the 1/4" inching valve. Though it's not position control, it does give better than guess where you are control over the 3PH, halogen headlights, foldable ROPS, 4WD, metal hood and fenders, stylish and highly readable dash display, cruise control, 12V DC outlet, and if equipped with a mid-mount mower, class leading 6" of ground clearance at the transport setting.
Tire options on the BX25D are 18 x 8.5-10 R3 turf front and 26 x 12-12 rear and 18 x 8.5-10 R4 industrial front and 26 x 12-12 rear (there is no R1 Ag option for the BX25D). Turning radius is 7.5' which makes the BX25D one capable but nimble package. With a MSRP just under $20,000 and available incentives, this just might be that perfect subcompact TLB package you've been looking for. And if you are in the CT/RI shoreline area, check out Rhode Island Harvesting; you'll find a family business that treats you as if you are one.