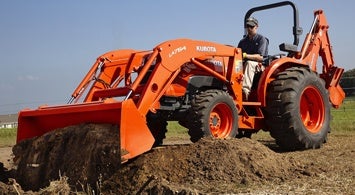 The Kubota L Series consists of 10 models ranging from 24.8 to 62 horsepower. Tractor.com reviews have covered the Grand L4240, L45 TLB, L3301, L2501 and Grand L6060. Although those tests covered a wide range of this series, we wondered how a mid-40 horsepower tractor with hydrostatic transmission and in open station form would fare.

The L4600 is powered by a four-cylinder Kubota E-TVCS engine that is EPA Interim Tier IV (Tier 4i) compliant. Displacing 134.1 ci, the stroker mill (cylinder bore smaller than piston stroke) puts out 46.3 gross horsepower. Rated power comes at 2600 rpm with 38.3 power take off (PTO) horsepower available when equipped with gear transmissions and 36.8 PTO horsepower for hydrostatic models.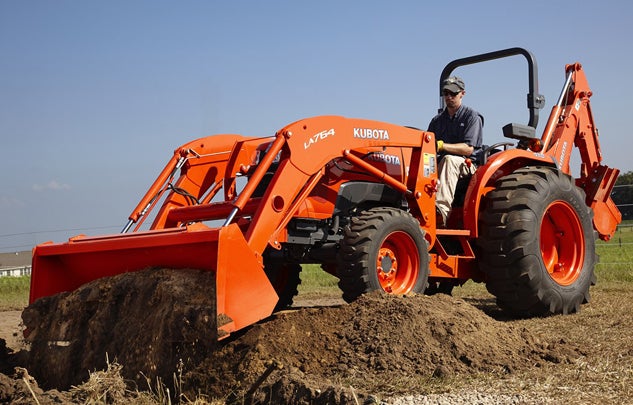 As mentioned, two transmissions are available: an 8F/8R shuttle or the hydrostatic unit our test tractor was equipped with. In hydro guise the transmission has three ranges which are modulated using Kubota's familiar "r" shaped treadle pedal. The treadle works on a single below-floor pivot point allowing traditional toe/heel operation as well as having plenty of room for those that prefer to slip their toe under the upper right section and lift up to reverse. Either way, the system offers well-modulated control over the infinite 0-15.8 forward and 0-14.2 mph reverse speed ranges. For extra control and operator comfort, the pedal gets what Kubota calls Featherstep HST, which uses a 44.5 cc hydraulic servo to increase pedal responsiveness. Cruise control is also standard – the system using a hand lever to set the desired speed is step-less, so a constant ground speed is maintained no matter what conditions are encountered.
COMPARISON: Read our review of the 2015 Branson 4720h Open Station
Hydraulic power is through a twin pump unit providing 7.8 gpm for implement requirements and 4.7 gpm for power steering needs (12.5 gpm total). This gives the Cat I three-point hitch (3PH) a lift capacity of 2320 lbs at the industry standard of 24" and 2870 lbs when measured at the ball ends. The ball ends are fixed, though the outboard stabilizers are telescopic. Position control is standard, so an implement can repeatedly be returned to an operator selectable height.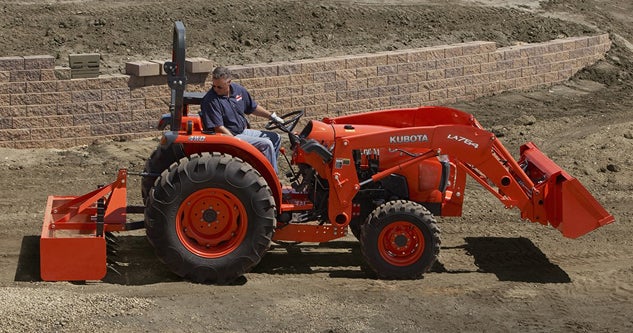 L4600 tractors can be ordered with a 2WD or 4WD front axle. Our test tractor was a 4WD variant, which comes with a bevel gear axle that ensures a tight turn radius with full power delivery no matter what the steering angle is. As mentioned, power steering is standard, and for added protection, the front hydraulic cylinder is shrouded by a hoop. Brakes are wet disc for long life and require little or no adjustment.
COMPARISON: Read our review of the John Deere 3039R Open Station
Settle into the comfortable high back suspension seat and the operator is treated to a near flat floorboard (there is a small transmission hump), plenty of room between the metal fenders, modern dashboard dominated by the large centrally positioned tachometer, and ergonomically-placed color-coded levers and controls. The electro-hydraulic PTO is switch controlled and requires just a twist to engage or a tap to stop. We're not big fans of the split brake positioning, though, with the location above the treadle and requiring gymnastics to use under power. Get the brakes working in your favor and the turning radius is 8.5' (4WD disengaged). Other cockpit niceties include a cup holder, folding rollover protection system (ROPS), and retractable seatbelt. There is only one grab rail located on the left hand fender, and though access steps are only located on the same side, we would still like to see two grab rails to help the operator steady his/herself when desired.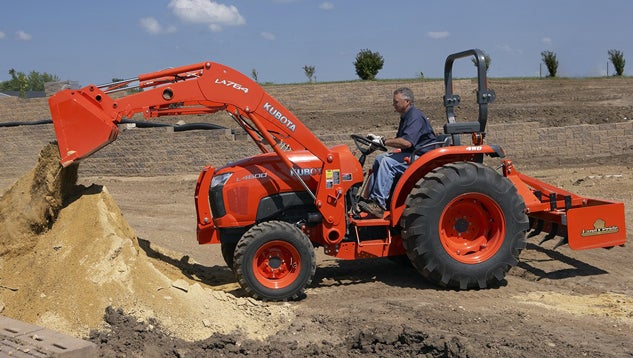 Our test tractor came with Kubota's LA764 curved boom loader which offers a lift capacity of 1684 lbs to a max height of 105.2". Dump clearance is 81.2", so this combination should clear most trailer or pickup truck beds. Breakout force is 2443 lbs with a dig depth of 6.1". For protection, hydraulic hoses are routed through a recess. Kubota placed the joystick control on the right loader stanchion. Though this is not as integrated as models incorporated into the fender console, is not at all ergonomically unfriendly. Kubota is also one of the few manufacturers with a hydraulic system that allows full flow to bucket and boom, even when used at the same time. The LA764 is a quick-attach design with a built-in stand. All pins and hydraulic couplers can be accessed from the driver's seat, allowing attachment/detachment without the need to leave the cockpit. Compatibility with skid-steer buckets, forks, spears etc. are maintained with an easy-to-use two-lever quick coupler system.
For those requiring a backhoe, Kubota matches the L4600 to its BH92, which can trench to 106.1", has a 180-degree swing arc, and comes with a rated dig force of 4648 lbs (bucket) and 2698 lbs (dipperstick).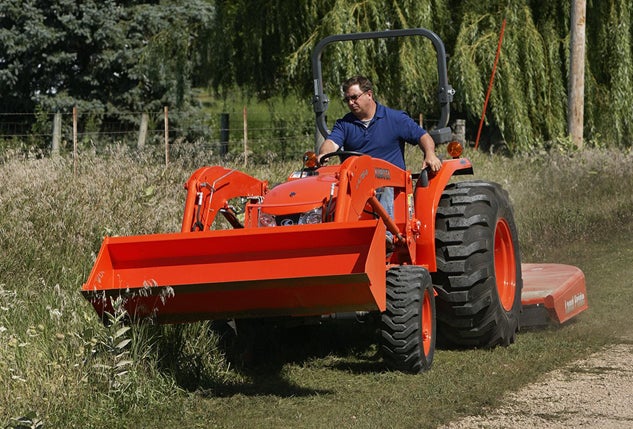 Open up the one-piece steel hood, which is stabilized by a gas strut, and you'll find plenty of room for maintenance access. The radiator screen slides out for cleaning, the battery is located in front, and the engine oil filter and dipstick are easily accessed. Onboard fuel is 12.7 gallons with the filler tube offset for ease of access.
COMPARISON: Read our review of the 2014 John Deere 4052R Open Station
R1 (Ag) tires are standard and come in 8.3-16 front and 14.9-24 rear sizes. Options include R3 (turf) sized 27x 10.5 front and 44 x 18-20 rear or R4 (industrial) sized 10.0-16.5 front and 17.5L-24 rear. The L4600 rides on a 72.6" wheelbase and is 62.4" wide by 117.9" long. Height to the top of the extended ROPS is 91.7" and there is 15.2 inches of ground clearance. Hydrostatic tractors weigh in at 3197 lbs.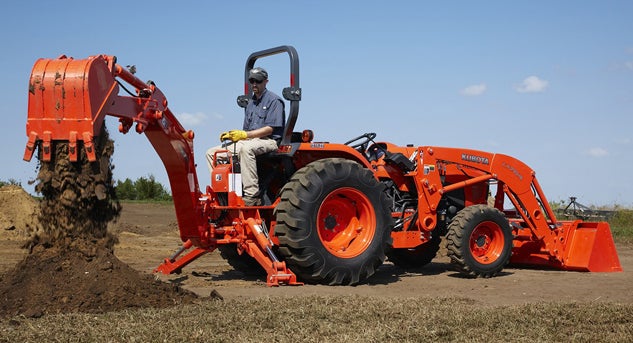 Kubota warrants L Series tractors for 24 months/1500 hours bumper to bumper, with extended powertrain coverage to 36 months/2000 hours. Right now might be the perfect time to purchase a L4600 as the L4701 replacement fills dealer pipelines, making for conditions where a really good deal may be possible.