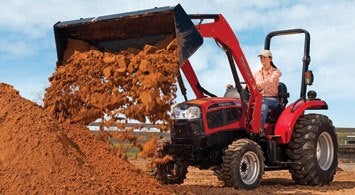 Mahindra touts itself as the world's number one selling tractor manufacturer with yearly shipments exceeding 200,000 units and sales in more than ten countries, but in some parts of North America the brand remains somewhat unknown. Get set for that to change.

Mahindra has expanded its dealer network (Nebraska is the only U.S. state not yet covered), set up assembly and distribution centers in Texas, California and Tennessee, filled the dealer inventory pipeline with an excellent selection of product known for its heavy-dutiness, and is currently offering some great incentives. By now, you've probably seen its video clips on YouTube (more on that later) and heard its ads on popular AM radio slots. With all the Maharashtra, India manufacturer's ramped up sales push, don't be surprised to find a neighbor or friend considering or who has already purchased a Mahindra tractor.
COMPARE: Read our review of the Mahindra 2626 HST tractor
At Tractor.com we've reviewed Mahindra models ranging from the 22 HP Max 22 to the 83 HP 8560 Cab and have been impressed with how across the lineup the brand consistently sticks to a proven recipe that combines potent diesel power, heavy-duty cast iron chassis/frame construction, choice of hydrostatic or gear transmissions, exceptional three-point hitch (3PH) lift capacity, while backing it all up with a five-year warranty.
It was no surprise, then, to find the 3535 compact utility tractor (CUT) is derived from the same DNA, beginning with a 1.9L naturally aspirated three-cylinder powerplant with direct injection putting out 35 gross HP at 2800 rpm and 29 hp at the power take off (PTO). Transmission of choice on the 3535 is a synchro shuttle transmission with full synchromesh. With three ranges and four speeds, the 12F/12R transmission has the right gear for the task ahead. The clutch is a two-stage single plate dry unit sized for long life.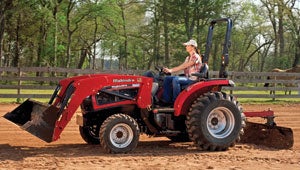 Open center hydraulics allocate 5 gpm to power steering requirements and 11 gpm to implement needs. Accordingly, the Cat I 3PH is rated to lift 2,835 lbs at the industry standard of 24" and comes standard with telescopic lower links and stabilizers. Position and draft control are also standard, the former allowing the 3PH to be returned to the precise operator selectable position each and every time and the later to control load on the tractor. Rear 540 PTO RPM is reached at an economic 2404 engine rpm and the rear PTO is fully independent, so gears/ranges can be selected independent from PTO operation.
Stepping up into the operator's cockpit and you are treated to a roomy, flat platform with intuitively placed controls. One minor quibble is that Mahindra hasn't gone the way with color coding – the only control lever not black is the parking brake. Suspended pedals for the clutch (left side) and split brakes (right side) are used along with a foot throttle just rearward and right of the brakes. Other than that, the floor is open space. Levers to the right of the seat control 3PH functions: lift/lower, position and draft. Transmission range selection is in an L – N – M – H inline pattern and the 2WD/4WD selector lever is just next to it.
COMPETITION: Read our review of the John Deere 3320 tractor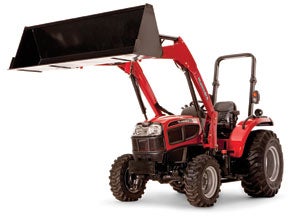 The gauge cluster is nicely integrated and highly readable with five white-faced panels against the black cowl – all with orange analog indicators. A hand throttle is located right of the steering wheel with the shuttle to the left. Also worthy of mention is the seat, with it being a deluxe suspension model with the fore/aft travel and back angle all adjustable. Armrests, retractable seatbelt and water drain round out the usefulness.
Our test tractor was equipped with Mahindra's ML120 curved boom loader, which offers 8' 10" of lift height (to the pivot pin) and a dump clearance of 7' 1". Dig depth measures 3-3/8" and equipped with a 72" bucket holding 12.5 cubic feet of material (16.35 cubic feet heaped), the ML120 will lift 2,425 lbs. Breakout force is 3,900 lbs and we confirmed a 4.9-second raise, 4.1-second lower, 3.8-second dump and 3.0-second curl – a little slow in our estimation given the 11 gpm flowing to the implement, but certainly not unacceptable. A grill guard is optional, though we'd highly recommend it..
For users needing a backhoe, Mahindra matches its model 485 to the 3535. Offering a dig depth of 101" and a reach of 127", the 485 operates in a full 180-degree swing arc. Pressure relief is set at 2750 psi, equating to 3,895 lbs of digging force. A variety of buckets for a variety of tasks are available.
COMPETITION: Read our review of the Kubota 3030 HSD
Earlier we mentioned YouTube video clips, and there are several, but the most controversial – perhaps – is the one where a Kubota L is lifted by the 3535 3PH while a John Deere 3520 is picked up by the loader bucket. A friendly wager by the Kubota, Deere and Mahindra owners results in the prior two ending up having to wash the 3535 once a week for a year. With the ML120 able to lift 2,425 lbs and the 3535 3PH 2,835 lbs, the outcome shouldn't be a surprise and is really no reflection on the other brands (Mahindra could just as well have substituted weight for the competitor's tractors) but does highlight the greater lift capacity built-in. Befitting that built-in heavy-dutiness, the 3535 weighs in at 4,125 lbs (tractor only) which is more than a half ton more than the two competitor's in the video clip.
Other likes we found include the overall styling which is modern and aggressive and on par with the best of the competition. Potential purchasers might also appreciate the use of metal, including in the areas of the hood and fenders.
Mahindra suggests the 3535 as a good match for chores around the farm or ranch, for commercial landscaping, bulk material handling and grounds care. Measuring 123" long and 69.4" wide, the 3535 rides on R4 Industrial tires 28 x 8.5-15 front and 43 x 16-20 rear. Turning radius is 9.3'.
Some of the abovementioned incentives currently running include 0% financing up to 72 months and 4.25% for 84 months with cash back possibilities up to $2,000. Add in Mahindra's five-year warranty, a MSRP of $19,875, and the 3535 might just be that heavy-duty compact utility tractor you've been looking for.