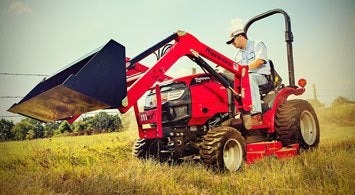 Mahindra Max tractors began hitting dealer stocks in early February of 2012. At that time three models were available: Max 22, Max 25, and Max 28 XL. In February of 2014, eMax 22 and 25 tractors were added to the lineup following their introduction at the National Farm Machinery Show (NFMS) in Louisville, Ky. and the World Ag Expo in Tulare, Calif. Max tractors were Mitsubishi-powered sub/mid-compact models while the eMax tractors were TYM-powered sub-compacts. At the same time, we heard rumors of more Max models, and specifically an upcoming Max 24. When the good folks at Ellington Agway, a family business that has thrived on friendly service and attention since 1972, called to let us know a Max 24 was available for us to test, we gladly accepted.

Pulling into the busy Ag center, we immediately noticed the vast Mahindra inventory on hand. Our experience at Ellington Agway has been that a decent product offering was on lot for prospective customers to see for themselves, but tractors seemed to be everywhere – neatly arranged, but everywhere. One of our testers commented, "stocking up on Tier 3 tractors, are they?" But the extra inventory provided another benefit beyond Tier 3 cost savings over Tier 4; it gave tire kickers (like us) an opportunity to see these tractors side-by-side. And it was then that we realized how confusing the Max lineup could be to prospective purchasers with only the Max 28 XL standing out (size-wise).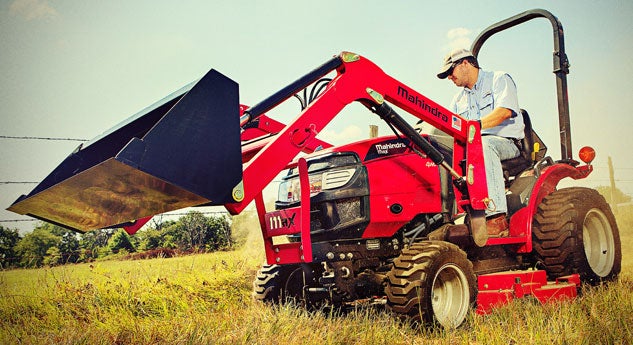 Mitsubishi has really got its Tier 4 act together, evidenced by the long list of tractor manufacturers opting to utilize its engines. For the Max 24, the powerplant is a three-cylinder 80.4 ci mill that makes 24.4 HP at 2500 RPM. EPA Final Tier 4 (FT4) emissions requirements are met using modern technologies including exhaust gas recirculation (EGR) but without having to go the costly (and with other negatives) diesel particulate filtration (DPF) route.
COMPARISON: Read our review of the 2014 Mahindra eMAX 25 HST
The Max 24 comes with rear and mid power take offs (PTOs). For the rear PTO, rated output (20 PTO HP) comes at 2556 RPM. Interestingly enough, the tachometer, part of a backlit, clearview panel cluster appeared to mark the 540 PTO at ~ 2400 engine RPM and the 2000 mid-PTO at ~ 2450 engine RPM.
Output from the diesel powerplant is sent to a two-range hydrostatic transmission controlled by a treadle pedal. While we're bigger fans of side-by-side pedal arrangements such as utilized by the eMax 25 we tested in April, the system used is intuitive, easy to get used to, and offers excellent modulation over the 0-9.6 MPH forward and 0-4.9 MPH reverse speed range.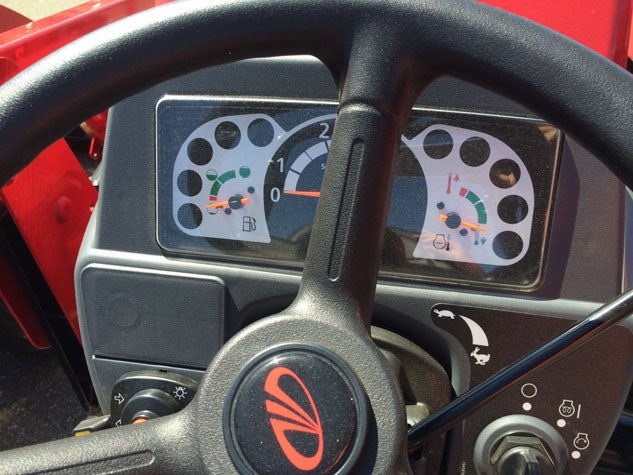 Hydraulics run through an open center twin pump arrangement that flows 2.7 gpm to power steering needs and 4.6 gpm to implement requirements (7.3 gpm total). This gives the (full) Cat I three-point hitch (3PH) a lift capacity of 1,400 lbs. Position control is standard so an implement can be returned to an operator-settable position time after time. Lower link arms don't have a telescopic feature and the outboard stabilizers are of a turnbuckle design. Neither are surprises in a tractor of this size and price point. A nice feature we picked up on but didn't notice on the Max 25 was the top link pin storage location below the rockshaft pivot pin bracket.
COMPARISON: Read our review of the 2014 Kioti CK2510 HST
Mahindra literature lists the MAX 24L loader as the correct model mate, but our test tractor was outfitted with the same ML202 we've gotten used to on Max 22 and Max 25 tractors. We suspect the MAX 24L will just be a renumbering as the specifications are the same, in this case a 75" max lift height, 60" dump clearance, 4" dig depth and 900 lb lift capacity to full height. A 50" (non skid-steer) bucket is the only offering, and interestingly enough, had a lesser cubic foot capacity than the 50" bucket on the eMax 25 parked next to it. Perhaps the bucket on the eMax was slightly lesser-duty, but we can't say that for sure. With 4.6 gpm flowing to the implement, response was quite good. We measured full raise at 3.7 seconds, full lower at 2.6 seconds, full dump at 3.4 seconds and full curl at 2.9 seconds (all at 2500 RPM). Breakout force is rated at 2000 lbs, so you know this is a set up made to get work done.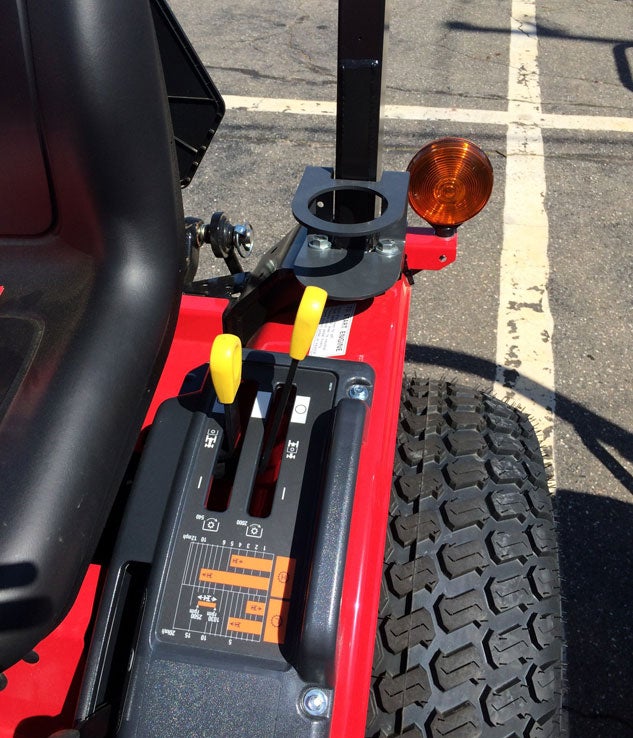 For those with a need for a backhoe, Mahindra lists a MAX 24B model with an 80" dig depth, 98" reach, 140-degree swing arc and 2,050 lbs of dig force. Again the specifications are the same as the MB60A backhoes for the Max 22 and Max 25, so the new model is in all probability a renumbering.
Firing up the Mitsubishi powerplant, as we're getting used to with FT4 engines, is a smokeless affair. Idle sound level measured 75 dBA. This surprised us as the Max 25 (Tier 3) we previously tested idled at 70 dBA. For grins, we hopped over to another Max 25 and our meter read 78 dBA. We're not sure why we got such a lesser reading then, but for now will chalk it up to a tired battery. At PTO RPM, Max 24 sound levels measured 85 dBA, and noticeably quieter than the nearby Tier 3 model. Another factor influencing sound levels was vibration – not engine vibration, but ROPS (which folds) and fender. We're not talking loose rattling, but perhaps a few pre-delivery fasteners will need to be snugged. Idle was about 700 RPM, and from 1000 RPM and up, the FT4 powerplant is nothing but silky smooth.
COMPARISON: Read our review of the 2014 Kubota BX25D TLB
As on the Max 25, the PTO is a clutch-driven live set up, meaning the clutch is required to engage/disengage the PTO. It also mandates the split brake pedals be mounted on the right side (above the treadle pedal). To us, this position requires gymnastics to utilize, but it is understandable with the clutch-driven PTO.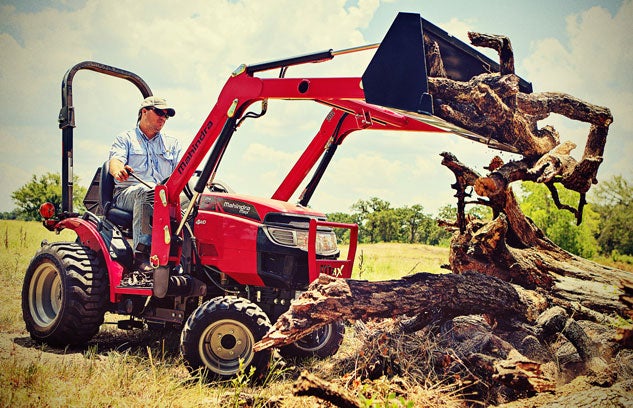 Our test tractor was equipped with R3 turf tires measuring 20×8-10 front and 27×12.5-15 rear. R1 Ag and R4 Industrial options are available. As on the Max 25, the Max 24 measures 104.1" L x 50.7" W x 81.5" H to the top of the ROPS. Mahindra suggests the Max 24 for use in specialty/hobby farms, rural lifestyles, equine, home, grounds maintenance, and municipal use.
With a five-year warranty, long list of available attachments (including a drive over mower deck), and reliable Mitsubishi power, the Max 24 might just be that perfect sub/mid-compact tractor you've been waiting for. If so, a decision only you can make is whether to go with the $13,480 (MSRP) Tier 3 Max 25 or pony up another $730 for the quietness of the environment friendly FT4 Max 24. If saving the planet one tractor RPM at a time isn't your thing, don't wait, as Tier 3 tractor stocks won't last long. And if you are in the vicinity of Ellington, CT, stop by Ellington Agway and ask for Matt or Hugh.