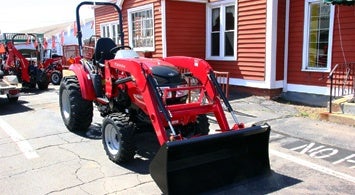 It seems Mahindra is clicking on all available cylinders these days. One can't help but come across television and radio ads from its aggressive marketing campaign that includes endorsements from well-known celebrities. Mahindra's Max and eMax tractors have muddied the water when it comes to subcompact tractors infringing on compact tractor capability and usefulness. Its mCRD diesel technology achieves EPA Final Tier IV (FT4) emissions compliance without the need for diesel exhaust fuel (DEF) and doesn't require a diesel particulate filter (DPF) with that technologies associated nuances and inconveniences.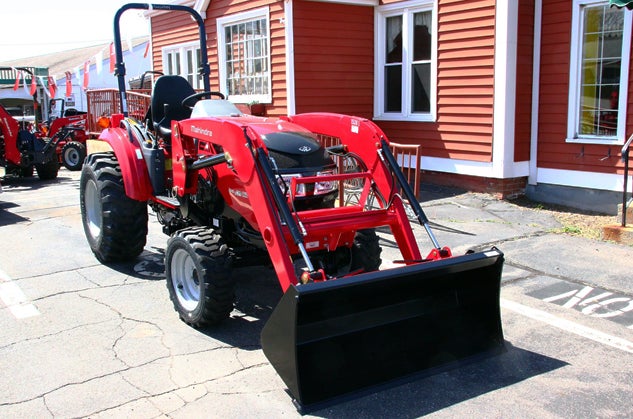 Some of Mahindra's most popular models have come from the 16 series where tractors ranged from 28 to 36 horsepower. Those tractors were powered and built by Mitsubishi and have a reputation as tough workhorses. But the advent of the EPA regulations which kicked in as of January of 2013 changed things, as Mitsubishi opted not to make the necessary changes to achieve FT4 compliance. Those requirements made it necessary for engines from 20-49 horsepower to not exceed 5.5 gm/kw-hr of Carbon Monoxide (CO), a combined 7.5 gm/kw-hr of Nitrogen Oxide (NOx) plus Non Methane Hydrocarbons (NMHC), and 0.03 gm/kw-hr Particulate Matter (PM).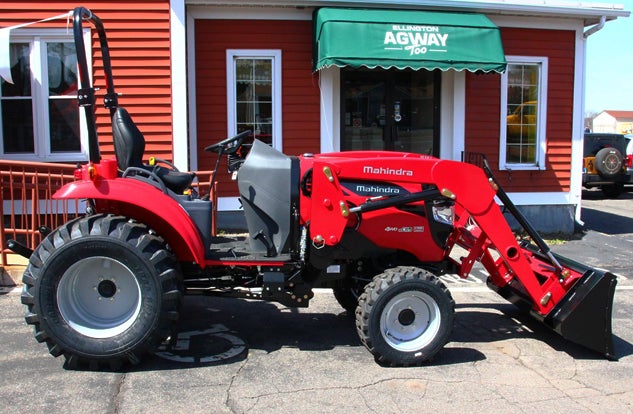 The 1533 subject of this review, which supersedes the 3616, is still built by Mitsubishi then shipped to India where a Mahindra mCRD 4-cylinder engine displacing 101.4 cubic inches is installed. Power output is rated at 34.5 gross horsepower at 2400 rpm with 25.2 horsepower available at the power take off (PTO). Compared to the three-cylinder Mitsubishi engines of the 3616, rated power comes at 200 less rpm. Mahindra mCRD technology utilizes high pressure common rail indirect fuel injection, a high rate exhaust gas recirculation (EGR) system, closed crankcase ventilation (CCV), and a diesel oxidation catalyst (DOC) to achieve FT4 compliance without the aforementioned need for DEF and DPF.
COMPARISON: Read our review of the 2012 Mahindra 3616 HST
Accepting this new powerplant required changes to the chassis, with the 1533 6.5" longer and weighing 738 pounds more than its predecessor. Operator legroom is up slightly as a consequence. Turning radius also is up, with the 3616 able to turn in 7.8' while the new 1533 now requiring 9.2'. A hydrostatic transmission is still available, much as on the 3616 we tested back in 2012, but for the new model rollout we chose to go with a shuttle shift.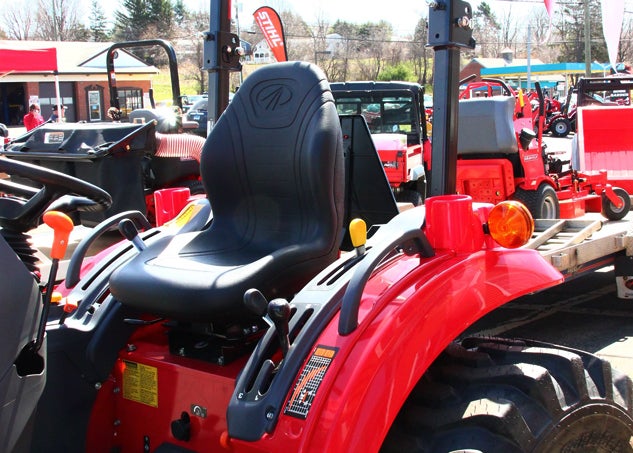 On the 1533, that transmission has eight forward and eight reverse speeds with constant mesh on the gears and synchro mech of the forward/reverse shuttle. This means the initial gear engagement and subsequent direction selection all require the use of the clutch. While some systems use a turn signal-like stalk, the lever used on the 1533 is located below the steering wheel to the left. It's a little more out of the way, but in no way was it difficult to get used to nor would we consider it an inconvenience. The shift lever to the left is arranged in an "H" pattern with four gears. Inboard from the shift lever is a High/Low lever, doubling the gear possibilities. Speed ranges have not been published, but we doubt they are much different than the 12.7 mph forward and 10.7 mph reverse speeds of a 3616 shuttle tractor.
COMPARISON: Read our review of the 2015 Branson 4720h Open Station
Hydraulics run through an open center, with twin pumps flowing 7.7 gpm to implement requirements and 3.4 gpm to power steering needs (11.1 gpm total). This gives the Cat I three-point hitch (3PH) a lift capacity of 2,646 lbs. Position control is standard, so an operator can return an implement to a selectable point time after time. The lower lift arm ends are fixed, probably to save costs, and though we would prefer to see every tractor come with telescopic link ends, the addition of a Pat's Easy Change system would be an inexpensive fix. The outboard stabilizers are of a telescopic design. A rear 540 rpm PTO is standard with a 2000 rpm mid PTO available as an option. For purchasers requiring more hydraulic versatility at the rear, the 1533 hydraulics will support an additional remote.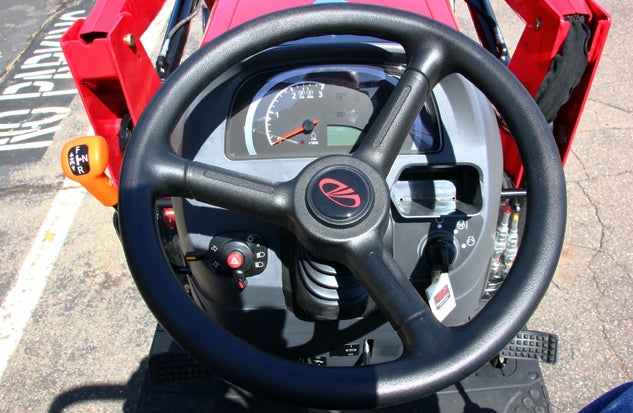 Climb up into the operator platform and into the new deluxe high-back suspension seat and, as mentioned above, there seems to be more legroom than on a 3616. The view over the sloping one-piece steel hood is also an improvement. Firing up the mCRD powerplant yielded a 77-78 dBA sound reading. Smoke was nonexistent. The dashboard is new and features a large analog tachometer to the left with clear markings for the necessary engine rpm to achieve 540 and 2000 PTO rpm. In the center is a neat color digital display with analog fuel and temperature gauges to the right. There is also a slot above the key switch perfect for stowing a smartphone or MP3 player. On the floor, which has only the slightest of transmission humps, the clutch pedal is to the left and split brakes and foot throttle (there is also a hand throttle) to the right.
COMPARISON: Read our review of the 2014 Kubota L3301 HST
Matched to the 1533 is Mahindra's model 1538L loader, which has a lift capacity of 1650 lbs to a max height of 99.0". Breakout force is rated at 2650 lbs and the digging depth capability is 6.0". Cycle times are rated at 3.9 seconds full raise, 2.4 seconds full lower, 2.6 seconds full dump and 2.6 seconds full curl. The 1533 comes with a 60" wide bucket and the attaching system is skid-steer compatible, so a wide variety of rental and purchase/borrow attachments are readily available. A new level indicator is positioned just to the side of the right boom arm, which consists of a rod riding inside a tube. The design is simple to assess and sure to be appreciated.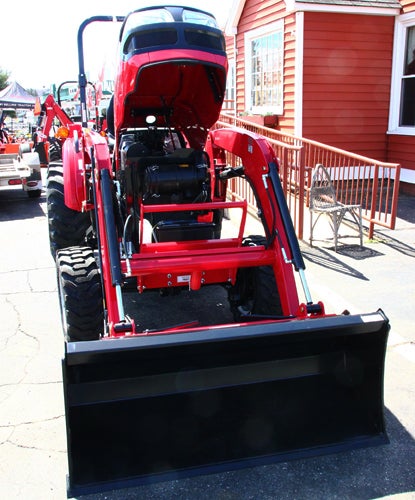 For those requiring a backhoe, Mahindra matches its model 1538B backhoe. Dig depth is 94.0", swing arc is 180 degrees, reach is 127", and digging force is 2900 lbs at the bucket and 1800 lbs at the dipper stick. MSRP for the 1533 in shuttle guise is $20,390 which is a slight increase over the 3616. Powertrain warranty remains at five years.
Recommended for specialty/hobby farming, rural lifestyle, equine, home, and general grounds maintenance, anyone in the market for a sturdy, comfortable 35-horsepower tractor would do well to check out the 1533. And if you're in the vicinity of Ellington Agway in Ellington, Conn., who made our test tractor available, stop in and ask for Matt or Hugh – you'll find an impressive inventory and a friendly and knowledgeable staff.