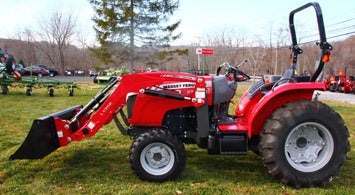 Last December, Tractor.com was invited to spend some time behind the wheel of the all-new Massey Ferguson 2700E series tractors. We had gotten at brief glimpse of these models at the Farm Progress Show held in Decatur, Ill. and were excited to see how they performed up close. We chose a 2705E model for our first review but promised to follow up with the higher horsepower big brother, which we bring to you this week.
Like the 2705E, the 2706E is a small frame utility tractor (UT) that is easily mistaken for a compact utility tractor (CUT), so-much-so, that our December review tagline stated the 2705E was a compact tractor that performed like a utility tractor. To set the record straight, 2700E machines are better classified as utility tractors with the nimbleness of a CUT.
COMPARISON: Read our review of the 2016 Kubota L4701 HST
The 2706E subject of this review was again made available courtesy of Goff's Equipment Service located in Litchfield, Conn. Having the two models side-by-side allowed our testers to come away with a better idea of how the higher horsepower (8.5 more) 2706E equipped with a hydrostatic transmission performed when compared to the lesser powered but lighter (by 55 lbs) 2705E equipped with a gear transmission.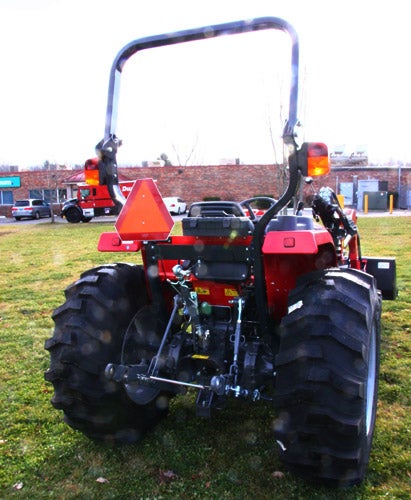 Powering the 2706E is a four-cylinder Shiabura N4LDI-TA turbocharged engine displacing 2.2L. EPA Final Tier 4 (FT4) emissions compliance is through a combination of high pressure common rail (HPCR) injection, cooled exhaust gas recirculation (CERG) and diesel oxidation catalyst (DOC) technologies. The system does not require a diesel particulate filter (DPF) or additions of a urea-based diesel exhaust fluid (DEF). In simple terms, this means no exhaust system maintenance is required, there is no power robbing componentry, and the system is less complex and therefore less costly to produce. Gross power output is rated to be 57.3 HP at 2600 RPM.
As mentioned above, our 2706E test tractor was equipped with a hydrostatic transmission. Unlike the gear version which have four forward gears over two ranges, hydro units come infinitely speed variable over three ranges. While some oomph at the power take-off (PTO) is lost with a hydro vs. gear (2.4 hp for 2705E tractors and 2.8 hp for 2706E tractors), many agree the convenience of foot pedal go outweighs any performance reduction.
COMPARISON: Read our review of the 2016 Mahindra 2555 Shuttle Open Station
Hydraulics run through an open center, gear-driven single pump flowing 11.5 gpm, which results in the Cat I/II three-point hitch (3PH) having a lift capacity of 2425 lbs at the industry standard of 24" behind. Lower link arm ends telescope for ease of attachment and the outboard stabilizers are pin adjustable, which is a step up from the turnbuckle stabilizers used by many economy competitors. Position control is standard, allowing an implement to be returned repeatedly to an operator selectable point time after time. A single spring, return to neutral (SRN) rear remote with float is a factory option, with two additional remotes possible (three total) that are dealer installable.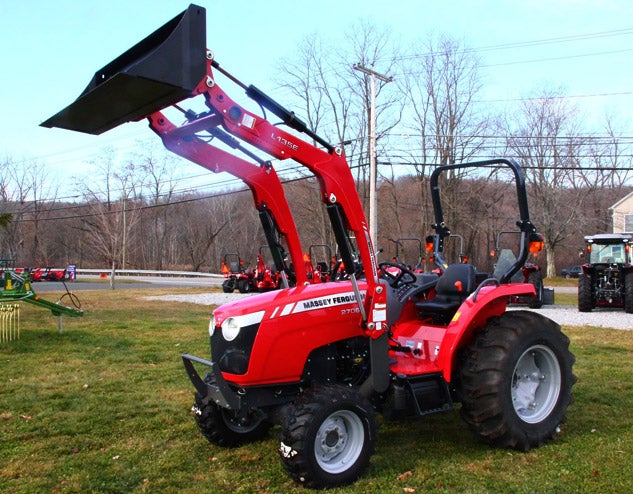 A 540 rpm rear PTO is standard equipment and uses a 1-3/8" diameter six-spline shaft, but no mid-PTO is available. The system is electro-hydraulic and actuated using a push-1/3 twist dash-mounted button to engage or a tap to disengage. There is also a soft start button above the PTO switch that allows graduated start up of an implement, such as a large rotary cutter, with a resultant reduction of wear and tear on driveline components. A drawbar is standard fare and not optional as on some economy competitors.
Axles are sized for tough work with the rear a drop-type with bull gear final drive and the front made from cast steel and having a center drive line and bevel gear final drive. Steering angle is impressively tight, with functional split brakes decreasing the space required for a headland turn. 2WD/4WD is actuated using a push/pull lever located just outboard of the operator's left hip.
The operator platform is similar to the 2705E with the exceptions related to the transmission selected. For gear tractors, the clutch pedal is on the left with the split brakes on the right and the differential lock actuated by the operator's right heel. For hydro tractors, a treadle pedal is located on the right floorboard with the split brakes moved to the left along with the differential lock pedal. There is no foot throttle nor is one necessary. Hydro tractors also forego the left side gear and range levers for a slide lever with a snail, turtle and rabbit to select the three ranges. Other than those differences the platform has the same flat floorboard and ergonomic feel.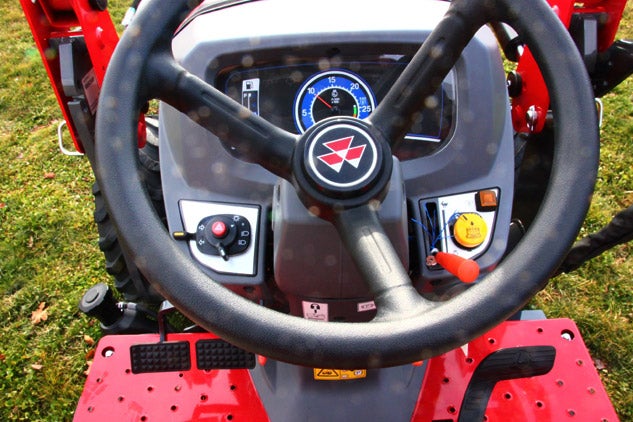 Firing up the 2706E, we measured the same 79 dBA sound level as the 2705E against a backdrop of 60 dBA ambient. As expected from a FT4 engine, no sign of soot or particulate matter is evident, even under a cold start. At idle, system hydraulics were responsive enough to use the L135E loader our test tractor was equipped with and could even lift the front tires off of the ground. Throttle up, and the response, even while steering and/or changing speed/direction, is quite responsive and not at all open center-like. Specifications for 2700E tractors have not as of yet been published, but expect similar performance to that of the 2600 series tractors which when equipped with the L135E can lift 2430 lbs to a max height of 110.2".
COMPARISON: Read our review of the 2015 Branson 4720h Open Station
So, side-by-side, could we discern a power-to-the-ground difference between the 57.3 hp 2706E with its driveline-sapping three-range transmission and 55 lbs of extra heft and the 48.8 hp 2705E and its gear transmission? In short, yes. At all times the 2706E felt livelier, more responsive and with the ability to minutely modulate ground speed and direction only a hydrostatic transmission tractor can provide. In no way would we consider the 2705E underpowered, but for another $6K, the $39,398 as-equipped (tractor, HST transmission, R4 industrial tires, one rear remote) 2706E offers just that much more.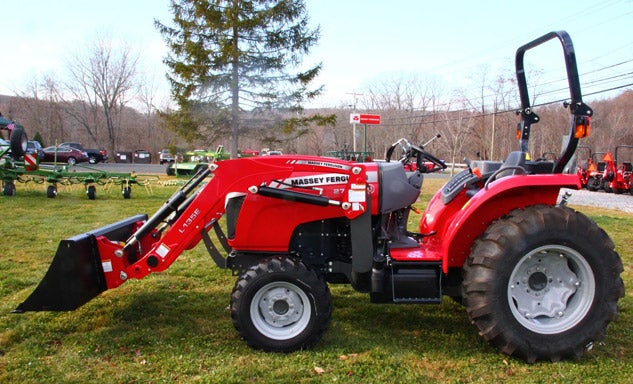 2700E tractors may forego some deluxe niceties such as a tilt wheel, mid-PTO, treadle vs. side-by-side hydro pedals, but this new series continues to blur the point where an economy level tractor leaves off and premium begins. For a small agribusiness, hobby farm, medium to large property owner, landscaper, or municipality in the market for a near 60 hp Utility tractor that is nimble on its feet, the 2706E would be well worth considering. And if you're in the vicinity of Litchfield, Conn., stop in at Goff's Equipment Service where you're sure to experience a high level of satisfaction.