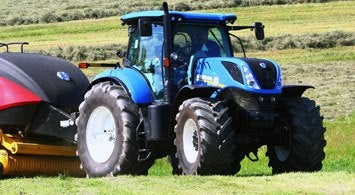 New Holland recently added two new heavy duty models to its lineup – the 270-horsepower T7.270 and the 315-horsepower T7.315. We had a chance to spend some time with the T7.315 at a New Holland media event.

We were told the wheelbase of these new models falls within a half inch of the older Genesis 8970 row-crow tractors while packing an additional 30 to 75 horsepower.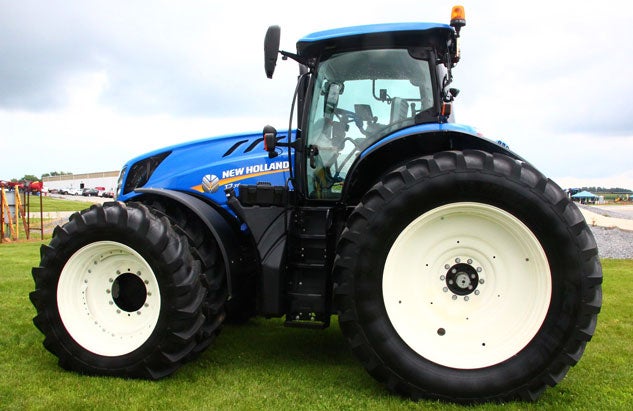 To achieve emissions compliance, the new EcoBlue HI-eSCR (High-efficiency Selective Catalytic Reduction) engines are of an after-treatment design that doesn't restrict or tax engine output. Compared to previous T7 models, the increase in horsepower, torque and lugging ability comes without any fuel usage penalty (fuel and DEF). Further enhancing fuel efficiency as-well-as field productivity is Engine Speed Management (ESM), where a constant PTO rpm is maintained even under changing loads. ESM operates in reverse too, which is ideal for tasks such as snowblowing or mowing. Service intervals with HI-eSCR engines are extended to 600 hours.
COMPARISON: Read our review of the 2015 John Deere 9620R
Transmission choice for T7.270 and T7.315 tractors is limited to one: the Auto Command CVT (continuously variable transmission). The Auto Command CVT comes with four direct drive points with 100% mechanical efficiency. These points are matched to the demands encountered during heavy draft work, secondary cultivation, high-speed transport and field work such as baling or mowing. Equipped with the Sidewinder II Armrest, speed control is several-fold with all easily accessed using the CommandGrip controller.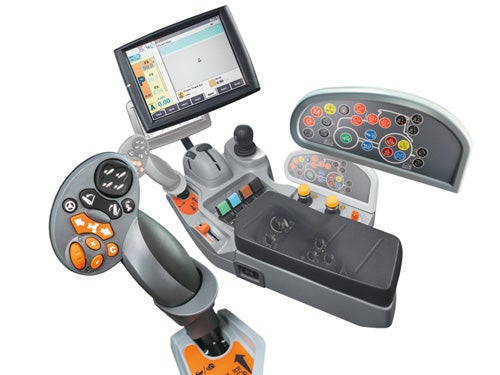 Pressing the CommandGrip joystick forward (or pulling backward) results in an increase or decrease in speed. Three pre-settable target speeds are easily accessed via +/- buttons on the CommandGrip. Target speed adjustment is also accomplished by a thumb knob next to the +/- buttons. There are also four driving modes: Auto Mode, Cruise Mode, Manual Mode and PTO Mode. Auto Mode matches engine rpm and transmission to match the desired target speed; Cruise Mode allows the operator to set the transmission to match a desired operating speed once it has been reached; Manual Mode allows the operator to select the required engine and forward speed; and PTO Mode produces a constant engine speed once the PTO has been engaged.
Also on the CommandGrip controller are buttons for the optional IntelliSteer auto guidance that can use DGPS and/or RTK technology for up to 1" accuracy, a button to record, store and activate Custom Headland Management settings for automated headland turns, and a thumb switch that raises/lowers the rear three-point hitch (3PH). By simultaneously pushing the thumb switch and a button on the controller, the action is switched to the optional front 3PH. CommandGrip controls are soft touch and back lighted for at-a-glance viewing. All CommandGrip controls can also be accessed using the SideWinder armrest and/or the 10.4" IntelliView touchscreen display, along with all the other controls that would be expected from a tractor of this class.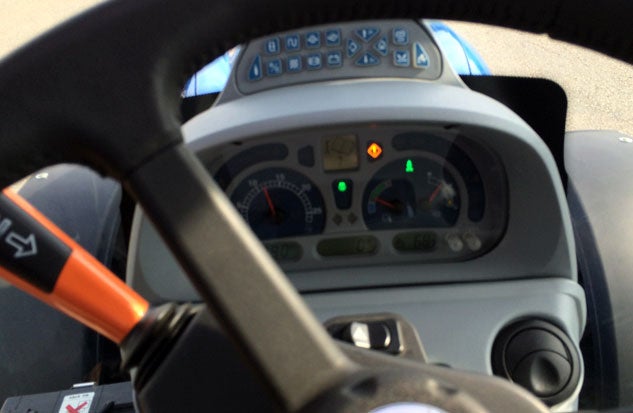 Hydraulic capacity has also been increased for the heavy-duty models and now can flow up to 58 gpm. Rear 3PH lift capacity is 12,787 lbs. (at ball ends) and front 3PH capacity if so equipped is 8,344 lbs. (also at ball ends). AutoPTO is standard and will stop the PTO when the 3PH is raised, such as during a headland turn, and will reengage it when the implement is again lowered.
COMPARISON: Read our review of the 2015 Fendt 724 Vario
For operator comfort, these tractors come standard with New Holland's Comfort Ride cab suspension and a new heavy-duty Class 4.75 suspended front axle; the latter also greatly improves breaking performance. Ride improving options include a new cushion and suspension seat which, when so equipped, can extract humidity. Leather seating is also an option. Sound rating inside the cab is an ultra quiet 69 dBA. For enhanced visibility, the side mirrors are wide angle and can be optionally heated with electric inside-the-cab adjustment. In the cab headliner are A/C, lighting and radio controls, grouped for easy access. The radio will also allow an MP3 player or USB flash drive to be connected.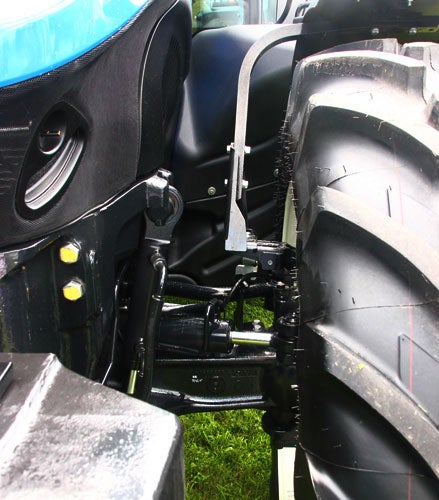 Mentioning New Holland electronics without spending some time on PLM would be doing an injustice. PLM stands for Precision Land Management. The first generation of electronic controls was auto guidance, which allowed parallel passes with repeatability. Then came location control and section control, which used GPS to prevent double applications to minimize overlap. Variable rate applications were the next progression, but required data which is a buzzword of today. PLM takes the progression to another level, allowing the implement to control the tractor for maximum productivity. At the New Holland Media Event, we got a taste of how well and seamlessly this technology worked, by running a T7.270 matched to a BigBaler 340.
COMPARISON: Read our review of the 2014 Massey Ferguson 6615
Outside the cab, LED work lighting is now standard fare, with an eight-LED package as the base package, and options for 12 and 16 lights, the latter bringing true 360-degree lighting to the field. For loading and unloading convenience, rear lights can be switched off to reduce glare. Fender controls are also an option and can control the rear 3PH linkage, rear remote, and PTO.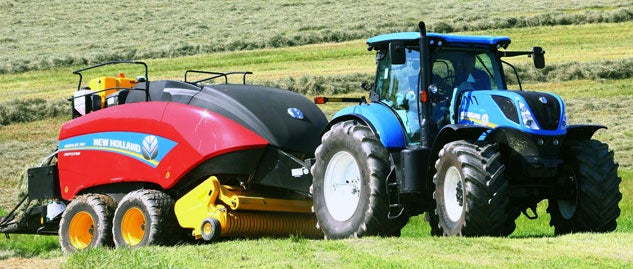 The new heavy-duty T7 machines seem to fall into a niche all of their own. With fluid usage 10% better than Tier 3 T7 models, the ability to be equipped with duals, front and rear – a class exclusive – the T7.270 and T7.315 are sure to be of high interest to an agribusiness looking for flexibility to handle a wide range of needs.
With an MSRP of 5-8% less than the T8 series (depending on model and options), it will be exciting to learn more details at the upcoming Farm Progress Show this upcoming September. Shipping of T7.270 and T7.315 tractors is scheduled to begin the 4th quarter of 2015.