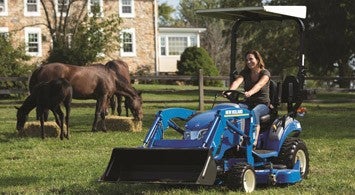 New Holland, known for serious high-horsepower and utility farm machinery with the latest technology – whether it be autonomously driven, alternative energy powered, or precision land management (PLM) electronics – also offers serious compact utility, and now, subcompact tractors. The Workmaster 25S is the latest offering that will be soon hitting dealer stocks. Based on the LS MT1 series tractors, the 25S gets a little extra punch that makes it uniquely New Holland.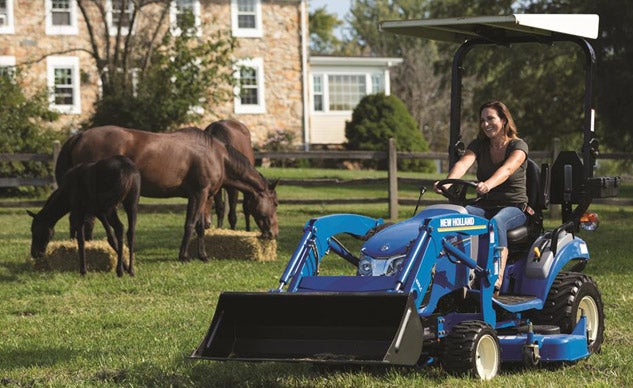 Power for the 25S is by a Yanmar 3TNV80F three-cylinder naturally aspirated diesel displacing 77.3 cubic inches and making 24.7 horsepower. While Yanmar power in a LS or New Holland tractor might seem surprising, consider the new Mahindra eMax 20 subcompact which is also Yanmar powered. Yanmar engines are legendary for their efficiency and reliability. Rated engine speed is 3000 rpm with a power take-off (PTO) rating of 17.2 horsepower. Output from the engine is sent to a two-range hydrostatic transmission (HST) controlled by a pair of side-by-side pedals softened by bright orange molded rubber pedal covers. Cruise control is standard and engaged by a dash-mounted switch. Max forward speed is a snappy 9.1 mph.
COMPARISON: Read our review of the 2017 Kubota B2601 HST
Hydraulic output from the dual-pump HST sends 2.1 gpm to the power steering circuit and 4.6 gpm to implement demand. This gives the 25S a three-point hitch (3PH) lift capacity of 992 lbs, which is slightly higher than the LS tractor it is based on. Lift capacity measured 24" behind ball-ends is 728 lbs. Stabilizers are chain type and the ball ends are fixed. Control over the Cat-I hitch is through an un-subcompact-like position control arrangement, allowing an implement to be effortlessly returned to an operator selectable position time-after-time. A single rear remote is supported as an option.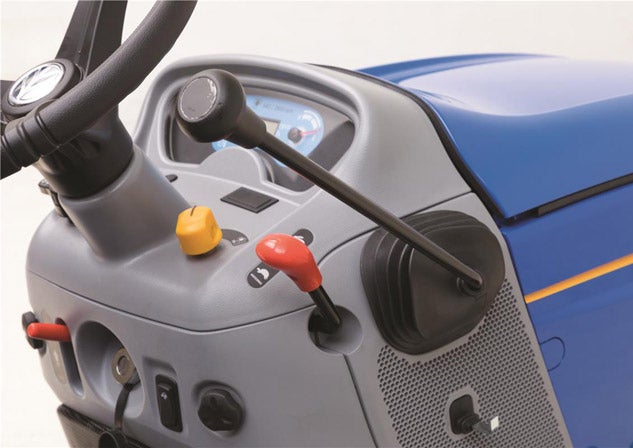 Both 540 rpm rear and 2500 rpm mid PTOs are standard and by lever control operate in rear-only, mid-only, and both modes. PTO engagement is by a push and turn/tap to disengage dash-mounted switch and the system is electro-hydraulic and fully independent. Differential lock is actuated by a heel pedal and 4WD by pushing a right fender lever forward.
The front axle is heavy-duty and designed for loader work. Five-bolt hubs are used to attach the rims mounted with R3 turf or R4 industrial tires either sized 18×8.5-10 front and 26×12-12 rear.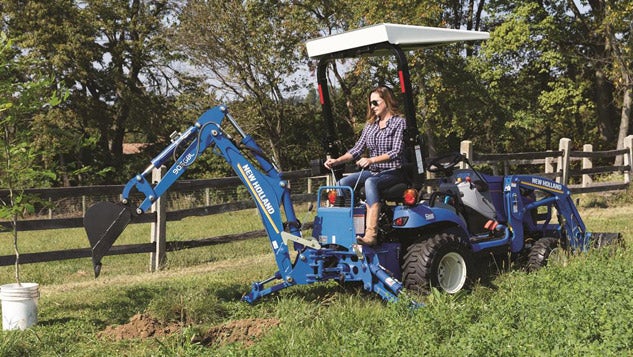 Climb up into the high-back cushion seat with armrests and an adjustable backrest, and the operator is treated to a spacious cockpit accentuated by a fully flat floor. The abovementioned hydrostat pedals are located on the right side and the brake on the left, the latter wet, multi-disc with a dash-mounted parking brake lever. The ROPS folds for overhead-challenged storage or use, and the seatbelt retracts in automotive fashion. The loader joystick is integrated into the dash side and falls nicely into one's hand. Tractors with the joystick incorporated into the fender console might have an ergonomic edge, but the 25S location feels more comfortable than those mounted on the loader stanchion and looks light years better. There is a cupholder and 12V outlet for charging electronics like a phone or MP3 player, and there is a ROPS mounted toolbox to store items.
COMPARISON: Read our review of the 2017 John Deere 2038R
The dash display is modern and uses a combination of colors, indicators and a LCD readout screen. We especially like the New Holland blue central display that nicely contrasts with the red needle indicators over white ranges for engine temperature and fuel level. The LCD pod sits in the center and displays engine rpm and hours digitally. Control levers are nicely color-coded, ergonomically-placed, and lack that "tagged on" afterthought appearance of some tractors of this class. A nice feature that operators are sure to appreciate is the reverse positioning of the tractor radiator and fan. Rather than position the radiator and fan at the tractor front, the radiator and fan is located between the dash and engine. This arrangement draws cool air from the operator station, and blows heated air away, making for a much more comfortable operating experience.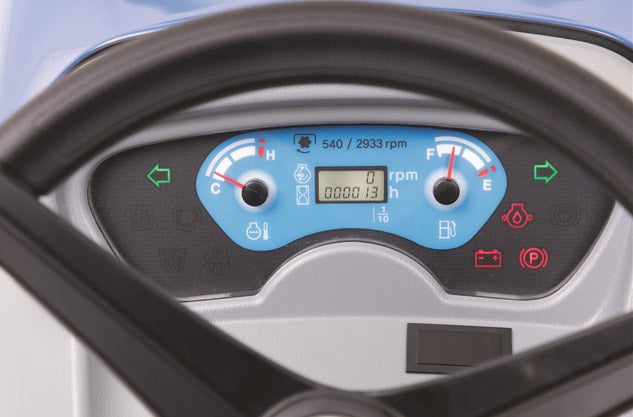 The loader matched to the 25S is the 100LC which is rated to lift 1005 lbs. to a max height of 72". A 50" wide bucket is utilized. Rated cycle times are 3.6 seconds full lift, 2.1 second full lower, 2.3 seconds full dump, and 1.5 seconds full curl. The 100LC ponies up 2078 lbs. of breakout force. For operators requiring a backhoe, the 905GBL is the choice, which has a dig depth rating of 79.4" and 2200 lbs. of dig force. A wide range of implements are supported and available, but many 25S tractors are sure to be spending time mowing. To this need, the 160GMS 3-blade mower is offered, which has a 60" cut width. Easy maintenance is also built into the 25S, with a front hinged hood that raises on a single gas strut.
COMPARISON: Read our review of the 2017 New Holland Boomer 24
The 25S rides on a 56.1" wheelbase, is 97.4" long by 46.7" wide, and measures 87.4" to the top of the extended ROPS. Weighing 1,444 lbs, New Holland stands behind the 25S with no-charge Boomer Guard6 coverage, which includes two years bumper-to-bumper coverage, with power train coverage extended an extra four years (six years total). Pricing has not yet been set, but is certain to be competitive, while offering a subcompact that does not sacrifice niceties and comfort for cost.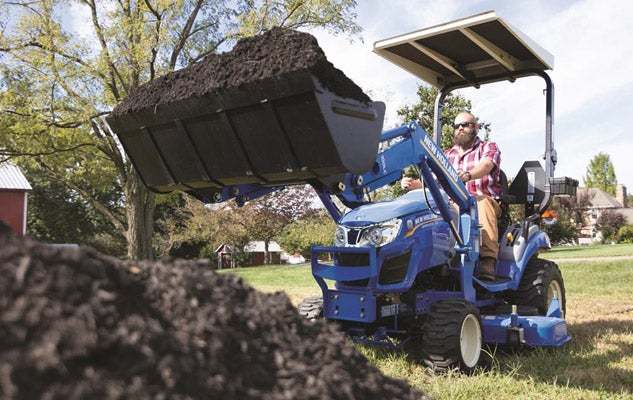 Available in four packages: Loader Package, Tractor-Loader-Backhoe (TLB), Loader & Mid-Mount Mower (MMM), and MMM, look to see 25S packages soon reaching dealer stocks. Tractor.com looks forward to a full "behind-the-wheel" review in the near future.