2016 Farm Progress Show: Part 2
The new products keep on coming
By Geof Fowler, Sep 23, 2016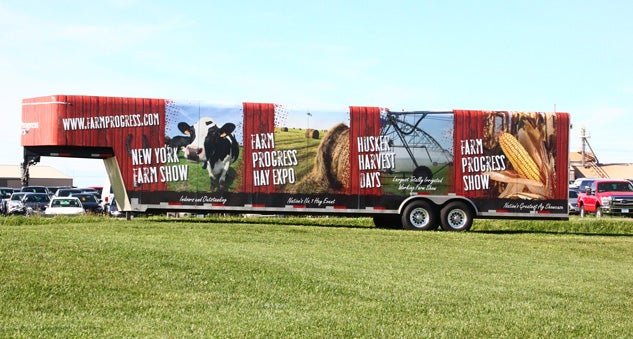 Last week we covered not only a few new products displayed by AGCO, Tribine, Case IH, JCB, and Kubota, at their Farm Progress Show booths, but also where we gauged there to be a great deal of attendee interest. With so much going on dictating a second installment, we bring our readers part two.
Willmar Fabrication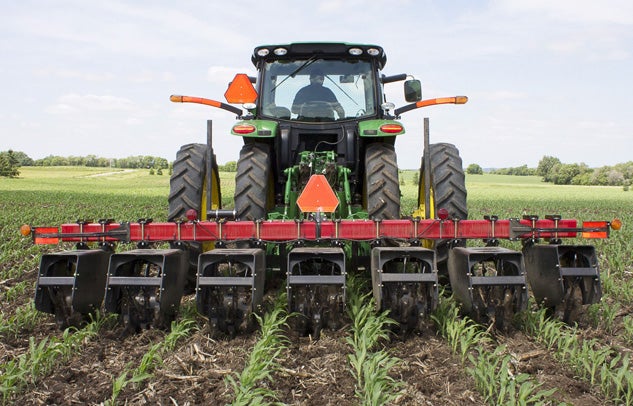 The Willmar Fabrication booth on Eleventh Street caught our eye with its RT850 Reservoir Tillage tool. While we were aware of the Willmar, Minn. company producing row crop spray hoods, we did not know its product line had extended into tillage implements, so we stopped by and were glad we did. The RT850 Reservoir Tillage tool is brand new and designed to help farmers make optimal use of available water, whether it be by irrigation or rainfall. According to founder Steve Clausen, using the RT850 improves overall ground permeability while reducing runoff and erosion. Clausen told us that yield potential is dependent upon water getting to the plant and that for a single bushel of corn yield, almost 3,000-gallons of water is used. With rainfall being the single source for 85% of U.S. corn, using a tool such as the RT850, which runs between the rows and creates depressions using 10" teeth, can help make the most of what Mother Nature provides. Currently Willmar has one RT850 being used in the field, but is soliciting farmers to test the RT850 in their fields during the 2017 crop season.
New Holland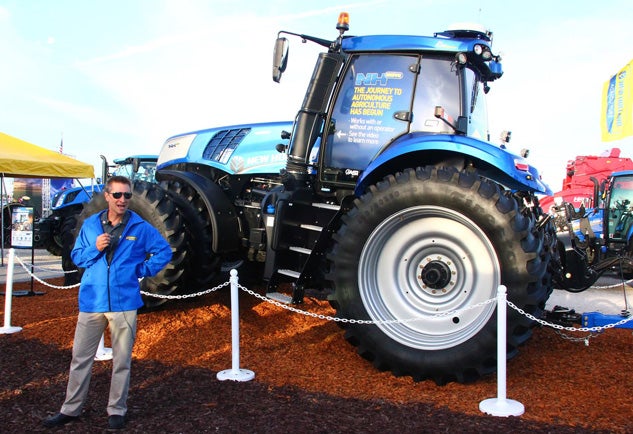 As with its sister division, Case IH, the big news at the New Holland booth was the NHDrive autonomous concept tractor. Bret Lieberman, vice president North America, told attendees that though the hardware and software were shared with Case IH, the New Holland vision was for a tractor that could be used autonomously, but also driven by an operator. The tractor on display and equipped with this autonomous technology was a New Holland T8, but the technology could be adapted to just about any platform.
NHDrive makes full use of the advanced precision land management (PLM) technology and follows optimized in-field paths, which are generated using the software. Using LiDAR (range finding lasers), and RGB cameras, the NHDrive is able to detect a wide range of in-field obstacles. If an obstacle is encountered, the tractor sends a message to the interactive interface for a decision as to how the tractor can avoid or bypass the obstacle. Imagine how true 24/7 farming might transform your agribusiness. Then consider the future is indeed here today. Liberman told the media his guess is that it will still be several years before autonomous farming is truly in use, having to get over the biggest obstacle, legal hurdles.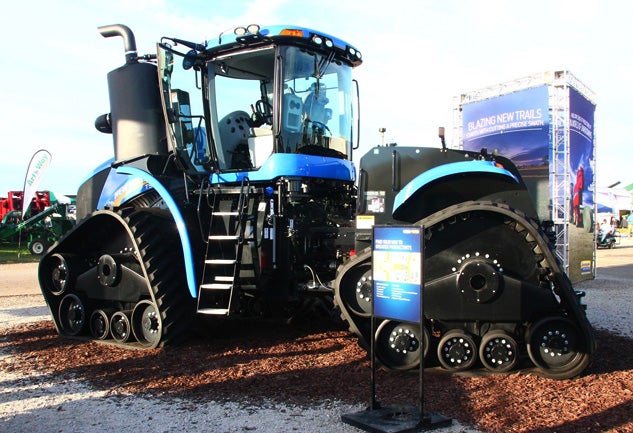 T9.600, T9.645 and T9.700 tractor users looking for a cost-effective track solution that does not require the aggressive approach angle offered by New Holland's Hi-idler premium track can now opt for an SmartTrax II upgrade. The new track has a tread height of 2" (Agricultural) or 2.6" (Deep Lug), which makes for exceptional performance in wet or soft ground conditions. The 36" wide track provides up to 2800 sq. in of ground contact per module. The large footprint improves traction, increases floatation, reduces soil compaction; all leading to improved soil conditions, and by extension, increased yields.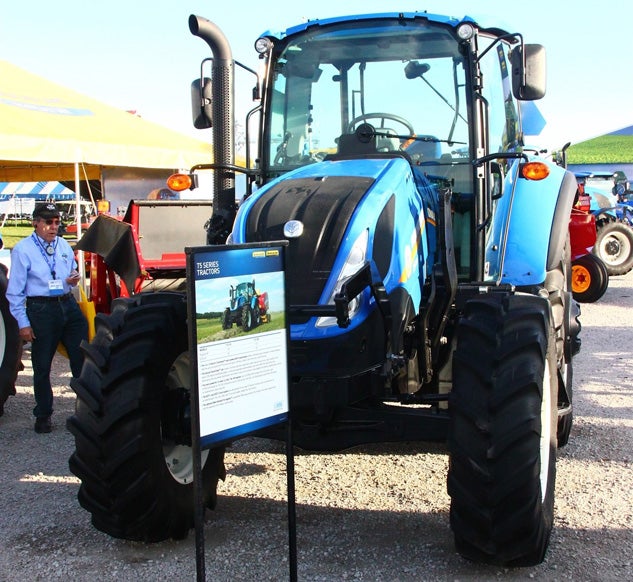 Next up was an addition to the existing premium T6 lineup of mid-range tractors. Taking input from customers looking for the increased maneuverability offered in a 2WD machine, along with a more economical price point, the new 2WD solution is perfect for haying, mowing, and roadside applications. 2WD T6 tractors will have Electro Command semipower transmissions featuring eight push-button shifts across the 16 gears. Gear 16 is ECO transport, reducing engine rpm at the max speed of 19 mph for improved fuel efficiency. The ultra-quiet VisionView cab and optional cab suspension are available for 2WD T6 machines. Availability begins Q1 2017.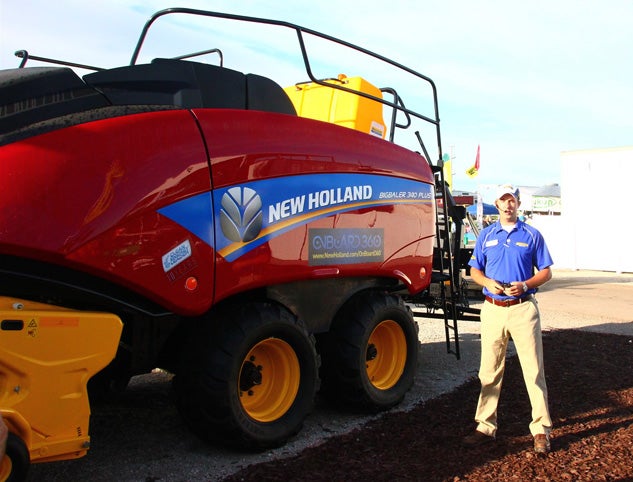 Next stop was at the new Big Baler 340 Plus. In July of 2015, we got to spend several hours running the previous generation Big Baler 340 and came away impressed. Enhancements allow up to 10% more bale density, while maintaining the highest bale quality. Bale chamber length has been increased by 31.5", packer shaft size has been increased from 2.3" to 3", the drive chain is bigger (1.25"), and the slip clutch has been reinforced. As on the Big Baler 340 we used a year ago, IntelliCruise technology is employed to let the baler regulate tractor ground speed for maximum baling density and throughput. A new biomass kit improves performance working with stiff and stalky material.
Caterpillar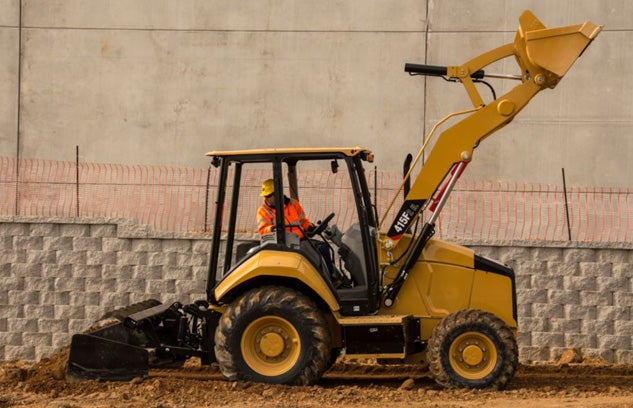 New from Cat is its 415F2 industrial loader tractor, which combines the frame, engine, transmission, and axles of the 415F2 tractor-loader-backhoe (TLB) into an industrial/agricultural package. Available in canopy or cab configurations, 415F2 machines are powered by Cat C3.4B engines making 72 horsepower, and driven though a four-speed power-shuttle transmission. Lift capacity for the one cubic yard bucket is 6,750 lbs with a max height of 136". A box blade scraper is also available that has specifically been developed for the skip-loader market.
John Deere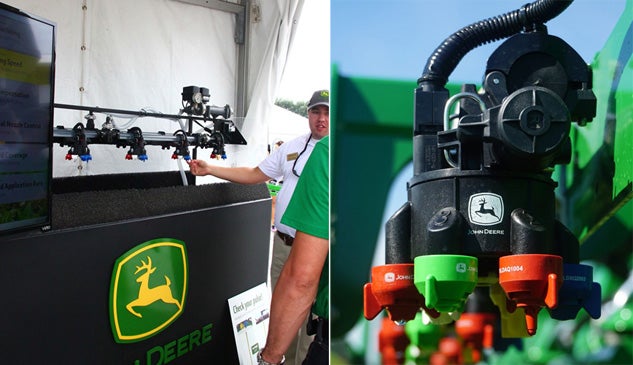 The John Deere booth between 1st and 2nd Street and fronting South Ave, had on display the full range of big green's product offerings, including much of what we devoted our recent reveal article to. Interest was wide ranging, but the sprayer technology area seemed busier than ever – not surprising, as fertilizer application and weed control are critical elements in the quest for higher yields. The ExactApply intelligent nozzle system that will be available on John Deere 4-Series sprayers beginning with 2018 models will offer a higher level of product application control. A demo showing the Pulse Width Modulation (PWM) system and ability to switch between two preselected nozzles was a popular attendee stop.
Mahindra
Tractor.com is already in the middle of a long-term test of a Mahindra 1538 TLB and giving the new "premium" series a workout. At the Mahindra booth, the 1538 was a popular draw, as well other tractors also of both the "premium" and "economy" series. Big news continues to be Mahindra's mCRD emissions technology, which does not utilize a diesel particulate filter (DPF) or require additions of diesel exhaust fluid (DEF).
Claas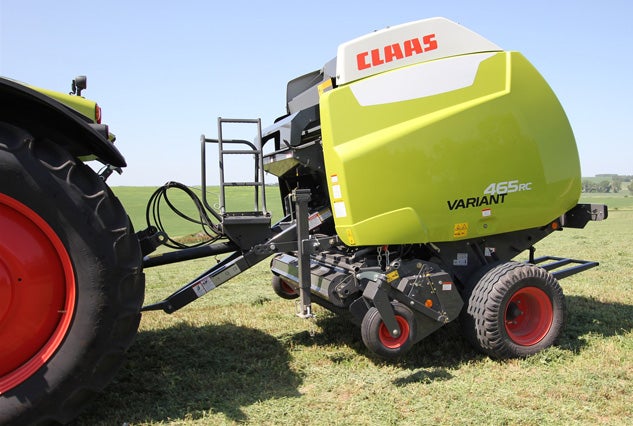 Claas products have a reputation of being well-designed and engineered, reliable, and productive. New news for 2017 includes upgrades to the Lexion combines, upgrades to the Jaguar 970 & 980 forage harvesters that include SHREDLAGE corn silage processors from the newly acquired company of the same name, a new Disco 1100 trend mower that at 35'2" can cut up to 42 acres/hour when running at 10 mph, and the addition of six new high-capacity round balers. The Variant 465RC flagship baler features all the specs of the 460RC it replaces, adding reinforced rotors, heavier-duty drive chains and a cutting floor that can be hydraulically raised or lowered to clear obstructions.
Rome Plow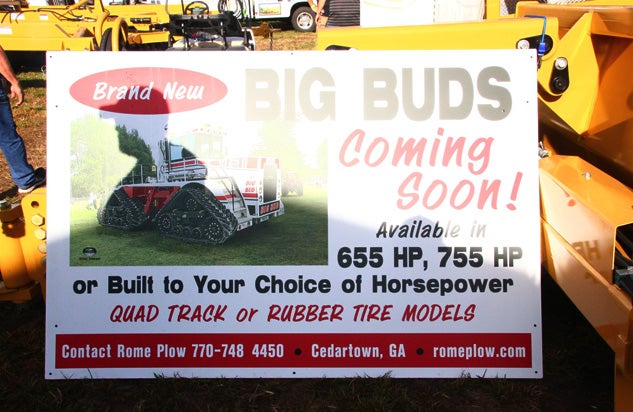 Passing by the Rome Plow display, a sign indicating Big Buds would be coming soon had us stop in our tracks. While Rome Plow has been known for quality tillage equipment for almost 85 years, the thought it would reintroduce Big Bud seemed almost too much to buy. Talking to the Rome representative, though, we were told that it was real, and that several engines are being considered with horsepowers to 755 and more. Tractor aficionados will know that the original Big Bud was built in 1977 by Northern Manufacturing in Havre, Montana and powered by a 16-cylinder Detroit Diesel engine making 760 horsepower. Billed as the world's largest farm tractor, Big Bud was 27' long, 20' wide and 14' tall. When topped off with 1000 gallons of fuel, Big Bud weighed in excess of 100,000 lbs.
Wrap Up
With blisters on our feet, though without muddied boots, Farm Progress Show 2016 wound down on Thursday to perfect weather. One of these years one of us will decide to bring a pedometer to see how many miles get covered, but for now, the Farm Progress Show continues to be one of the premier farm shows in the world, and we look forward to bringing our readers coverage from Decatur, Ill. next year.
Buyers Guides
Our Partners