How To Shop For A Tractor: Part II
Tractor capabilities, ergonomics and resale
By Geof Fowler, Mar 28, 2013
Last week
we covered the importance of selecting and working with a dealer and some of the advantages subcompact utility tractors (SCUTs) and compact utility tractors (CUTs) offer. This week we're going to dig into tasks and implements you might use to accomplish them, talk about ergonomics and resale, and offer some buying advice.
Mowing
Chances are you will use your tractor to mow the lawn and/or brush cut acreage where there isn't finished lawn. Mowing is one of the most predominant tasks a tractor gets used for so it is important that you discuss this subject in detail with your dealer. Mower decks come in a variety of configurations, with the most common being mid-mount or rear-mounted (or pulled) decks that operate off the tractor's power take off (PTO). Choices might include decks of rough- and finish-cut capability. We're big fans of mid-mount mowers (MMM) and generally recommend purchasing the largest deck possible. Larger decks reduce the uncut circle, effectively move the operator and ROPS away from branches and other obstacles, and make for easier edging around trees and curved beds. Property requirements, your time constraints and the finished quality desired are all factors to take into consideration.
Snow Removal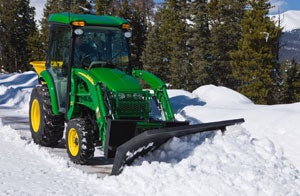 Cold climate homeowners will need to settle on a method of snow removal. In light snowfall areas, that may be as simple as a front plow or a front end loader (FEL) – by itself, or in conjunction with a rear blade. In areas where snowfall amounts are greater, a snowblower may be the most efficient method of removal. Snowblowers come in front and rear configurations. Both work well, and while a rear blower tends to be less expensive, it is at the expense of operators having to crane their necks to see what's going on. Your dealer can discuss these options with you and help you make the best decision.
Front End Loader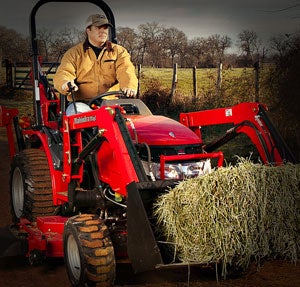 Most any box store tractor can tow (pull) a certain sized list of attachments and perhaps be capable enough to power front blades and blowers, but tractors with hydraulic power present a whole different range of capabilities to the operator. One of the most common and productive implements is a front end loader (FEL). Able to lift, transport and relocate a wide range of materials from gravel to brush, the FEL can be everything from a glorified wheelbarrow to a mini-excavator. You probably don't want to mow with a FEL attached, so talk to your dealer and find out for convenience if the design is quick attach/detach with a park stand built in. A nice feature on many loaders is to have a skid-steer compatible bucket mounting system. This gives you access to a variety of buckets and attachments available for rental or purchase. Other available bucket attachments include grapple jaws which are useful for brush and material handling, and 4-in-1 buckets with their clamshell surround that can do everything from move loose material to grab logs and posts.
Front Mounted Attachments
Other front mount attachments that utilize tractor hydraulics can include the abovementioned snowblowers and plows, but also front rotary brooms, which work great for sweeping driveways clean of dirt, leaves and even snow. A European big tractor feature that is beginning to trickle down to utility tractors is a front mounted three-point hitch (3PH). Right now these are mostly aftermarket attachments, but look for manufacturers to get on the bandwagon and add these to their factory option list.
Ground Engaging Attachments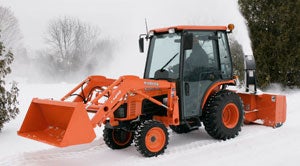 A big benefit of owning a SCUT/CUT tractor is that is can handle ground engaging activities. By this we mean the tractors can run and drag implements capable of altering your property to a desired effect. Powered implements include tillers which can get that neglected field back into shape or ready your garden for spring planting; spreaders for distributing seed and fertilizer; and Harley rakes which excel at preparing a lawn for seed. Unpowered implements include rakes, rear blades, chain drags, chisel plows and one- and two-bottom plows which accomplish what their powered counterparts do, albeit at a slower and less aggressive pace.
Cabs
For those in extreme cold climates who just can't stand the elements, a cab is the way to go. Aftermarket cabs are available for most tractors, but factory cabs kick it up a level. Quality, fit and finish now approach automotive build levels and when matched with premium seats, can approach luxury automotive comfort. Remember, cabs rob horsepower and to do what you need to do may push you up in tractor size. Another thing to take into consideration is that a cab in hot weather is like a greenhouse. Heat is easy to bring into a cab but air conditioning requires space for the components and additional horsepower to make it work.
Ergonomics/Ease of Use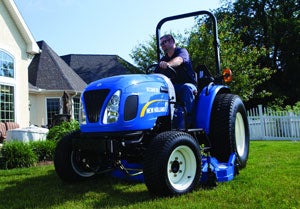 Ergonomics is an important area to pay attention to. Ostensibly you will own this tractor for some time and you want to make sure that ownership affords you the maximum pleasure and comfort possible. When you slip into that operator's seat, consider the layout of the platform, control pedals and levers. Look for color-coded controls, backlit dashboards, uncluttered floorboards and a comfortable seat. Ask yourself, "Is there enough room that someone of my size and weight will feel comfortable for long stretches of time?" Remember, what's comfortable for one might not be as comfortable for someone else. We talked to Dan Muramoto, product manager for Kubota, who suggests you sit on the tractor and try out the loader and/or backhoe to test hydraulic performance if possible.
"A well-designed tractor will have smooth, consistent hydraulic flow to its loader and backhoe," says Muramoto. "You should be able to lift the loader arm while curling the bucket. If the tractor doesn't allow that, it does not have regenerative hydraulics, a standard feature on all B and BX tractors. While on the backhoe, move the boom vertically and horizontally and check for speed, smoothness, and shock at the stops. A well-made tractor will exhibit the same speed in every direction, and will keep the boom from slamming into the stops if it has cushioning valves, as found on the BX25D."
Ease of use also extends to the tractor attachments. How easy are they to attach and detach? A prospective purchaser should know this before making a decision.
Resale
A SCUT/CUT tractor brings with it a high degree of resale value. Yours truly has actually gotten as high as original purchase price for the sale of a used CUT tractor. Today, with 0 Down and low financing rates, the used landscape is altered slightly as a purchaser must weigh writing a check for that used machine vs. taking advantage of manufacturer incentives on a new model. Even still, SCUT/CUT tractors hold their value well and used machines are in high demand.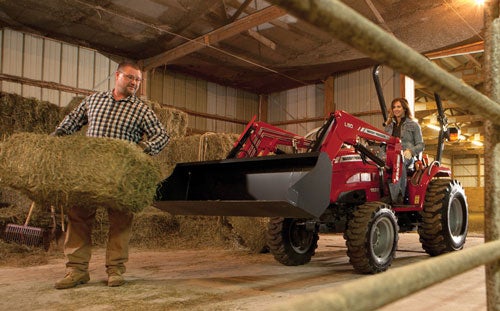 Hopefully our series has clarified the differences between SCUT and CUT machines, delved into the advantages of diesel power, hydrostatic transmissions, power steering, three-point hitch, and hydraulics and got you thinking about tackling tasks such as mowing, snow removal, loader work, and altering that landscape using ground engaging attachments. But before you sign on the dotted line, there are some special considerations to pay attention to. Next week we'll talk about those considerations, discuss options such as tire choice, ballast box and lighting, and then wrap things up with the test drive and purchase.
Related Reading
How To Shop For A Tractor: Part I
Shopping at Farm Shows
ATVs and UTVs Are Useful Tools for Farmers and Landowners
2013 National Farm Machinery Show Report
35th Annual Antique Engine & Tractor Show Report
Buyers Guides
Our Partners