Krone Comprima Round Balers
High-productivity round balers with a model to fit every need
By Geof Fowler, Photography by Krone, Apr 10, 2015
The Krone company genealogy dates back to 1906, when Bernhard Krone set up a blacksmith shop in Spelle, Germany to manufacture and sell agricultural hardware, ovens and stoves. From those humble beginnings, the marquee has grown, and today employs over 2000 and is considered an industry leader in forage and hay equipment.

Tractor.com's first exposure to a Krone product was in April of 2013 when we reviewed a BIGPack 1270 square baler. At the 2015 National Farm Machinery Show in Louisville, Ky., we were again impressed by the Goliathan BiG X harvester on display. While we plan to cover the BiG X later this year, with baling season coming on for much of North America, the deluxe Comprima line seemed a good place to start.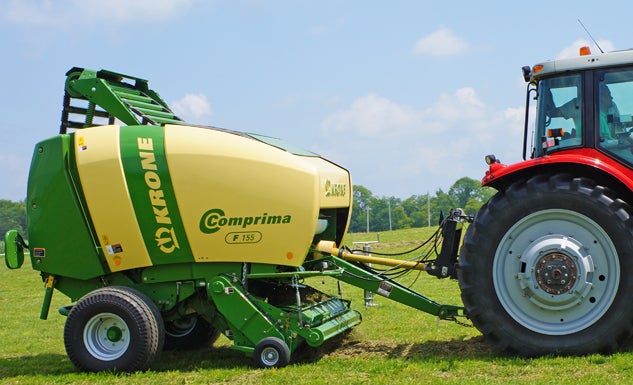 The Krone round baler lineup falls under the Bellima, Fortima and Comprima nameplates with a variety of different models within each to fit the demands of every application. For this article, Ryan Given, Krone's North America Training Manager, and Ken Stratton, Krone's Technical Support Manager, were on hand for a little round bale 101. Given began with the history of round baling, which is a step up from the common, labor intensive small square baling systems many small to medium agribusinesses were using.
COMPARISON: Read our review of the Hillco Single Pass Round Bale System
Though the first generation of round balers were an improvement, they were belt-type designs which had disadvantages and limitations when it came to baling engagement, not to mention use in higher moisture conditions. Krone already manufactured a line of manure spreaders which relied on gearboxes and chains, and in 1973 adapted that type of drive to their first round baler. The resultant reliability and consistent bale rotation provided by the gearbox and chain system was such a success that a no-frills variant (Bellima) is still offered by Krone to this day.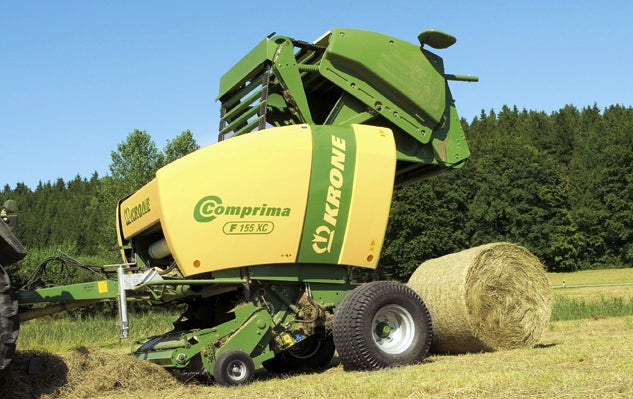 When asked if there was any particular significance to the product names, Given explained that they were Latin derivatives with Bellima rooted in bellissimo, or beautiful; Fortima in fort, or strong; and Comprima in comprar, or compress/compressor. For inner workings, Bellima models are cam driven, fixed chamber balers with chain and slat elevators while Fortima is cam-less and can be fixed or variable but also with chain and slat elevators. Comprima models have the highest output and are where the choices expand, with fixed, semi-variable and fixed chamber models available. All Comprima models are of a cam-less design. Comprima models also come with the NovoGrip system, which offers the bale feed strength of a chain and slat elevator along with the quiet running and higher speeds a belt system can run under. The NovoGrip system also performs well in high moisture conditions – even rain – where traditional belt and slat systems are highly ineffective. Comprima models are also only net wrapped, whereas the slower Bellima and Fortima models can have twine wrapping systems.
COMPARISON: Read our review of the Hesston by Massey Ferguson 2956A Round Baler
Krone round bales can range from 3'3" to 6'9" in diameter, however, all Krone bales are 4' wide. According to Given, there has been some U.S. resistance with the marketplace used to baling widths of 5' and relying on unit pricing, but unaware that Krone densities are such that by weight they contain as much hay as the wider bales. For product with lower moisture contents such as dry hay, the denser advantage is mainly esthetic with the bale not falling apart during handling and transportation. But get up into higher moisture applications where the need to get as much air out as possible is paramount to extending shelf life and reducing problems such as molding, the benefit of Krone's higher density bales becomes obvious. And along with better silage, count on savings in twine and net usage, as well as reduced requirements for storage and trucking. Given spoke of Comprima balers being able to handle baling straw to green chop and everything in between.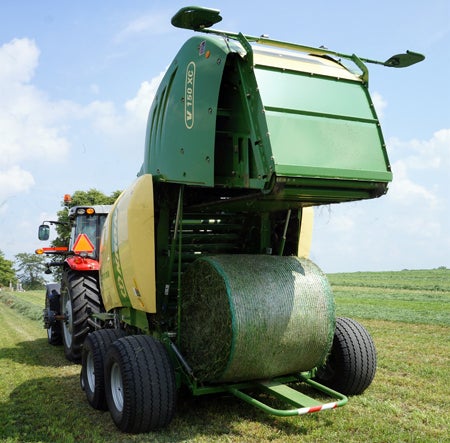 Ken Stratton helped make the different chamber and bale forming choices more understandable. A bale from a fixed chamber baler always has a center core that is softer than the outside diameter. This can be advantageous as it makes the bale easier to spear for handling as well as in times when haying at greater than desired moisture where the operator can let the bales sit out while the moisture drops prior to storage in the barn. In the Comprima lineup, this would be the models F 125 and F 125 XC (X-Cut – more about this below).
In the F 155/XC, which are semi-variable fixed chamber models, the bale begins for the first several feet the same as fixed chamber models, but then as the diameter grows, spring pressure limited by a pair of mechanical pins keeps compression up until the desired size is reached (from 4'1" to 4'11" diameter).
COMPARISON: Read our review of the Krone BiGPack 1270 X-Cut MultiBale
The Comprima V 150/XC, V 180/XC, and V 210/XC models are all variable chamber balers. For these models, both the core hardness (soft to near brick density) and size can be varied, along with the diameter. Bales from V 150 models can be varied from 3'-3" to 4'11", V 180 models 3'3" to 5'11", and V 210 models 3'3" to 6'9" (in hay and straw or 3'3" to 5'9" for silage bales).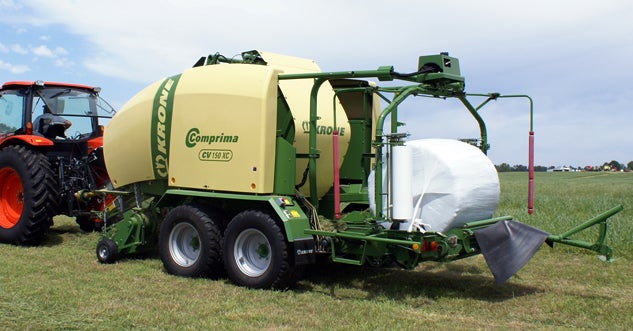 For operators who desire a chopping knife (rotor cutter) over a feed rotor, Krone offers the X-Cut rotor system which pulls the crop through 8/9/17 (2.5" or 5" spacing) or 13/13/26 knives (1.7" or 3.4" spacing) arranged in a chevron formation. The addition of a chopping knife helps achieve even higher bale densities that break up more easily on the feeding floor, but also put the wear (knives) at the more easily accessible baler location rather than at the subsequent vertical mixer operation. X-Cut knives are individually protected by a coil spring system so they break back when a foreign object is encountered. And if an uneven windrow causes the baler to block up, all an operator needs to do is hydraulically lower the knife floor until the blockage passes through. Knife spacing can be varied or turned off from the operator's seat, and when it comes time to remove or replace knives, no tools are required.
Options for Comprima balers include a wrap system designed to keep pace with high output, bale turner, Alpha, Beta, and CCI 2000 ISOBUS electronic interfaces, and tandem axles for hi-speed transport. Horsepower requirements range from 65 to 90 depending on the model. As fast as Krone Comprima balers can operate, with the ridiculous ability to make two uniformly dense bales in under a minute, the advice from Given is that the product needs to dictate the speed so that a healthy balance of desired density, product quality, and machine life expectancy are maintained.
For an Agribusiness in the market for a round baler designed to perform at the highest levels, the Krone Comprima lineup is well worth looking into.
Buyers Guides
Our Partners