2016 Kioti CK2610 HST Review
An affordable tractor option for hobby farmers
By Geof Fowler, Apr 22, 2016
Kioti Tractor, a business unit of Daedong Industrial Co. LTD, is known for producing quality tractors at competitive price points. At the National Farm Machinery Show held in Louisville last February, we first saw a CK2610. Our initial reaction was that this must be a replacement for the CK2510, a model that impressed us in our 2014 test but seemed like it would confuse buyers who would also be looking at the CS10 models with their similar size and horsepower. Not so.

It turns out that the CK2610 is more like a CK3510 with its engine detuned to get under the EPA 25 horsepower threshold. That made us wonder what other differences there might be and if the detuning would make the CK2610 underpowered. When we received a call from the good folks at Campbell Services in Bridgewater, Conn, a third generation dealership, letting us know a pair of CK2610's had been prepped and were available for a test drive, we were ready to get some answers. Our findings follow, but first some technical details.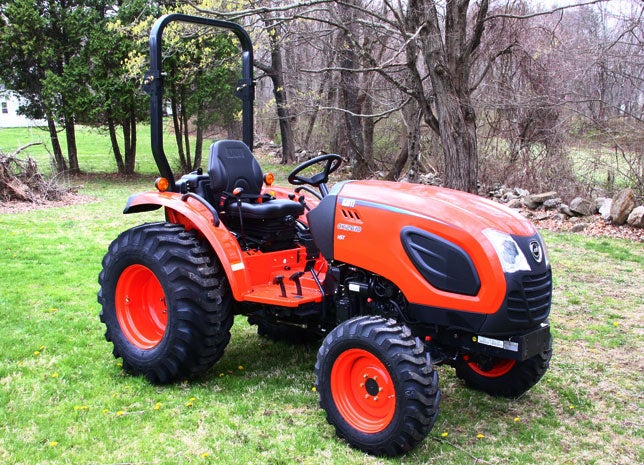 The current Kioti CK10 lineup consists of four models, each with gear and hydrostatic transmission choices, and with horsepower ranging from 24.5 to 39.6. The engine used in CK2610 models, though rated to deliver the same 24.5 horsepower as in the CK2510, is substantially different. Whereas a CK2510 engine displaces 85 cubic inches, the three-cylinder mill used in the CK2610 is 100.5 cubic inches. Power take-off (PTO) horsepower is 21.8 vs. 19.8, and comes at 200 lower engine RPM (2400 vs. 2600). Though the CK2610 engine displacement is greater than on the CK2510, it is 10.9 cubic inches less than the 34.9-horsepower mill powering the identically sized CK3510 (111.4 cubic inches). Common rail (CR) injection assures quiet and fuel efficient operation (we measured 82-90 dBA at idle from the operator's seat).
COMPARISON: Read our review of the 2016 Massey Ferguson 2705E
Two transmissions are available for CK10 tractors, a 9 x 3 gear unit with synchronized second and reverse gears and three-ranges, or the three-range hydrostatic (HST) unit our test tractor was equipped with. A welcome feature with the HST transmission on the CK2610 is the twin side-by-side pedal arrangement. Not only does this save floor space compared to the treadle pedal used on the CK2510, it also allows for more practical application of braking (to aid in turning and positioning) and is a more comfortable arrangement to many. Modulation over the 0 to 16.6 mph forward and 0 to 14.94 mph reverse speed range is excellent.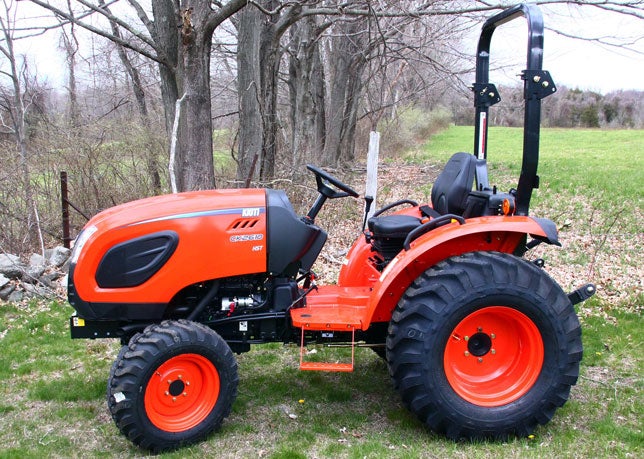 Hydraulics run through a tandem gear-type pump flowing 11.7 gpm to implement demands, giving the Cat-I three-point hitch (3PH) a lift capacity of 1,631 lbs at the industry standard of 24" aft of hitch. This is an increase of 428 lbs over the CK2510 (1,203 lb capacity). A 540 RPM rear PTO is standard with an option for a 2000 RPM mid-PTO, perfect to run implements such as mid-mount mower (soon to be available) or front snow blower. Up two rear remotes are supported. Another nice option to consider would be telescopic lower link arm ends, which really aid in ease of implement attachment. Position control is included, so an operator can expect to accurately return an implement to a preset height time after time.
Climb up into the suspension seat with retractable seatbelt and adjustability for operator weight, and you'll find an ergonomic layout with color-coded levers and knobs. The loader joystick is nicely integrated into the gap between the seat and right fender cowl. This is an aesthetic improvement over the tagged on setup used on the CK2510, though both are lightyears better than the loader stanchion position still used by some brands. On the right is the 3PH position control lever, which is numbered from 1 to 10, while to the left is the transmission range selection lever with a cup holder in front and the PTO engagement lever just behind. The levers for 2WD/4WD and differential lock are below the seat, just above the nearly flat floor and easily accessible respectively using the operator's left hand and heel. Grab handles are located on both fenders, and in conjunction with the good lever integration, allow easy access to the cockpit from either side though the steps are located only on the left side.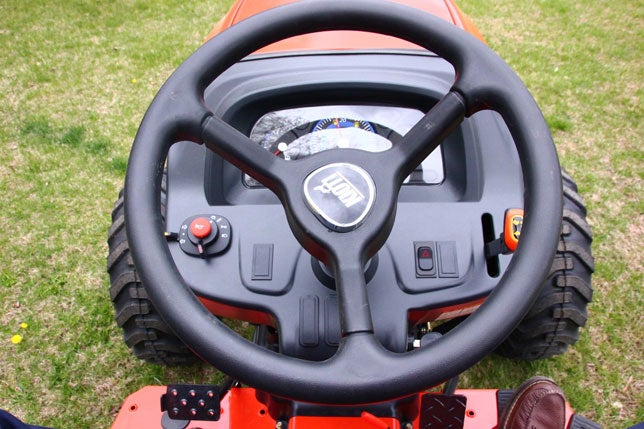 The dashboard is a simplified arrangement with an illuminated instrument panel containing a mix of digital warning lights and analog gauges. The tachometer sits center stage with yellow marks for where 540 and 540E PTO RPM are reached, flanked by a fuel gauge to the left and a temperature gauge to the right. The steering wheel is fixed, but the angle felt comfortable enough even for our shortest and tallest testers. Really the only change we would wish for would be to scrap the clutch pedal in favor of a electro-hydraulic independent PTO and then the relocation of the brake pedal to where the clutch pedal was. A small nit, but hopefully one Kioti will someday be able to incorporate.
COMPARISON: Read our review of the 2014 Kioti CK2510 HST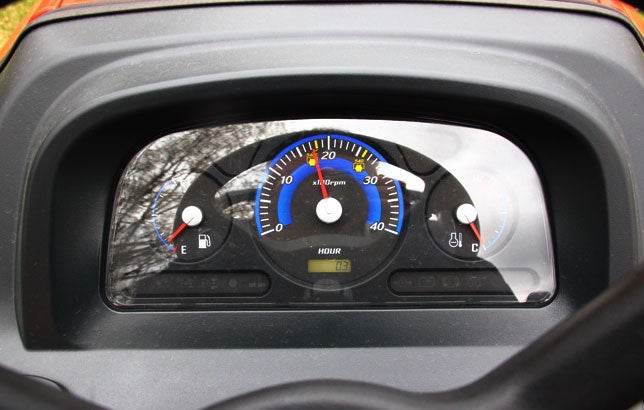 Matched to the CK2610 is Kioti's new KL2610 curved boom loader. While it gets the same 11.7 gpm as the KL4010 used on the CK3510 and CK4010, it has less lift capacity. We suspect if the CK2610 had the same lift capacity it would detract from sales of those higher horsepower and more expensive brothers. Still, the KL2610 is a quick-attach design, requiring just a flip of two levers, the lowering of the boom onto the integrated stands, and the disconnecting of the hydraulic hoses for removal. Max lift height for the KL2610 is 98.4" (88" to the bottom of the level bucket) with a dump clearance of 74". Max lift capacity is 1,252 lbs with a max breakout force of 2,110 lbs. Dig depth is 4.8" and the KL2610 can come with a 60" or 66" bucket, either of which uses a two-lever skid-steer compatible quick attach system.
For purchasers requiring a backhoe, the KB2475L subframe model is the right match. Offering a dig depth capability of 89.7", 125.1" of reach, and a 180-degree swing arc, the KB2475L can be outfitted with a choice of 9", 12", 16", 18", 24" and 36" buckets, all with replaceable teeth. Dig force at the bucket is rated at 2,817 lbs and at the dipperstick, 2,105 lbs. A nice feature is the ability to keep the 3PH arms on while the backhoe is installed. While most users won't be swapping the backhoe off and on that frequently, having the 3PH arms on and ready to use makes for three less things to get lost or misplaced.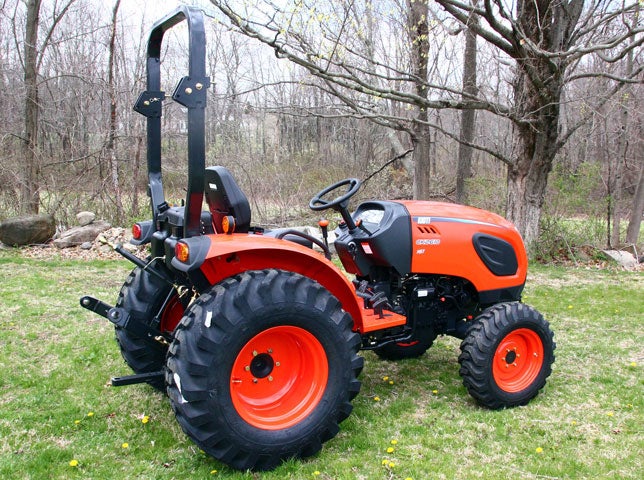 So how does it all work? Quite well – just don't drive a CK3510 with 10.4 more horsepower first. That said, as long as implements are sized to the horsepower, an owner shouldn't experience any power deficiency. For example, the old tractor adage of sizing rotary cutters at 5hp per foot would limit the CK2610 to a 5' cutter, whereas the CK3510 could run a 6', or even possibly 7' unit. Range 1 is perfect for high draft loader work or tillage. Range 2 would probably be used for tasks such as mowing. Range 3 is a get up and go transport range. We found no power issues pulling the nearly 15 mph top speed.
COMPARISON: Read our review of the 2016 Mahindra 2555 Shuttle Open Station
The 2701 lb (HST) CK2610 measures 120.9 long by 55.1" wide and rides on a 65.7" wheelbase. Overall height to the top of the foldable ROPS is 99.2". Tire choice is R1 (Ag) 7-16 front and 11.2-24 rear, R3 (turf) 28 x 8.5-15 front and 41 x 14-20 rear, or R4 (industrial) 27 x 8.5-15 front and 15-19.5 rear. Kioti backs up their tractors with a 24-month bumper to bumper warranty, with extended engine and powertrain coverage to 48 months.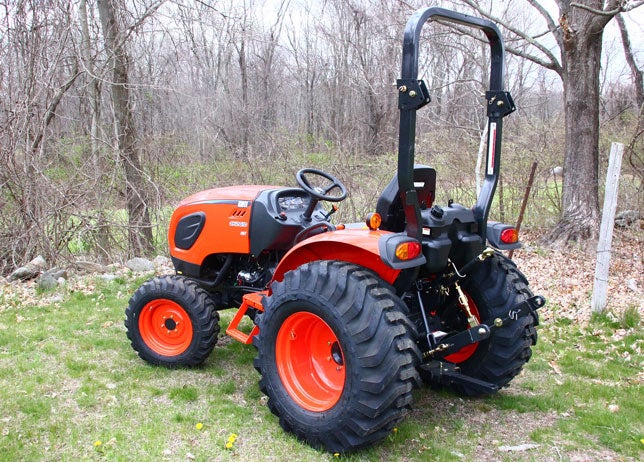 For an agribusiness, landscaper, hobby farmer, or owner of small to medium acreage looking for a tractor without complex emissions systems but with niceties such as position control over the 3PH, integrated joystick, and side-by-side hydro pedals, the CK2610 with a MSRP of $15,500 (gear) and $16,600 (hydro) might just be that perfect tractor to check out. And if you've in the vicinity of Bridgewater, Conn., Campbell Services would be a good, friendly, knowledgeable place to start.
Buyers Guides
Our Partners