2016 New Holland FR650 Self-Propelled Forage Cruiser Review
We get some seat time in New Holland's latest forage cruiser
By Geof Fowler, Sep 04, 2015
New Holland has been producing self-propelled harvesters ever since the model SP818 was introduced in 1961. Then the Detroit Diesel 4-53 powering the SP818 produced 80 horsepower, which was high at the time. As productivity demands increased, so did the power required, though the 200 horsepower threshold wasn't broken until 1975 with the model 1890. Today, the smallest engine used in the current FR lineup produces 476 horsepower.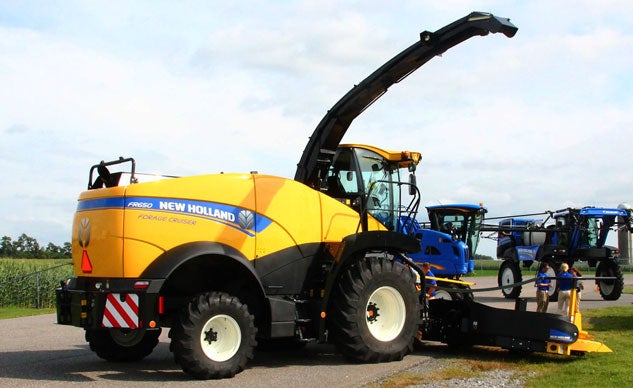 For 2016, the Forage Cruiser lineup consists of five models distributed over three engine platforms. The FR480 and FR550 get Cursor 13 inline six-cylinder engines making 476 and 544 horsepower, respectively (max hp over working rpm range). The FR650 and FR780, while still inline sixes, get a bump of displacement to 15.9L (Cursor 16) and make 653 and 775 horsepower, respectively. The Cursor 13 and 16 engines are from the ECOBlue Hi-eSCR family and are EPA Final Tier 4B compliant. The top model, the FR850, is an exception; its 20.1L Vector V8 powerplant is only subject to EPA Tier 2 standards and produces 824 horsepower.
2016 New Holland FR Forage Cruiser Preview
The Cursor 16 engine powering the FR650 has a constant horsepower rating of 598 at 2100 rpm with as much as 2029 lb./ft. of torque available at 1500 rpm. Even still, fluid consumption (fuel & diesel exhaust fluid) has been reduced by as much as 12% over the previous generation Tier 3 machines. A 4-range hydrostatic Ground Drive Transmission with differential lock puts the power to the ground and allows for infinitely variable control over the 0-25 mph speed range.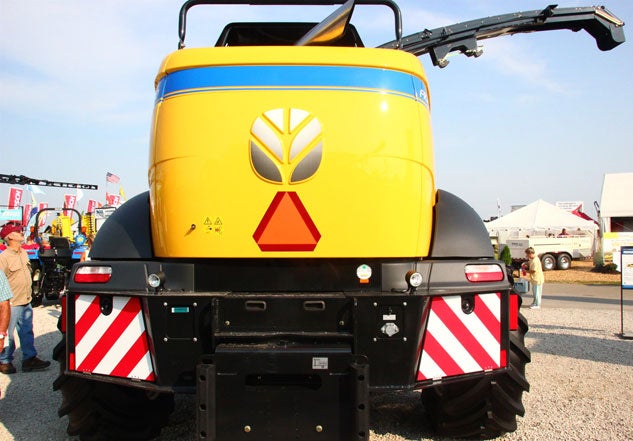 Climb up into the spacious cab (122.3 cubic feet of room) and fire up the Cursor 16; the operator is treated to a quiet (68 dBA and 2 dBA better than the previous generation cab) environment with a panoramic 360-degree view. With 60.3 square feet of curved glass, visibility to the header and spout is excellent, no matter the position. A big contributor to improved forward visibility is the new slim steering column, while electrically adjustable side view mirrors aid three-quarter visibility. For an up-close view of specific operations and/or blind spots, the IntelliView IV touch screen monitor can support up to three viewing cameras. And for the ultimate in operator comfort, automatic climate control is standard on the FR650, FR780 and FR850 (optional on FR480 and FR550).
The FR650 made available to Tractor.com at the New Holland 120th Anniversary Media Event came with the new optional leather and cloth seat. And while the standard two-color cloth seat comes with auto weight adjustment, variable shock absorption, adjustable back rest, lumbar support, seat pan angle and in/out, and a flip up/down left armrest, the optional seat adds heat and ventilation, pneumatic lumbar support, adjustable headrest, and fore/aft/lateral isolation. A storage area is available for things such as drinks, gloves, and manuals, and there is a cool box option for sandwiches and beverages.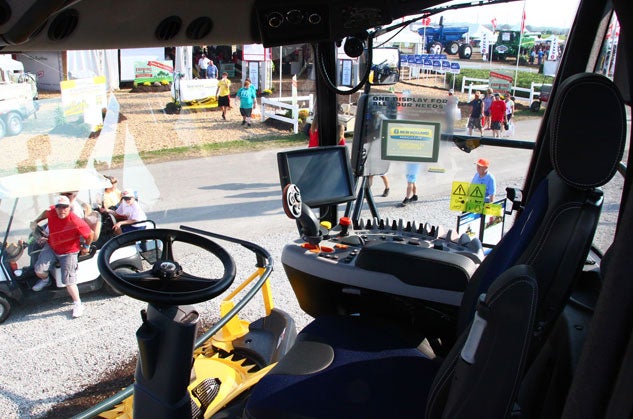 Control over operation and harvesting functions is through an ergonomically designed right-side console that moves with the seat but can be adjusted fore/aft for operator preference. Key control parameters located on the CommandGrip multi-function include a quick stop button, switches for feed roll engagement, spout flap orientation, automatic header height, cruise control, lateral float/header raise and lower, spout set-point and transport settings. And while the console may be new, operators of New Holland combines will find it familiar. Manual control over forward/reverse and harvester speed is video game joystick simple, while a full range of automated control such as row guidance is built in. The IntelliVision IV screen can display up to six run configurations, with functions such as ground speed, engine speed, header speed, feed roll speed, cutter speed, CP roll spacing, blower speed, additive flow, average moisture, weight and yield just a glance away. A nice addition is the soft-touch lighting control pad located on the console in the shape of a harvester. The system has a master off function with memory for the lighting configuration selected.
COMPARISON: Read our review of the 2015 John Deere W260 Windrower and 500R Platform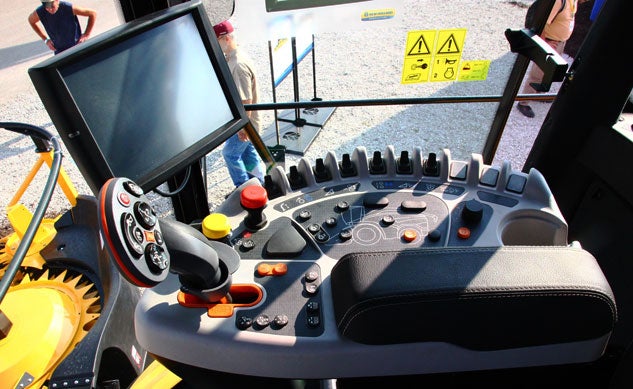 The FR650 cutterhead is 28" in diameter with a 35.4" frame width and can come in three chevron knife configurations: 2x8, 2x10 and 2x12 (cut range of 6-33mm, 5-27mm, and 4-22mm respectively), while the crop processor is 9.84" in diameter by 29.5" wide. And while the FR480 and FR550 have 99 saw teeth driven at a 22% speed differential, the FR650, FR780 and FR850 come standard with a staggered tooth count (99/126) driven at a 30% speed differential for greater processing performance. And for longer life, the higher horsepower models come with hardened chrome rolls.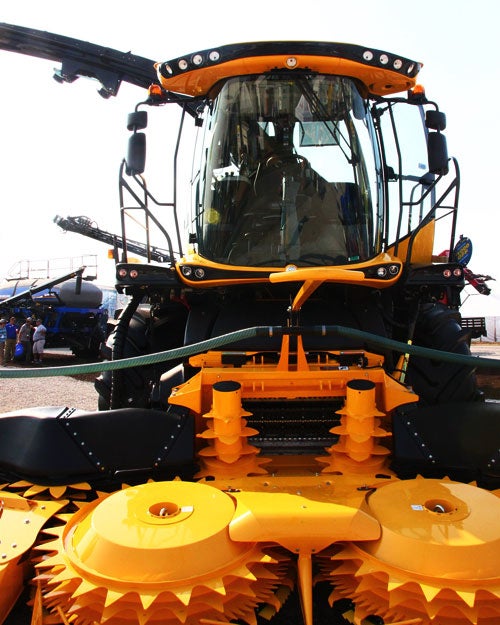 Variflow Technology streamlines the crop channel and allows the operator to tailor flow to fit conditions by altering the blower position. Changeover from grass to corn or vice versa can be accomplished in five minutes or less without tools. Two grass settings, one for heavy 1st cut silage and a second for 2nd and 3rd cut lighter flow, along with a corn setting are built in. For grass cutting, the blower moves 8" closer to the cutterhead. Belt tensioning is automatic. And for extended hay chopping, the crop processor can be removed in about 30 minutes using a dedicated hoist.
New Holland 120-Year Anniversary Media Event
The spout on the FR650 is 13" wide, can rotate 210 degrees, has replaceable liners, and can reach to a max height of 21'. Spout has two-speed rotation and three configurations can be held in memory. For extreme conditions, a heavy-duty liner package is available.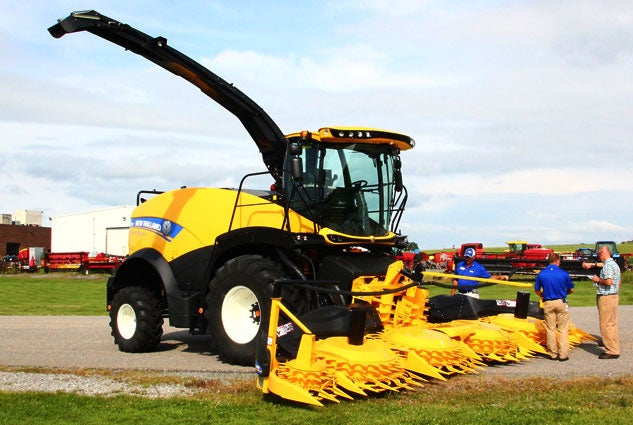 Easy service and maintenance is built into each Forage Cruiser. The battery is located in back and comes with a disconnect switch located in the left hand toolbox. For ease of hydro unit access, the wheel wells are removable and for added visibility, there is an undershield LED lighting package. We suspect most FR models will be equipped with the optional on-board air compressor package which allows an air hose to be plugged in on the left side of the harvester or in the service area to blow off chaff and debris. An auto greasing system rounds out the expected service features built in.
The FR650 is designed to produce consistent high-quality forage using the widest crop channels and cutting components of any forage harvester to date. Combined with the fuel efficiency of the Cursor 16 engine, improved operator comfort from the deluxe cab, seat and control console, and easy serviceability, the FR650 should be on any agribusinesses forage harvester short list.
Buyers Guides
Our Partners