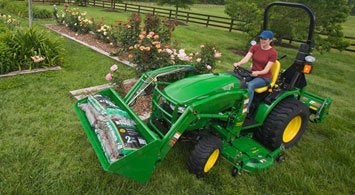 At the John Deere New Product Intro held in Columbus, Ohio last August, investors, dealers and the press had a chance to revel up close at what to expect for 2014. And while the event undeniably centered on the rollout of the all-new 7R and 8R tractors, there were plenty of other improvements and redesigns to go around, including the R4038 Sprayer we covered in October. During the "grand finale" show, attendees were treated to an indoor procession beginning with an 8295R and ending with a Z925M flex fuel ZTrak. In between, the show included the full range of models that Luke Gakstatter, vice president, agriculture & turf sales and marketing, would proudly talk about during the following morning breakfast session. Included in Gakstatter's presentation was mention of the all-new 3R "Family" of tractors.

With tightened EPA Final Tier 4 (FT4) requirements kicking in for tractors above 25 HP, we suspected there would be top to bottom lineup changes with model re-numbering at a minimum and ground up redesigns possible. For manufacturers with tractor models on the HP bubble, a simple solution has been to downgrade rated power outputs – which we've already seen in larger heavy-duty lawn and garden and subcompact utility (SCUT) tractor offerings. But there is a point where the user needs and demands more power, so compliance with FT4 standards is coming – whether we like it or not. Along with those mandated changes, it makes sense to somehow differentiate the more compliant machines from their less environmentally efficient predecessors. John Deere is no exception and last year we saw the introduction of the re-numbered 2 "Family" tractors, with the 2025R and 2032R replacing the outgoing 2320, 2520 and 2720 "Series" models. Loyal readers will recall the 2032R we tested last November.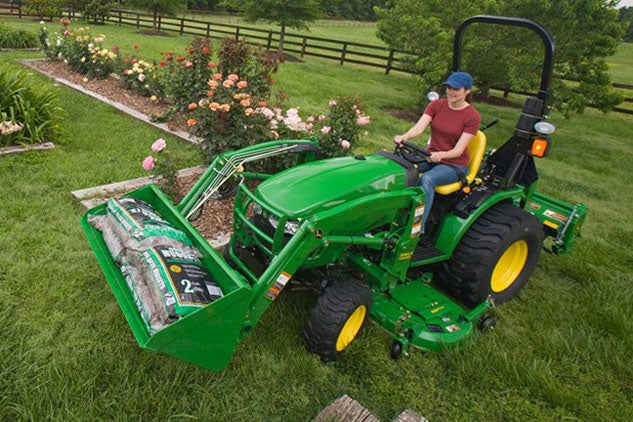 And while the marketing effort moving from a "Series" to a "Family" hasn't yet become consistent across product platforms – the 5 Family and 6 Family published literature and web pages are inconsistently interchanged with 5 Series and 6 Series, with the 4000 series yet to join in at all. Nevertheless, we expect John Deere to adopt the "X-numbered Family" product separation across the board with first digit identifying the "Family", the last digits stating the HP ratings, and E economy and R deluxe suffixes identifying trim levels.
This brings us to the 3 Family which includes last year's 3032E and 3038E, and the new "3R" designated tractors we are most interested in, the 3033R, 3039R and 3046R. While you might suspect the HP ratings for those models to respectively be 33, 39 and 46, through the magic of numeric rounding, the actual ratings are 31.8, 38.2 and 44.7. No matter, these are modern, efficient Yanmar TNV powerplants that use common rail direct injection, turbo charging, and yes, diesel particulate filter (DPF) after treatment.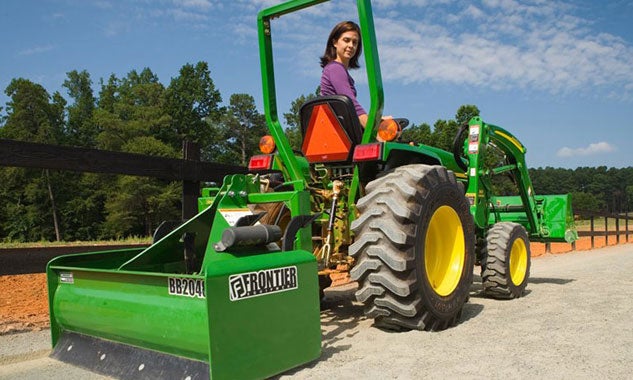 In the case of the 3033R, the powerplant is a 1.64L unit that develops 23.6 power take off (PTO) HP. For the 3039R, the mill displaces 1.496L and makes 31.3 PTO HP. And the 3046R is a 1.568L engine making 34.1 PTO HP. All three powerplants make rated power at 2600 rpm.
Transmission choices are model dependent. The 3033R and 3039R are available with 12F x 12R PowrReverser transmissions that allow clutchless direction change with just the flick of a turn signal-like stalk. A three-range hydrostatic (eHydro) unit is optional (the only choice for the 3046R) and is controlled by an ergonomically friendly side-by-side pedal arrangement. All models come with shiftable on-the-go 4WD and differential lock – the latter positioned for right heel engagement for PowrReverser models and left heel for hydrostatic models. PowrReverser models come with hand and foot throttles for convenience, which make for a highly efficient setup ideally suited for loader work. eHydro models come with cruise control with set/- and res/+ automotive style controls, LoadMatch (which adjust transmission responsiveness), MotionMatch (which adjusts engine speed based on workload), and – drum roll – eThrottle.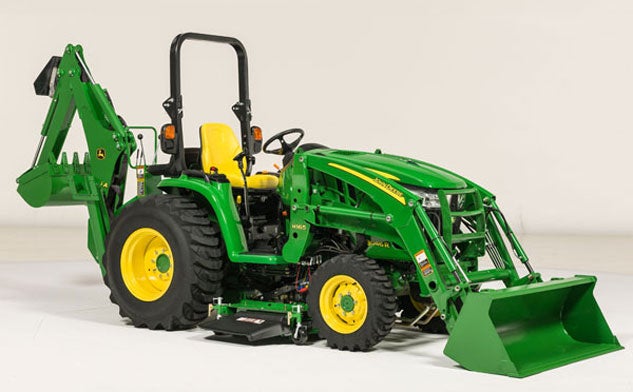 eThrottle is a feature we have long appreciated in select Massey Ferguson tractors and have wished other manufacturers would adopt. Instead of having to fuss with the throttle, or running the engine at higher rpm than necessary to not have to, eThrottle matches engine rpm to hydrostat pedal position demand. This means that the tractor revs up to just the rpm needed to maintain the needed power, and ramps it down accordingly when the pedal is released or position lessened. Sweet!
3R hydraulics are open center dual gear, with one side flowing 5.3 gpm for power steering needs and the other 8.6 gpm for implement demands (13.9 gpm total). This gives the Cat I three-point hitch (3PH) a lift capacity of 2200 lbs at the industry standard of 24". Interestingly, John Deere now also lists the lift capacity at link ends (2530 lbs), undoubtedly to facilitate apples-to-apples comparisons with other manufacturer claims. The system works at 2500 psi and can support up to five remotes. Position control is standard, so an implement can be returned to the exact user-set position as desired. The lower link arms have no telescopic feature (optional) but the outboard stabilizers easily adjust using a cable retained pull pin. For those not ready to wrestle with 3PH implements, John Deere offers its iMatch system, which makes hook up a snap and can even automatically connect rear PTO shafts if so optioned.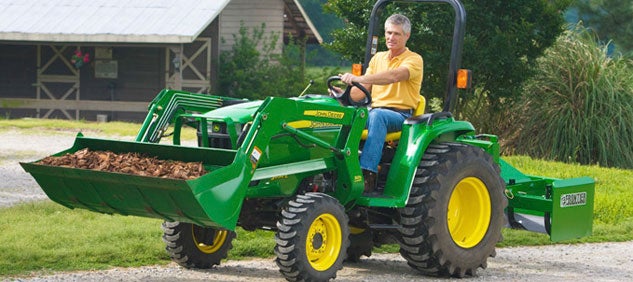 Standard safety equipment includes a folding rollover protection system (ROPS) for open station tractors (cab versions are also ROPS certified), color coded levers and controls, full lighting package with flashers, SMV reflector, wrap-around halogen lights and, for eHydro versions, an interlock that allows the tractor to be started with a hydro pedal depressed but won't allow forward or reverse movement until the pedal is first returned to the neutral position. And then there is RIO; John Deere's "reverse implement option", and to us, a complete annoyance. The system discourages operating a PTO-driven implement such as a mid-mount mower or front snowblower by requiring the operator to lift and hold the PTO switch every time he or she wishes to reverse. The thinking is that the operator will be reminded to look behind them each time they reverse – a good and smart thing we'll admit – but without a mechanical cable that forces the operator to do just that, it in no way insures a look behind.
For users requiring a loader, John Deere offers two models. H160 has a lift capacity of 1360 lbs to a max lift height of 90" and a 3" dig depth. Cycle time is 2.76 seconds raise, 1.69 seconds lower, 2.91 seconds dump and 1.72 seconds curl. Standard bucket size is 61". H165 has a lift capacity of 1598 lbs to a max lift height of 102" and a 6" dig depth. Cycle time is 3.56 seconds raise, 2.10 seconds lower, 2.96 seconds dump and 1.75 seconds curl. Standard bucket size remains 61".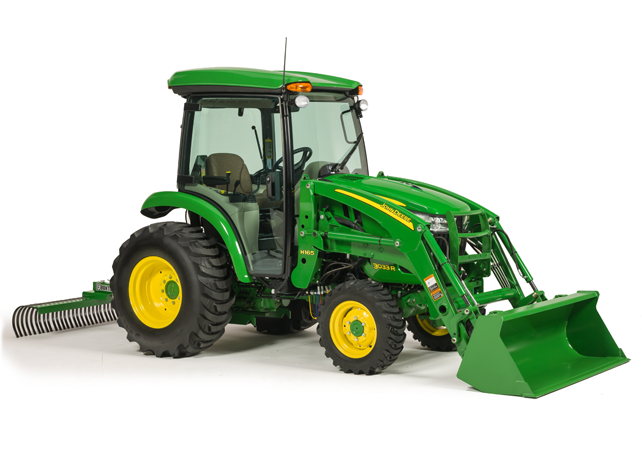 Weighing 2900 lbs and riding on a 68" wheelbase, the new 3R tractors should be arriving at dealers later this month. With a MSRP almost identical to the 3320/3520/3720 models they replace (3033R $22,841, 3039R 25,271, and 3046R $29,418), FT4 compliance, and eThrottle, a 3R might just be that mid-chassis compact utility tractor (CUT) you have been looking for.