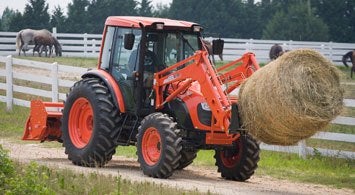 The Kioti DK Series consists of six models (some available in a choice of gear or hydrostatic transmission drive) ranging from 41 to 91 horsepower. The DK90 is the largest and most powerful tractor in the South Korean tractor maker's lineup and when we were offered the opportunity to test one, we didn't hesitate to say yes.

The DK90 is powered by a Daedong 1104D-44T 4-cylinder water-cooled turbo diesel that is rated to deliver 91.2 gross horsepower at 2200 rpm with 78 horsepower available at the power take off (PTO) at the same rpm. The 268.5 ci (4.4L) powerplant outputs power using a dry single plate, single-stage ceramic clutch to a 16F/16R gear transmission (no hydrostatic option is offered). Operator control over the fully synchronized shuttle is through a single turn stalk lever conveniently located just below the steering wheel on the left side. A factory installed creeper gear allows travel speeds as low as .12 MPH while the 16 forward gears range from .16 to 21.57 MPH and the 16 rear gears .14 to 19.2 MPH.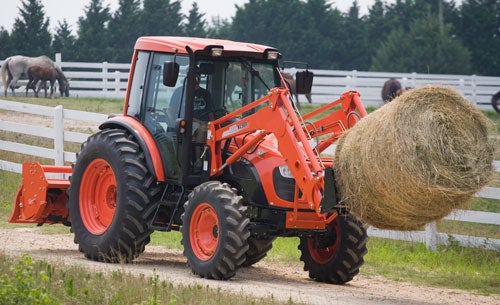 Hydraulics are through a tandem gear arrangement flowing 12.8 gpm to the first remote and 9.3 gpm to the second. This gives the Cat II three-point hitch (3PH) a lift capacity of 5290 lbs at the industry standard of 24" behind lift arms. Position control allowing the operator to return the 3PH to the same selectable position each and every time is standard, as is draft control which allows load sensing to be dialed in. A Cat II hitch takes 1" diameter top link pins and 1-1/8" diameter lower arm pins so implements need to be sized accordingly. Lower lift arms come with telescopic ends and have outboard stabilizers that also adjust telescopically.
A right side crank control levels the 3PH and a rear-mounted raise/lower switch combine to make attaching/detaching an implement all the more easy. The DK90 comes standard with Kioti's Auto PTO feature, which automatically disengages the PTO when lifted and automatically engages it when lowered. This system saves the operator repetitive steps, reduces noise and vibration, and reduces driveline shock. The fully independent rear PTO can be set to run at 540 or 1000 rpm and is electro/hydraulically actuated. A mid-PTO is not an option on the DK90, but a ground speed PTO is available, which is designed to aid in special metered applications that require precise control. Brakes are hydraulic wet discs and through split-pedal control can be used to achieve a 12.8' turning radius – not exactly nimble, but remember this is a large UT. Differential lock covers the rear wheels only.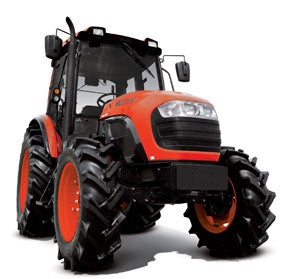 Climb up the cleated steps and the cab door opens with a precise click and nice gas strut-modulated swing. Inside, the cab has a luxury automotive feel with excellent fit and finish. The deluxe suspension seat with armrests is adjustable for operator weight and is designed for long hours with comfort in mind. The cab is rollover protection system (ROPS) certified and designed to be used along with the standard retractable seat belt.
Most commonly used controls on the DK90 are dashboard mounted or located on the right hand side console with each intuitively color coded. Easily within right hand reach are the throttle (a foot throttle is also included), transmission shifter, two remote control levers (a third is an option), joystick, PTO engage/disengagement button, and the position control lever. The joystick deserves special mention as the location inboard of the transmission shifter is nicely incorporated and is exactly where your hand falls. Front and rear wipers, rear defroster, air conditioning and heat, rearview mirror, a 12V auxiliary outlet, ashtray, opening sunroof, tilt steering wheel, and even a coat hanger are all standard. It was also nice to learn the AM/FM/CD radio with iPod connection doesn't require a check of the order form option box. The rear window swings out for venting and visibility of 3PH implements and the two rear-side ¼ panel windows can also be opened.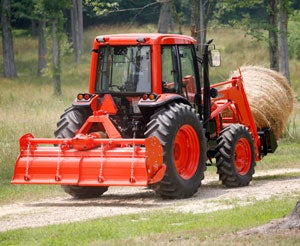 Our test tractor was equipped with the KL901 model loader which is rated to lift 3749 lbs to a 141.54" height. We measured dump clearance at 112.4", so the KL901 will clear almost any trailer combination it should encounter. The 84" standard bucket is well-sized and is skid-steer compatible, so a large aftermarket of rental, purchasable or borrowable implements is available. Relief pressure is set at 2600 psi and flow rate through the well-protected hydraulic lines is 12.3 gpm. Not surprisingly given the flow rate, joystick responsiveness is crisp. At idle, the raise time is 13.6 seconds, lower time 5.6 seconds, dump time 8.6 seconds and curl time 6.3 seconds. Throttle the powerplant up to 2000 rpm and the times decrease to 6.3 seconds raise, 4.2 seconds lower, 4.2 seconds dump and 3.0 seconds curl. Dig depth is 7.36" and the bucket is self leveling, allowing the operator to concentrate on other more important things. And though the loader is of a quick attach/detach design with built in stands, we wouldn't be surprised if most DK90 owners never find out how easy this feature is to use. 692 lbs of counterbalance is required so if your dealer doesn't recommend it, request sufficient weight be included or have the tires loaded.
Other niceties include a one-piece hood that swings high to allow easy access for maintenance with side vent panels that are also removable; the routing of the engine exhaust through a vertical stack that is nicely positioned at the right front cab pillar so as to not interfere with visibility; the 33-gallon fuel tank located underneath the left side steps with a wide-mouth filler cap; generous front and rear lighting, push button 4WD, 7-pole trailer connector and separate oil coolers all combine to make this one fully-loaded and ready to-go-to work tractor.
The DK90 measures 162.2" long by 78.7" wide and is 111" to the top of the cab. 12-4 x 24 front and 18.4 x 34 rear tires ride on a 90.7" wheelbase that has a minimum of 19.5" of ground clearance. Tractor with cab-only weight is 8,905 lbs. Kioti covers its tractors with a two-year bumper-to-bumper and four-year powertrain warranty. If you are in the market for a cab tractor of this size and class, check out the DK90. We think you'll be impressed as well.
Related Reading
2012 Kioti DK45SE HST Cab Review
2012 Kubota M135GX Review
2012 John Deere 4720 HSTC Review
2012 Mahindra 6110 Shuttle Cab Review
2012 Massey Ferguson HD Series 2660 Cab Tractor Review
2012 John Deere 5105M Cab Tractor Review