2016 John Deere X394 4WS Review
Top-of-the-line X300 series is nimble and comes with many deluxe features
By Geof Fowler, Photography by John Deere, Mar 04, 2016
The John Deere X300 series is powered by either an 18.5, 20 or 22-horsepower engine, depending on specific model. For a prospective purchaser the decision making process gets a bit more complex considering that there are 14 different numbered models to pick from. When one factors in number of deck sizes offered, the possibilities jump to 20! While our suspicion is that the eleven 2016 tractors will at some point supersede the older models, John Deere has given a prospective buyer a lot of choices to pick from.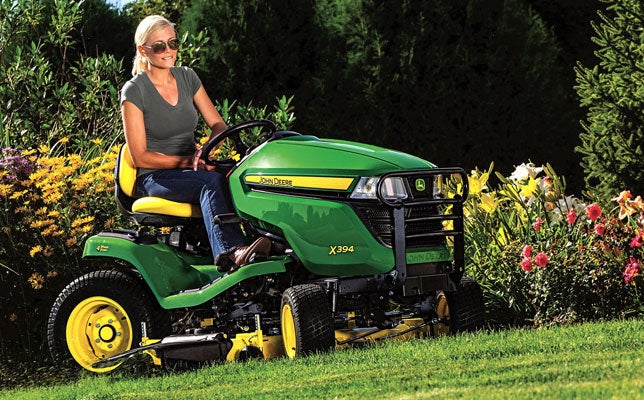 The John Deere booth at the National Farm Machinery Show held in Louisville, Ky. was a popular stop for many show attendees. Product on display ranged from retrofit kits for ExactEmerge/MaxEmerge planters to the massive four-track 9620RX. In between some of those excitement grabbing technologies was a display of lawn and garden machines, including the new X394/48" which at first we supposed might be a replacement for the previous top-of-the-line X324/48". Upon closer look, there were enough differences to nix that thought and push a review of the X394 high up on our list.
COMPARISON: Read our review of the 2015 Simplicity Conquest
The X394 begins with a heavy-duty 12-gauge welded frame that is E-Coat primer and powder coated then mated to a cast iron front axle with ¾" diameter steering spindles. Engine power comes from a carbureted Kawasaki FS651V air-cooled V-Twin that displaces 726 cc (44.3 ci) and is rated to deliver 22 ponies. Output from the engine is sent to a Tuff Torq K58 transmission that uses 1" diameter axle shafts, has internal wet disc brakes, and is rated for 217 lb-ft torque. K58 transmissions can be equipped with replaceable (changeable) oil filters, but X394 purchasers will get units that come with non-replaceable – read that life of tractor – internal oil filters. K58 transmissions can also be outfitted for auxiliary hydraulics, which in the case of the X394 power hydraulic lift functions and power steering. This means an operator can hydraulically raise/lower the mower deck or front implements such as a snow blower or blade.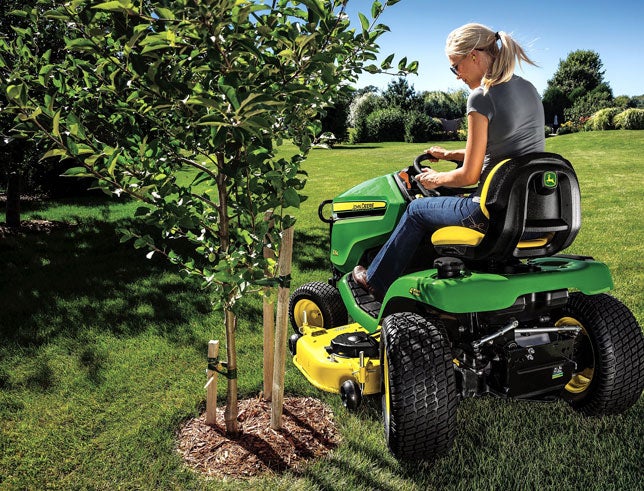 Slip into the comfortable mid back seat that has 7" of fore-aft travel (14 positions), tilts to keep rain from puddling while parked, and adjusts without tools for three operator weight settings, and the operator is treated to a well thought through ergonomic layout. The 14" diameter steering wheel tilts (five positions) for comfort and there is ample storage (right side tray and under seat) along with a cup holder.
Modulating operator input to the K58 transmission is John Deere's excellent twin side-by-side pedal arrangement, which yields proper control over the 0-6.2 mph forward and 0-3.5 mph reverse speed ranges. The dash display is digital LCD, offering at a glance fuel level, engine rpm, operator presence (more on this later), hour meter, service code diagnostics, power take-off (PTO) and park brake engagement, voltage status, and best cut engine speed. The display is also backlit for high nighttime visibility. Right of the steering wheel are buttons for PTO engage/disengage, parking brake, cruise and key switch. To the left are separate choke and throttle levers, hydraulic lift/lower control (with float) and a button for reverse implement operation (RIO).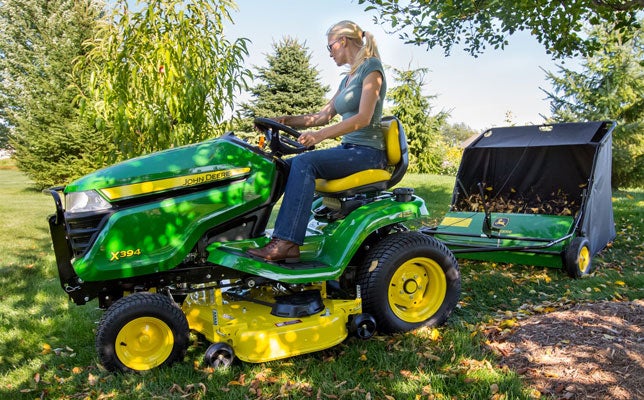 Longtime readers will know our stance on RIO, which theoretically prevents rotating blade accidents while backing up, but just ends up an additional annoyance that in no way guarantees the operator will look behind before reversing. The one positive is that John Deere placed the RIO button next to the implement lift, which will be helpful while doing tasks such as snow blowing and not requiring the PTO to be shut off to pick up the blower and reverse.
COMPARISON: Read our review of the 2014 Gravely 460 Pro-Turn
Purchasers of a X394 will most likely have mowing as their primary time saver. To this end, John Deere outfits the X394 with an all-new 48" (48A) one-piece stamped deck that is 23% heavier than the Edge deck it replaces. The 48A is 4.83" deep and made from 10-gauge steel. Height adjustment is from a rotary knob located on the transmission tunnel and can be tweaked in .25" increments from one to 4". Using the hydraulic lift, the deck can be lifted and returned to a preset height accurately. Easy side-to-side deck leveling can be accomplished from the operator seat using a provided hex key.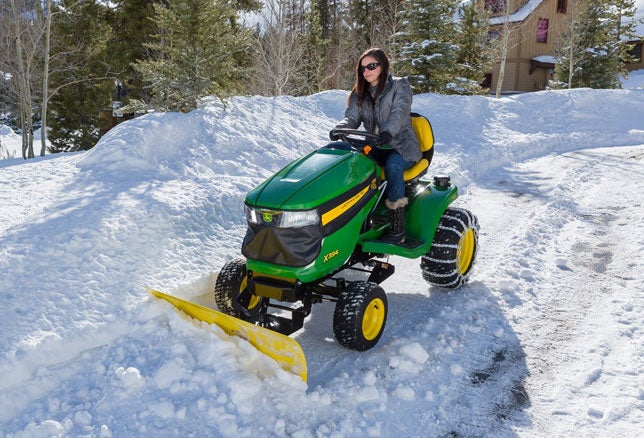 As an option, the 48A can be outfitted with Mulch Control. The system uses a spring loaded flapper that in the open position still mulches about 1/3 of the material passing through the side discharge chute. When closed, the system goes to full mulch. For ease of maintenance, the spindles are greaseable and accessible through flip up covers. To adjust the anti-scalp wheels which have seven-position posts a simple spring-loaded pin is utilized. Detaching the deck requires the release of two front spring pins and the quick pins on the rear draft arms.
COMPARISON: Read our review of the 2014 Cub Cadet RZT S 42 Zero-Turn
Mentioned earlier in this article was the operator presence display on the LCD screen. With the many safeties needed today, if the tractor shuts down due to a safety fault, the display is useful in helping the operator figure out what caused the shutdown. While many feel these safeties have gone beyond commonsense and have become an intrusion, these systems are here to stay. At least with the X394 setup the operator gets a quick visual of what occurred. The only other nit we found was the lack of grab handles, which can be useful during tasks such as when mowing on a slope. John Deere did build a grab handle into the seatback though, which aids getting on and off the tractor.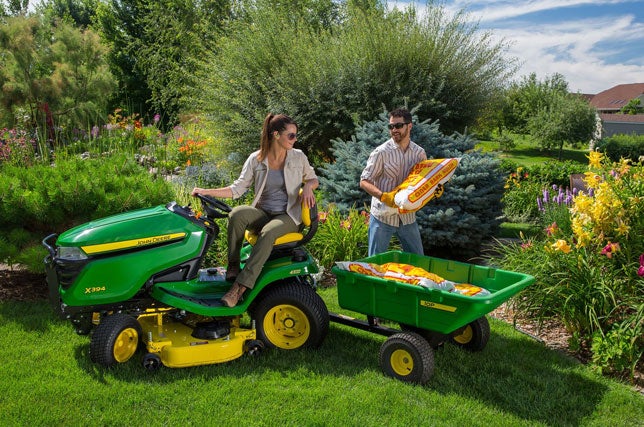 The John Deere X394 measures 72" long by 61.5" wide and is 43" high. Weighing 735 lbs, the tractor rides on 15x6.5-8 front and 22x9.5-12 rear turf tires. Onboard fuel is 3.3 gallons and is easily filled from left fender level using the wide 4" diameter mouth. With power assisted four-wheel steering resulting in a 19" turn radius and a 15" uncut circle with the 48A deck the X394 is one nimble mowing and trimming machine.
John Deere backs the X394 with a best-in-class four-year/300-hour warranty. With a MSRP of $6,099, the X394 is sure to appeal to buyers looking for the nimbleness of X300 size tractors but wanting more of the features offered in the larger X500 machines.

Buyers Guides
Our Partners