2016 John Deere X750 Review
Another deluxe model from the Signature Series lineup
By Geof Fowler, Photography by John Deere, Jun 29, 2016
The John Deere X700 Signature Series is an eight-model lineup with five gasoline powered models ranging from 22 (carbureted) to 25.5 (EFI) horsepower and three models powered by diesel engines rated to deliver 24 horsepower.

Tractor.com tested a Kawasaki gasoline-powered X739 with 4WS and 4WD from this series in 2013 and then a diesel X758 4WD model in 2014. In both of those reviews we came away impressed at the look, feel and deluxeness of features – which should be no surprise given this series carries an MSRP ranging from $10,059 to more than $14K and definitely infringing on the cost of a 1 Series subcompact tractor. It's no surprise either that the target audience for such a machine counts a large percentage of 60-year-old and older buyers who know what features and capabilities they want and are quite possibly making their last tractor purchase.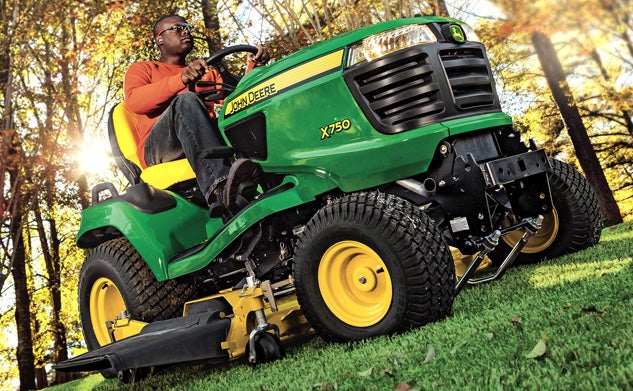 The John Deere X750 and subject of this week's review is a diesel 2WD tractor that foregoes the complex (and more costly) 4WS system used in the X754 or the 4WD system used in the X758. The same Yanmar 3TNM74F powerplant, an indirect injected 60.6 cubic inch three-cylinder diesel engine making 24 gross horsepower that is EPA Final Tier 4 (FT4) compliant, is shared across the three diesel model platforms. Emissions compliance comes without the need for complex, heat generating technologies such as a diesel particulate filter (DPF) or the addition of a secondary fluid such as diesel exhaust fluid (DEF). Position of the engine is such that the fan is between the operator and engine, making for a cooler operating environment. A slide out primary screen keeps debris away from the radiator while a cyclonic two-stage 512-square-inch filter with restriction indicator (visual and dashboard) protects the engine innards.
COMPARISON: Read our review of the 2016 John Deere X590
Output from the 3TNM74F is sent via shaft to a Tuff Torq K90 transaxle with differential lock and is cooled by a separate transmission cooler. The K90 is a heavy duty transaxle and uses a 6cc charge pump for implement lift/lower. Modulation over the 0-8.5 forward and 0-6 mph reverse speed range is through a twin side-by-side pedal arrangement that we have become used to. An optional Cat I rear three-point hitch (3PH) is available as a dealer-installed option along with a rear 540 rpm power take-off (PTO).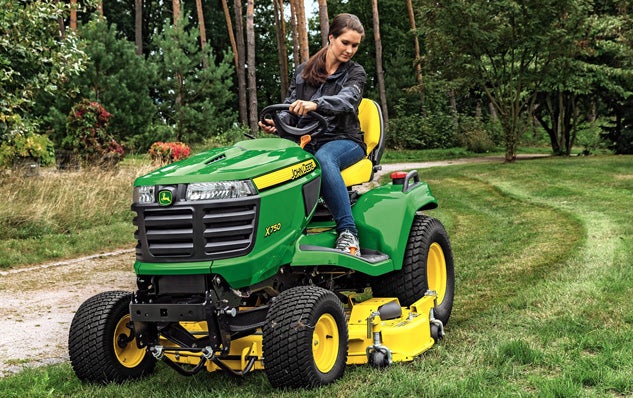 A full length welded steel frame using seven-gauge side rails and a .375" thick front bumper that can carry up to 168 lbs of counterbalance ties everything together in a sturdy package. The bumper can be further optioned with a receiver hitch, making the difficult for some task of backing a trailer (or boat) into a tight space an easy drive-straight-there proposition. Handling steering duty (hydrostatic power) and to carry the load, a heavy duty nodular iron axle with 1" spindles is used.
COMPARISON: Read our review of the 2015 Simplicity Conquest
As on the X590 we tested a few weeks ago, John Deere outfits 2016 model year X700 tractors with a new digital dash that is a big improvement over the somewhat blah dash used in 2015 and prior. The color dash pod positions caution lights such as low engine oil pressure on top, and informational details such air filter restriction, operator presence, service codes, hourmeter, and display mode at the bottom. In between are digital gauges and dials covering functions such as park brake, best cut zone/tachometer, front/mid-PTO, fuel level, and charging system status. The display is even backlit for easy viewing in bright sunlight to nighttime conditions.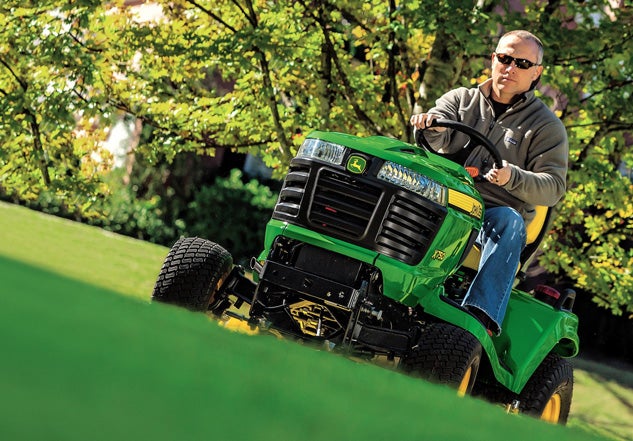 Other cockpit niceties include twin right hand turn signal stalk controls for implement lift/lower and angle with the lower function having a click float position, 14" diameter steering wheel with six tilt positions, right fender tool box with 12V outlet and cup holder, and two-piece, 21" high back seat with 7" of fore/aft adjustment and a back that tilts for operator comfort. For the ultimate in outdoor luxury, John Deere offers as an option an air ride seat with full pneumatic suspension that minimizes vibration and adjusts easily for operator preference. Up front a pair of 37W halogen headlamps provide excellent lighting for nighttime work, and with a 40-amp alternator providing power, you can expect to find all in full charge the morning after.
Three mower decks are available – 48" wide three-blade Accel deep deck, 54" wide three-blade high capacity deck, and 60" wide three-blade high capacity deck our test tractor was equipped with. All decks are one-piece stamped and deep for maximum airflow and are made from nine-gauge steel. Cost rises approximately $400 from each size deck to the next. The high capacity decks are drive over compatible, but in the case of the 2WD X750, an operator will need to back over the deck. Wash ports are standard, though long-time readers will know our sentiments about exposing metallics to any additional moisture. A nice option (for the 60" deck BM25258) is the mulch kit, which uses a lever switchable baffle to go from full mulch to partial (mulching about 1/3 of the grass). Cut height is adjustable from 1" – 5.25" in .25" increments and the mower deck can be locked in the transport position allowing the 3PH (if so optioned) to be used with the mower deck still installed. Deck leveling can be accomplished from the operator's seat, with the tool stored in the toolbox when not being used. The uncut circle on an X750 with 60" deck is 28".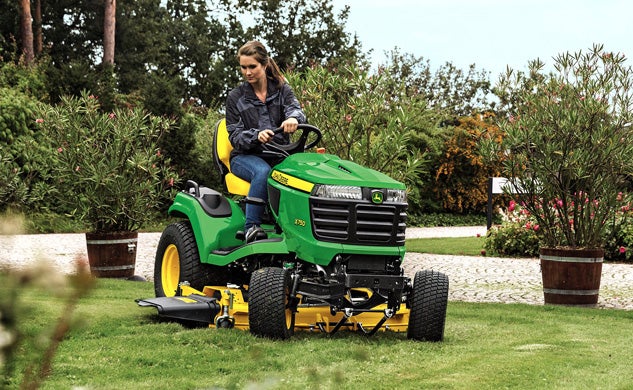 One feature we're not fond of but recognize as a reality of the times is the reverse implement option (RIO). RIO is in-place to ensure the operator looks rearward before backing up while mowing, but in our mind, requiring the push of a button in no way requires that the operator do just that. Oh well, at least the system will sense an implement using a front driveshaft (snow blower or rotary broom) and not require the use of the RIO function every time the tractor is reversed.
COMPARISON: Read our review of the 2014 Gravely 460 Pro-Turn
New for 2016 is a Noryl GTX902 one-piece painted hood that can be repainted or just touched up when scratched, though for some reason, John Deere is sticking to the reaction injection molded (RIM) fender cowl that has the color molded in and cannot be painted or touched up. In any event, a nice decal with service intervals is under the hood.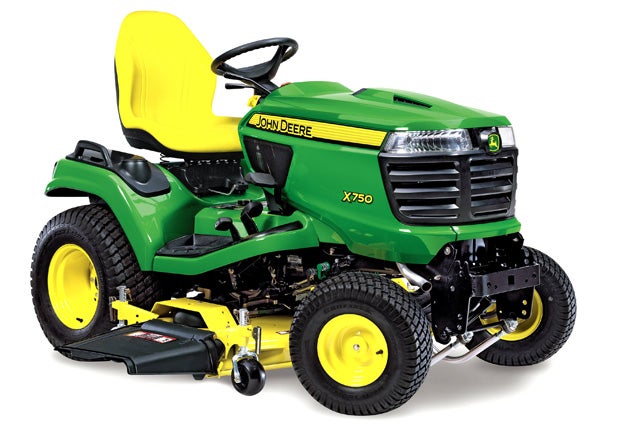 The 948 lb. X750 is 51.2" high by 75" long and rides on a 54.5" wheelbase. Width with no mower installed is 47". With a 60" deck and the deflector chute down, the width is 74". Bungee cording the chute up reduces the width to 62". Unlike the 4WD/4WS models that get heavy duty all purpose (HDAP) tires, the X750 comes with 18x8.5-8 front and 26x12-12 rear turf tires. John Deere warrants x700 tractors bumper-to-bumper for four-years/700 hours.
With a base MSRP of $10,659 and $12,709 with the 60" mower deck, the X750 might not be for everyone. But for someone who has some real estate to care for and demands top-of-the-line features, longevity and performance, the X750 would make anyone's shed, garage or barn proud.
Buyers Guides
Our Partners