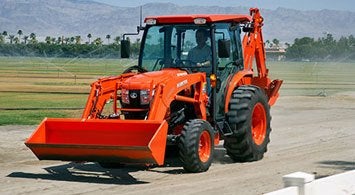 The Kubota Grand L60 Series is comprised of six tractor models that range from the 37-horsepower L3560 to the 62-horsepower L6060. The L60 Series is a replacement for the L40 Series it replaces. Loyal readers will recall the Kubota L4240 we tested back in March of 2012 and how impressed we were at the "deluxeness" of the package. That generation tractor met EPA Interim Tier 4 standards, but now with Final Tier 4 (FT4) requirements a reality, we were curious as to how the new engines performed as well as what other improvements/changes had been made.

The L6060 is powered by a Kubota four cylinder 148.5 ci E-TVCS liquid-cooled common-rail indirect injected turbo diesel that uses exhaust gas recirculation (EGR) and a diesel particulate filter (DPF) muffler to achieve those tightened emissions standards. Power take off (PTO) horsepower is 53 at 2700 engine rpm. Fuel capacity is 11.2 gallons, which seems a little low compared to some of the competition – a price paid perhaps for that nice 20 percent increase in cab space.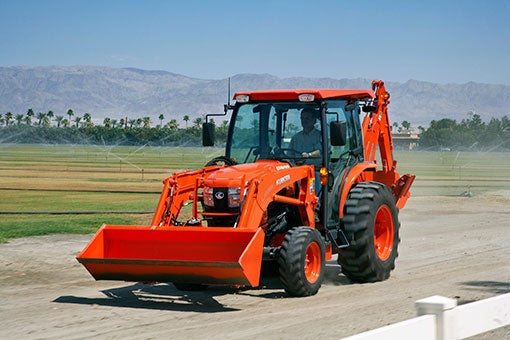 Though the Grand L60 Series comes with three choices of how to get that power to the ground: 12 speed Glide Shift Transmission (GST), 8F x 8R Fully Synchronized Shuttle Transmission (FST), and Hydrostatic Transmission (HST) Plus, the L6060 only comes with the latter hydro unit. But what a transmission it is. With three ranges and two additional speeds fingertip selectable on the steering column (Auto H-DS) within each range, the L6060 effectively gives the operator six ranges. This means infinite control over the 0-10.1 / 0-16.8 (L/H) mph forward and 0-9.1 / 0-15.2 (L/H) mph reverse speed ranges. Control is by a modified treadle pedal that gives the operator a choice of standard toe/heel operation; or for those so inclined, the ability to go forward by pushing down with the toe and reversing by slipping the toe under the pedal and lifting up. Either way, the system offers well-modulated directional control.
COMPARISON: Read our review of the 2014 Kubota M7060 Open Station
Hydraulics run through a twin pump system that flows 4.7 gpm to power steering needs and 9.4 gpm to implement requirements (14.1 gpm total). This gives the Cat I/II three-point hitch (3PH) a lift capacity of 2980 lbs at the industry standard of 24" behind lift point. Position control is standard fare, so an implement can be returned to the exact operator-selectable point each and every time. Draft control is an option. Lower link arms telescope for ease of implement attachment as do the outboard stabilizers. Standard is a rear 540 rpm PTO, with a 2000 rpm mid PTO as an option.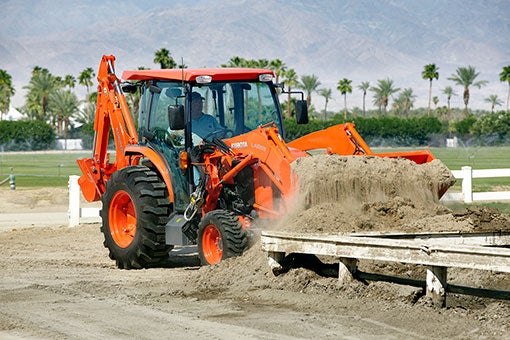 Climb up into the cab (both doors swing wide for easy access, though steps are located only on the left side) and the abovementioned increase in space is immediately evident. And not only is the cab larger, but the seat has been repositioned rearward to give even more legroom. As expected, the seat is a deluxe high-back suspension design that swivels 12 degrees in each direction. And for those wanting more plush, an air-ride equipped seat is available as an option.
COMPARISON: Read our review of the 2014 Massey Ferguson 6615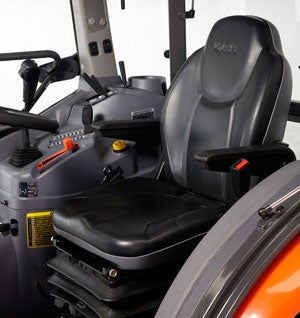 Another area of improvement is the levers, which now have a high-quality automotive feel. While the previous generation controls didn't lack for functionality or ergonomics, the new setup is really that much nicer – including the loader joystick which is thoroughly integrated into the right hand console. And integrated into the joystick is a Throttle-Up switch which raises the engine rpm at the push of a button. The amount of bump is operator programmable and set on the IntelliPanel (more on this later) and since the bump is on-demand only, fuel is saved. The HVAC system can be adjusted to draw on external air or to re-circulate cabin air and is a dual level system that can maintain a 7-14-degree cabin differential. Other niceties are the adjustable arm rests, tilt wheel, cup holder, storage bin/tray, behind seat power supply access and slick PTO switch that the operator pushes and turns to engage and then taps to disengage.
With the electronics we've barely touched on so far, the IntelliPanel display puts full status readout a glance away and full control over the L6060s vast systems at the operator's fingertips. With a display that reads Welcome upon startup and in standard configuration displays engine hours, trip meter, fuel consumption, PTO speed, HST info, DPF status and ground speed, the IntelliPanel can be customized to operator needs. Menu changes are accomplished using a dash mounted touch pad.

Along with the already mentioned Throttle-Up and Auto H-DS, the L6060 comes with Auto Throttle Advance where the linking of the HST pedal and engine throttle are just a fingertip button away, HST Response Control (six gradients left of median to gradual and six gradients right of median to quick), HST Mode that customizes Stall Guard and Auto H-DS combinations to task needs and automotive-style cruise control. Though all the electronics may seem daunting at first, everything is intuitive and easily learned. And at the end of the day, the operator will have had more control than ever before possible over the number one cost past tractor purchase – fuel – and precise input as to how the tractor performs.
Other upgrades over the L40 Series include improved legroom, FT4 compliance, increased HP, improved lever positioning and easier behind the seat power supply access. As well, an all-new one piece hood combines the front grille for easier access and a two-tier headlamp setup that makes for better night visibility.
Our test tractor was equipped with Kubota's LA1055 loader. Able to lift 2361 lbs to a lift height of 112.7", the LA1055 is well matched to the capabilities of the L6060. Standard bucket is a 72" square back design with other options available, including 36" and 42" pallet forks, and a bale spear. Two backhoes are available – the BH77 with a 7'6" dig depth and the BH92 with a 9'2" dig depth. Each model can be equipped with a hydraulic thumb.
COMPARISON: Read our review of the 2012 Mahindra 6110 Shuttle Cab
Measuring 126.4" in length and 67.3" wide and riding on a 75.4" wheelbase, the 4376 lb L6060 has a turning radius of 9.2' with brakes applied. Tire options include Galaxy Turf, LSW Turf, Turf (R3), Industrial (R4) and Ag (R1).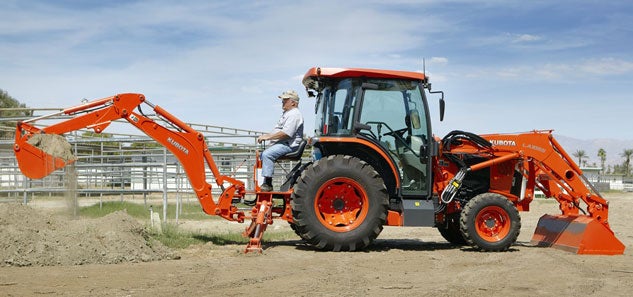 So, are the improvements to the L60 Series enough to offset the added cost of FT4 compliance? That is a difficult question to answer. For those that think not, few if any L40 Series machines are left in the pipeline. That alone may determine the outcome. In our opinion, anyone in the market for a high horsepower compact utility tractor (CUT) would do well to include the L6060 in their short list.