Tractors Reviews
Check out our latest Tractor Reviews
If you're in the market for a tractor, be sure to take a look at some of our reviews before you make your final decision. Tractor.com puts each of its test units through its paces and tells you exactly what to expect, what works and what doesn't. Tractor.com's reviews will help make your decision easier.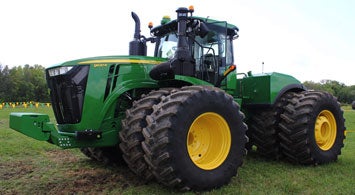 Deere's largest and most technologically advanced tractor
John Deere's largest tractor churns out a claimed 620 horsepower, while being efficient with fuel consumption, comfortable to operate and able to deftly handle a variety of operating conditions.
Tractor Reviews by Manufacturer
Tractor Reviews by Category
Buyers Guides
Our Partners