Tractors Reviews
Check out our latest Tractor Reviews
If youíre in the market for a tractor, be sure to take a look at some of our reviews before you make your final decision. Tractor.com puts each of its test units through its paces and tells you exactly what to expect, what works and what doesnít. Tractor.comís reviews will help make your decision easier.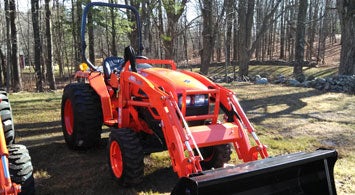 A no-frills performer
If you are looking for a 34-horsepower compact tractor and can do without frills like tilt steering and telescopic three-point hitch link arms, the Kioti DS3510 is a worthy option. It won't leave you lacking for performance.
Tractor Reviews by Manufacturer
Tractor Reviews by Category
Buyers Guides
Our Partners